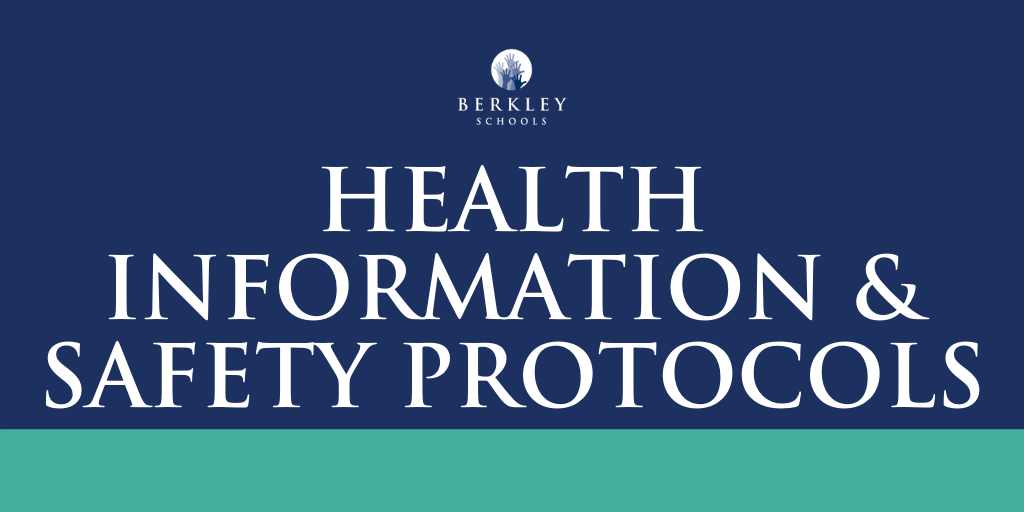 Health Data, Recommended Guidance & Safety Protocols for All Schools
Overview: Health & Data Recommended Guidance
In August, 2020, the District did not have enough data on the state of COVID-19 in our school district or our county to observe and comprehend to open our doors safely for students. We did not have data or recommendations from the Oakland County Health Division (OCHD) on how to open or operate schools safely. OCHD did not have robust testing and contact tracing protocols in place. And, we did not have the experience of other schools opening safely in our county.
In October, 2020, we have a weekly COVID-19 data report from OCHD which reports: confirmed and probable cases in Oakland County, 14-day average daily case count, 14-day average daily death count, 14-day average tests per day, percentage of confirmed/probable cases hospitalized in the last 14 days, percent positivity, healthcare capacity, testing, tracing, containment infrastructure and a county-level risk determination. We also have clear protocols from OCHD on what to do if a person tests positive, if they have symptoms and when we should advise people to stay home.
Oakland County Health Division epidemiologists and health officials host weekly meetings with Oakland County Superintendents, which Superintendent McDavid leads, to discuss the past week's data, as well as any new recommendations and guidance for opening safely. They have provided superintendents a recommendation data sheet assigning a risk level to schools related to if they can open and operate safely.
OCHD has Oakland County listed as a C risk (medium) for cases per million, for the past five weeks, allowing for in-person instruction with mitigation strategies in place.
Oakland County is listed as a A range for risk (second lowest) for percent positivity over the last seven and 28 days.
These numbers are tracked weekly and given positive and negative trend lines.
Berkley Schools watches these numbers carefully and unless we see significant change in them over a two-week period, we would continue our learning as outlined in this plan.
The District has a dedicated public health nurse to support a safe return to in-person learning.
Oakland County Health Division has also provided very detailed protocols to follow for symptoms and cases of COVID-19 in schools. These flowcharts and procedures were not available in August, but now allow schools to follow consistent protocol county-wide.
The following links outline the flowcharts and data now available from Oakland County Health Division and the CDC to schools and the community.
Notifications of COVID-19 Cases in Schools
All students and staff are required to share if they have received a positive test, either the rapid test or PCR (lab) test. Once the District is notified, it will send a report to the Oakland County Health Division (OCHD) and work with their contact tracing staff to begin notifying close contacts of the need to quarantine.
Per our Return to School Roadmap, and new guidelines from the Michigan Department of Health and Human Services, families will be notified of any confirmed probable or positive cases in the classroom and/or school, maintaining confidentiality according to ADA and privacy laws. This means, schools will send notifications to the school building community if a staff or student has tested positive for COVID-19. If you are considered a close contact, within 6 feet for more than 15 minutes in the previous 48 hours with or without a mask, you will receive a separate contact from the OCHD. These notifications will be restricted to each building, unless a student who is diagnosed with COVID-19 has siblings in additional buildings and OCHD believes we should notify the greater community.
As a general reminder, you will hear from us if a case is reported in your child's building or program. In most instances, there will be no action items for your child, but we will communicate to maintain transparency and awareness in the community.
In addition to email notifications, the District has created a COVID-19 dashboard tracking the number of positive and probable cases of COVID-19 among staff and students.
Per Oakland County Health Division guidelines, all siblings of students with a positive COVID-19 test must also remain at home until the student who was diagnosed with COVID-19 returns.
Safe for School Hotline - Partnership with Beaumont Health & Oakland County Health Division
If you feel you are experiencing any of these symptoms, please call the Safe for School Hotline supported by Beaumont Health. This telephone screening resource is available to assist parents to pre-screen and identify illness in children prior to entering school. All screenings are conducted by healthcare professionals.
Hotline staff can help answer questions about COVID-19 symptoms, the need for testing, and what is considered high-risk.
This service is no cost for parents/guardians of Oakland County school-aged children.
Service is available 5-8 am, Monday-Friday,
October 12-December 30, 2020.
Call 248-551-4242 to access this service.
Quarantine & Isolation Guidelines
The following information is from the Oakland County Health Division's website on Quarantine and Isolation. This is the guidance the District will use when determining if students or staff should move into quarantine or isolation.
Who Should Quarantine?
People without symptoms who recently had close contact (less than 6 feet for 15 minutes or more, with or without a mask) with someone with COVID-19 should quarantine. This Oakland County Health Close Contact Quarantine Guidelines flowchart shows how the District will determine, along with the Oakland County Health Division, which persons may need to go into quarantine.
What does Quarantine mean?
Stay home 24/7 for 14 days, watch for symptoms and maintain physical distance (at least 6 feet) from others at all times.
Check and record your temperature 2x a day.
Family and roommates should practice physical distancing.
Call your Health Department if symptoms develop.
Who Should Isolate?
People diagnosed with COVID-19 (with or without symptoms) or who are awaiting test results for COVID-19.
What does Isolation mean?
Stay home.
Stay in a separate room from other household members.
Use a separate bathroom if possible. If you use the same bathroom, keep toothbrushes separate and disinfect all surfaces after each use.
Avoid sharing personal items like dishes, drinking glasses, cups, eating utensils, towels, or bedding with household members.
Household members should practice self-quarantine and monitoring.
Wear a mask if you are around others and pets.
Stop isolation when the following conditions are met:

People with symptoms: At least 10 days after symptoms began AND 24 hours after no fever without fever reducing medications and symptoms have improved.
People without symptoms: 10 days after first positive diagnostic/viral test if no symptoms develop. If symptoms develop after testing positive, follow the guidance in the bullet above.
Classroom Spacing & Movement
Each classroom may look different, based on the furniture in the classrooms. Some classrooms may have tables, and children will be spaced 6 feet apart and
Students will not be asked to share materials.
All desks may be present and configured 3-6 feet apart.
Students will be seated spaced apart and will sit in the same seat daily to help with contact tracing.
Students at tables will be spaced apart and tables will be equipped with shield separators.
Masks Are Required for All
As a reminder, all students (Preschool-Grade 12 and Adult Transition Program) and all staff will be required to wear masks at all times, in all areas of the building, except at meals.
Masks can be homemade/cloth or disposable level-one (basic) surgical.
At this time the CDC does not recommend gaiter face coverings as an acceptable form of a face covering to prevent the spread of germs.
Masks must be worn over both the nose and mouth, following CDC guidelines.
Any student or staff member with a documented medical condition, who is unable to medically tolerate a mask, must not wear one.
Any student or staff who is incapacitated or unable to remove the mask without assistance, must not wear one. Exempt individuals will be recorded in a master database.
Masks must also be worn on the playground, if more than one class is on the playground at a time, and if 6 feet of social distance between students cannot be maintained.
Students will also be allowed to drink from a bottle of water at their desk by pushing their mask up to drink and then immediately pushing the mask back down.
Families are encouraged to have all students practice wearing masks prior to coming back into the school environment.
Students who are capable of wearing a mask and refuse to do so will be issued a mask by a staff member and asked to put the mask on. Consequences for insubordination may be followed as stated in the Student Code of Conduct.
Students showing patterns of non-compliance may be removed from the school building and placed into Online Academy until the student agrees to comply with this safety protocol.
Face Shields Do Not Replace Masks
Face shields are not an acceptable form of a face covering. Teachers and students may wear them in addition to their masks, but it may not be used by anyone as a substitute for a face mask covering the nose and mouth.
Oakland County Health Division (OCHD) requires all students and staff to complete a health screening daily. Staff complete their screening before entering the building or upon arrival.
Families will be asked to complete their health screening daily at home for all children who will return for in-person learning. In order to show compliance with the OCHD mandate, families will be required to complete the

School Health Screening Agreement.
Hand sanitizer and disinfecting wipes are available in every classroom and soap will be provided in all schools near water sources. Hand sanitizing stations are available throughout each school as well as at each entry point. Students will sanitize their hands frequently while in school, will be reminded to use tissue and cough/sneeze into their elbow.
As a result of the 2015 Bond, the Berkley School District replaced all Heating Ventilation Air Condition (HVAC) systems in all buildings. This modernization of the system included new Vertical Unit Ventilators (VUVs) that greatly improves air quality by circulating fresh air into the classrooms. This new system not only utilizes fresh air continuously, it also filters the air. Filtered air systems remove particulates that can include viruses and bacteria. The VUVs condition the room at specific CO2 levels and humidity, which are two factors that can greatly reduce the spread of airborne viruses, by bringing in fresh outdoor air.
The District maintenance team checks our HVAC system daily to ensure all units are working properly. In addition, air filters (MERV 13) are changed four times per year: the beginning of the school year and at the end of each marking period.
How does the filter work?
Air travels across the device and positive and negative ions are carried in the air stream and into the space. The ions bond to oppositely charged particles (dust, pollen, mold, bacteria, viruses and other pathogens) in the air and on surfaces. When it comes to dust the ions make small particles into big particles through agglomeration, they fall to the floor and get caught on the filters. When it comes to viruses, mold and bacteria the ions bond to it and starves it and robs the hydrogen atoms killing it and rendering it ineffective.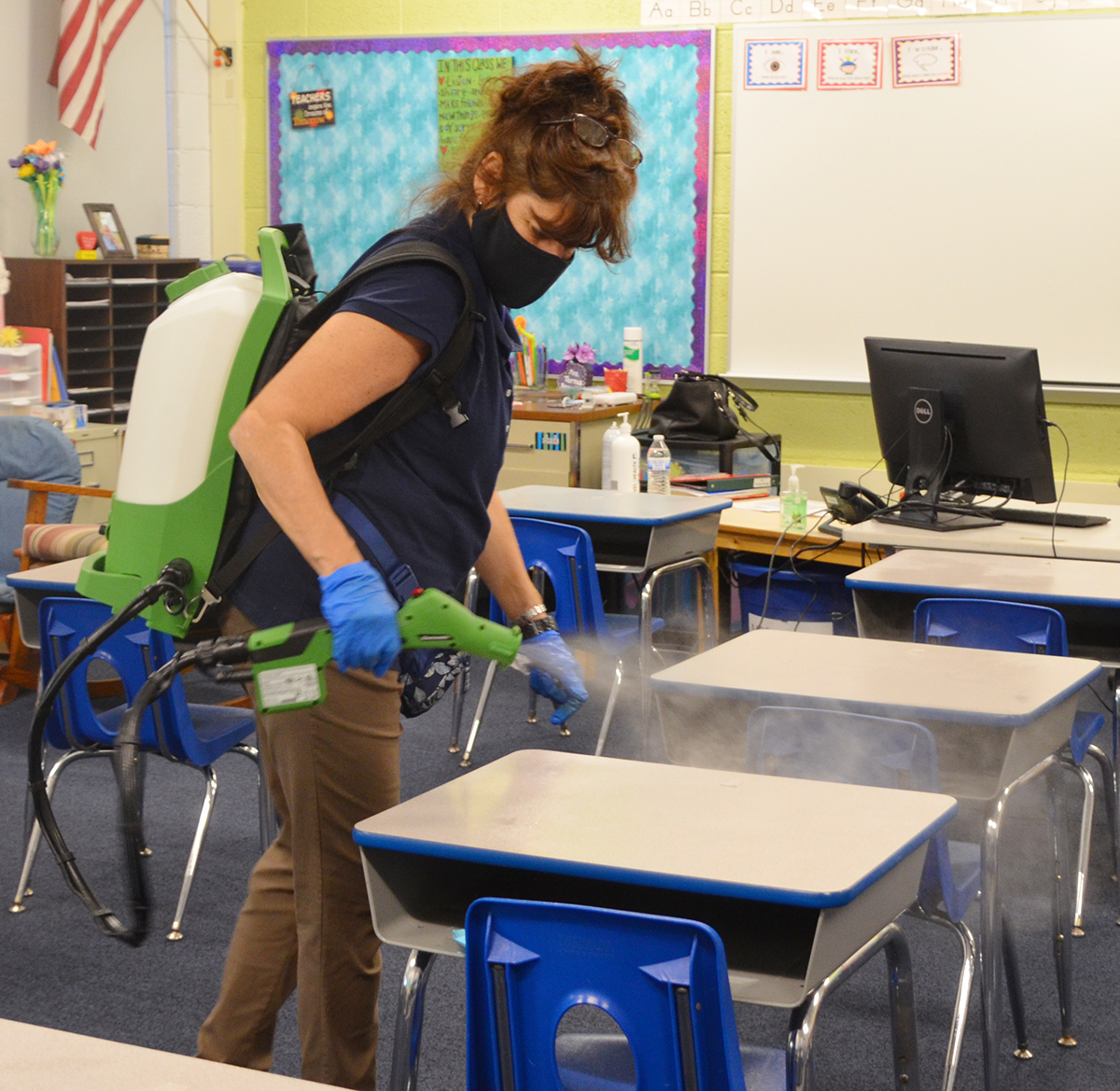 High touch surfaces that include computer keyboards, sinks and sink fixtures, telephones, door knobs, and light switches will be disinfected by building custodians every four hours. The custodial team uses electrostatic sprayers to disinfect the high touch surfaces. The disinfectant used is Bioesque, a natural product (made with Thyme oil) and is an EPA registered product that kills the COVID-19 virus. You can see details on Bioesque in the Berkley School District safety data sheet website.
Bathrooms will be spray disinfected every four hours.
Custodial staff will note the time, date and initials on a cleaning chart that is kept daily.
All buildings will be cleaned and disinfected nightly.
During the gap of time between the AM and PM students, classrooms will be disinfected.
Cleaning includes emptying garbage and recycling bins, vacuuming, sweeping, moping, etc. Nightly cleaning will happen prior to disinfecting.
The District will strive to maintain at least three months of personal protective equipment and cleaning/disinfecting supplies at all times.
Safety Signage in the Building
Every other bathroom stall and sink will be blocked off to promote social distancing in the restrooms.
Wall signs, floor signs, and door decals will be used in common areas to encourage and outline social distancing. These signs are already in place in our buildings and more will be installed before the first day back to school.