Schoology Information for Parents, Guardians and Students
This page will provide links and resources for parents/guardians and students to navigate the new Learning Management System, Schoology.
With Schoology, students can digitally submit homework assignments, review grades, participate in interactive discussions, receive announcements and feedback, take tests, write academic blogs, and more.

Schoology troubleshooting guide for Berkley Schools families
Featured Parent Video
A Parent's View of Schoology Using a Web Browser
Important Information on How to Log In to Schoology
There are two types of Schoology accounts: Student Accounts and Parent Accounts. This email will share how parents and students will access their accounts. Students and Parents use different websites to access Schoology.
We encourage everyone to log into their accounts before the first day of school, so that you are familiar with the platform, verify passwords and practice finding Zoom links to alleviate frustration from the first day of school.
As a reminder, Teachers have been working non stop over the last couple weeks to learn Schoology, set up their Schoology classrooms and explore all the supporting tools that come along with it. When you and your child log in to Schoology for the first time, please remember teachers may still be building their sites and adding pieces as they spend more time with the platform. Please be patient and flexible during these first two weeks.
Student Accounts
Students will use their Berkley Schools Google accounts to log into Schoology. Student accounts are ready to view. Once logged in, students will see a welcome message from Schoology and tutorial windows will pop up to guide them through the screens. In the Courses section, you will see all the classes your child is enrolled in. Explore all the sections of the Schoology platform to become familiar before the first day of school.
Student Google Account Information
For elementary students, each child's email address and password are located in the MISTAR Parent Portal under Network Login.
For secondary students, each child's email address is listed in the MISTAR Parent Portal under Network Login. Their original assigned password may also be listed, but your child may have changed their password in the past. If they do not know their password, they should reach out to their school Media Specialist for a password reset. We encourage you to reach out to Media Specialists as soon as possible.
Parent Accounts
Parents will receive an email from Schoology with login information around 5 pm today (August 28). The email will come from Schoology (no-reply@schoology.com) and the subject line will be Schoology Registration. Inside of this email from Schoology, you will receive a Login Link, Username (your MISTAR Parent Portal PIN), and Password. This email will be sent to the primary email listed in MISTAR for your child.
Here is a sample of what the email will look like that you will receive today from Schoology: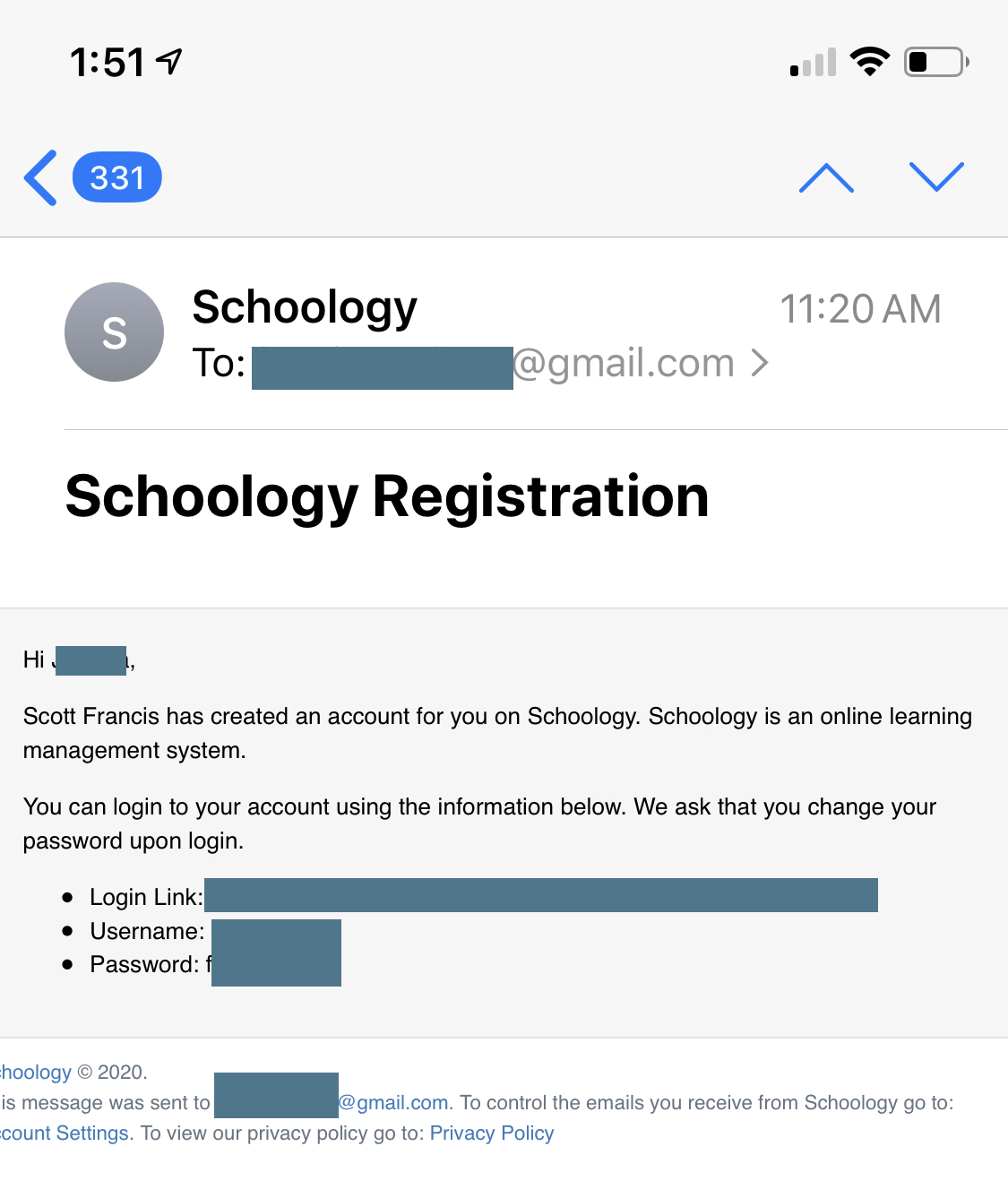 Bookmark Schoology for Future Access - Parents
After your initial login from the email you receive today, bookmark this website to log in to your parent account.
When you login, you will need to type in your Username/MISTAR Parent Portal PIN, Schoology password and Zip Code of your child's school (Berkley - 48072, Oak Park - 48237 and Huntington Woods - 48070). Select the school your child attends with the green arrow next to it, and click Log In.
If you see a message pop up below the login screen, asking "Did you mean to log in from…" please ignore this URL.
Parent & Guardian Resources for Schoology
Parents and Guardian Schoology Support
The list below are all resources on the Schoology Support pages, with easy links for you to access. Explore the Parent Help Center for answers to any questions you may have.
Parent Account vs Student Account Schoology Video
Student Resources for Schoology
Student Schoology Support
Students, the following resources are from Schoology to help you prepare for the school year.
Known Schoology Issues
Known Issues

Schoology troubleshooting guide for Berkley Schools families
Duplicate Courses
We are aware of some duplicate courses showing in some student accounts. While we work on resolving this issue, your child's teacher will only work in one of the courses. You can find all the information you need in the active course.
Schoology App
At this time, we do not recommend using the Schoology App. It needs some updates to work with our Zoom accounts for live instruction. We are working with Zoom on this issue, and will announce when the Schoology App is ready to go. If your child is using a tablet for school, you will need to download the Zoom App.
Elementary Specials Classes - Update
Links to the elementary specials teachers courses have been sent to each student in their Schoology accounts. Use the codes provided to add the specials courses to your child's Schoology account.
URL Showing During Parent Login
If you see a message pop up below the login screen, asking "Did you mean to log in from…" please ignore this URL.
Zoom Information
Berkley Schools purchased Zoom as a Schoology plug in to run all of our live teaching and learning sessions. Each teacher's Zoom link will be inside of their Schoology Classroom. The Zoom section of each classroom will be clearly labeled and inside of the Zoom section, you'll click on Join when it's time for your child's live session.
Zoom may need to be downloaded on your laptop, computer or tablet in order to run the Schoology sessions. Please make sure to log in early to the first sessions to allow any updates or downloads to take place before the live session begins.
Zoom accounts are safe and secure embedded inside of Schoology.