BHS COVID-19 Updates, Resources, & Tips
Class of 2020: Celebration Events Information and College To-Dos
Graduation & Senior Events Info
Please

click here to view the events calendar and information regarding Class of 2020 celebration events!
Complete Senior Survey!
ALL class of 2020 students are required to complete the

online Senior Survey no later than May 1st.
Make a Decision About College
May 1st is the decision deadline for most colleges. That means you will need to inform the school you will be attending that you accept their offer of admission. This most often happens by paying your enrollment deposit to that school.
Things to keep in mind:
Enrollment deposits vary from college-to-college

Most enrollment deposits are paid online via your student portal for that school (i.e. Spartan Portal, Wolverine Access, Bronco Portal).

Most colleges are offering virtual support for admitted students via their admissions websites so please be sure to take advantage of that if you have questions.
Deposit Deadline Extensions
Many colleges are pushing back their deposit and decision notification deadlines on account of the COVID-19 closures. The National College Admissions Counselors Association has complied a

comprehensive list of all colleges and updated deadlines.
Check

here if your college has extended their deposit deadlines for admitted students.
Trouble Paying your Deposit?
Contact the college's Admissions Office

.

Let them know you are ready to accept their admissions offer, but cannot pay the fee at this time. They will likely have a plan in place to assist given our current situation.

Fill out an Enrollment Deposit Waiver Form. The Enrollment Deposit Waiver Form is available for students to request that a college waive (or perhaps, defer) their enrollment deposit based on income and need.

NACAC Enrollment Deposit Fee Waiver can be completed without having to print it. Students should download the form on their computers, fill out the form, add a signature using the "Fill & Sign" button on the top right of the PDF, and save it on their computers. For more information, click here.

Applicants who are not eligible for a Pell Grant, but whose annual family income falls within the form's alternate income eligibility guidelines, may self-certify their eligibility.
Request Final Transcript!
Must be ordered using Parchment (Not Naviance)
Once you decided where you will be attending college next year, you will need to request that your final transcript be sent to that school. This must be done using

Parchment. (No more Naviance)
While making the request in Parchment, select "hold for grades." Regardless, final transcripts will be sent at the end of the school year once they are processed for graduation purposes.
How do I request my final transcript via Parchment?
Requesting a transcript via Parchment is very simple. Just

click here and follow the directions on your screen.
While making the request in Parchment, select "hold for grades." Regardless, final transcripts will be sent at the end of the school year once they are processed for graduation purposes.
Accept/Modify/Decline your Financial Aid Package
Finally, it is important for you to check the Financial Aid section of your college portal(s) to find your award information if you have not yet already.
To help better understand your Award Letter package, please check out the following resources:
If you are running into any issues, please be sure to contact the Financial Aid Office at your respective college.
BHS Online Learning Schedule, Grading Policy, Office Hours, & Tech Support
BHS Online Learning Schedule
Teachers will post content on their Google Classrooms by 9:00 AM on their designated days.
Social Studies: Mondays & Wednesdays
English: Mondays & Wednesdays
World Lang: Mondays & Fridays
Math: Tuesdays & Thursdays
Science: Tuesdays & Thursdays
Electives: Fridays
Teacher instruction will be posted in the form of podcasts, videos, Google Meets and other media formats that allow students to hear the voice of their teacher
Teachers will post assignments with due dates that will take students anywhere from 60-120 minutes (depending on the student).
BHS Grading Policy
Mr. Meloche sent out an email on April 20th explaining the new grading policy for the remainder of the 2019-2020 school year. You can read his email here.
Here's what you need to know:
All students will earn a grade of A, B, C, or G for 2nd semester classes based on the adjusted grading scale below. G grades mean that the student will earn credit, but their GPA will not be affected by that class.
Student grades can only go up after March 13th. For example, a student with a B on March 13 cannot end the year with a final grade of C in that class.
All students have the opportunity to improve their grades by submitting assignments on Google Classroom, but they are not required to do so.
Teacher Office Hours
What are Office Hours?
Office Hours are a designated time for students to meet with their teachers to get help or ask questions. Think of this as stopping into a teacher's room at lunch when you need to talk with them outside of class. It's not mandatory, but available to you.
You can also email questions to your teachers, but Office Hours will allow you to talk with them virtually, which might be more helpful for things like walking through a math problem together.
When are Office Hours?
Check out the Google Calendar to view office hours for every teacher and counselor at BHS.
LIFE HACK: Type a teacher's last name in the search box at the top of the calendar or after selecting Control + F to make it easier to find your teachers.
Tech Support
How do I receive technical support at home?
District Device: If you need Tech Support for your District device call the OS HelpDesk 248-209-2060, or live chat for any issue other than passwords.

Google Login: If your student does not know their Google login, please have them email Martha Spear, Media Specialist at BHS. She can reset their password.

Google Classroom: If you haven't seen your student's Google Classroom, we encourage you to do so. Parents will not receive separate logins, rather, you will use your child's Google login.
What if I don't have a device or internet?
Please contact Mr. Meloche directly if you need a Chromebook or internet access.
Contacting your Counselor
While we p​​​​​​hysically will not be able to see each other day-to-day, counselors will still be available to support you! The best way to reach us is to email your counselor directly or make an appointment to video chat during our office hours.
Google Classroom Tricks & Academic Tips
Google Classroom Tips
When you login to

Google Classroom, you should see a screen with all of your classrooms showing. Click on the Menu button in the corner to find the "To Do" and "Calendar" features.
LIFE HACK: Calendar feature shows assignments from all of your classes on the same calendar.

LIFE HACK: To-Do feature allows you to see a list of all upcoming assignments in the order they are due.
Academic Tips & Tricks
Overwhelmed by all of the emails, assignments, and information that you are getting?! We understand and want to help!
Here are a couple of strategies you can try to make all of this more manageable.
Social-Emotional Tips for Students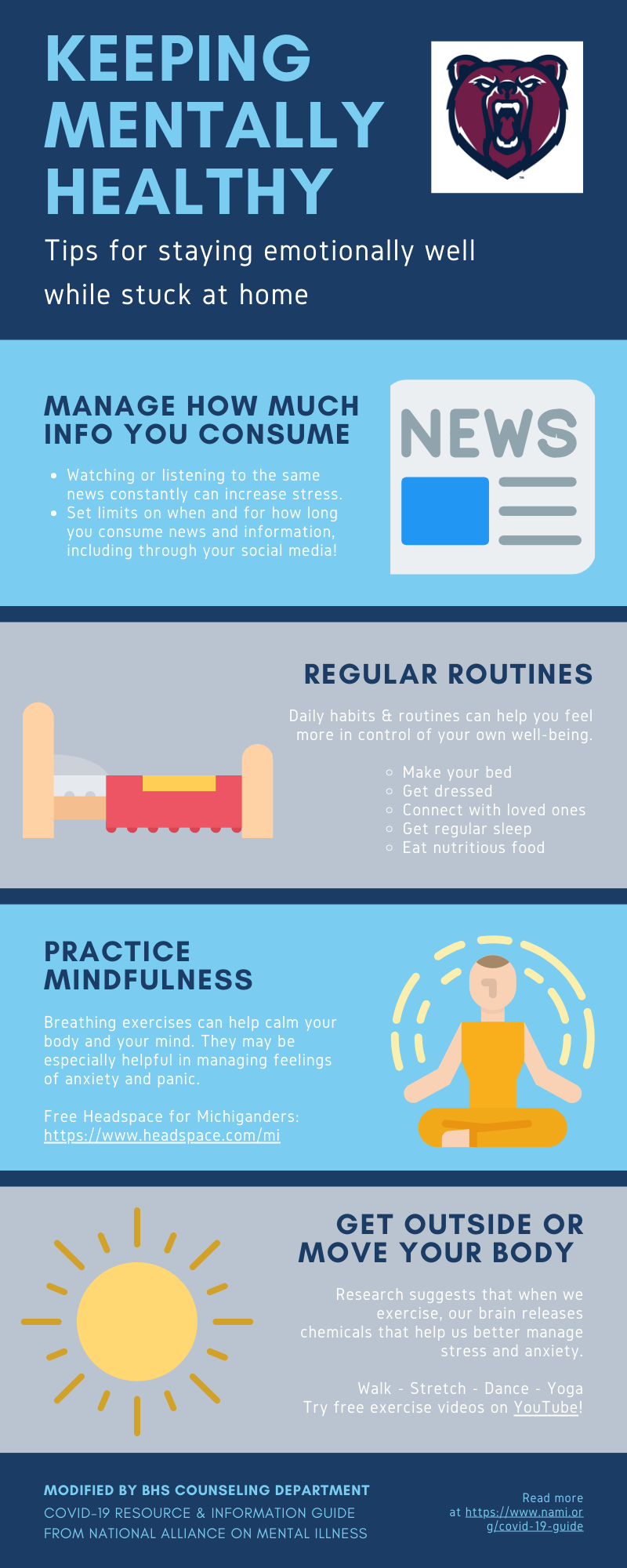 Virtual Bear Den & Wellness Room
Feeling overwhelmed, stressed, anxious, isolated, or sad? Please visit our Virtual Bear Den. In our Virtual Bear Den you'll find some outlets to help calm yourself and stay mindful.
Mental Health Resources
Crisis & Emergency Contacts
If you are struggling with your mental health and you need help, it is important that you talk with your parent/guardian and/or contact any of the crisis text/phone lines that are open 24 hours a day.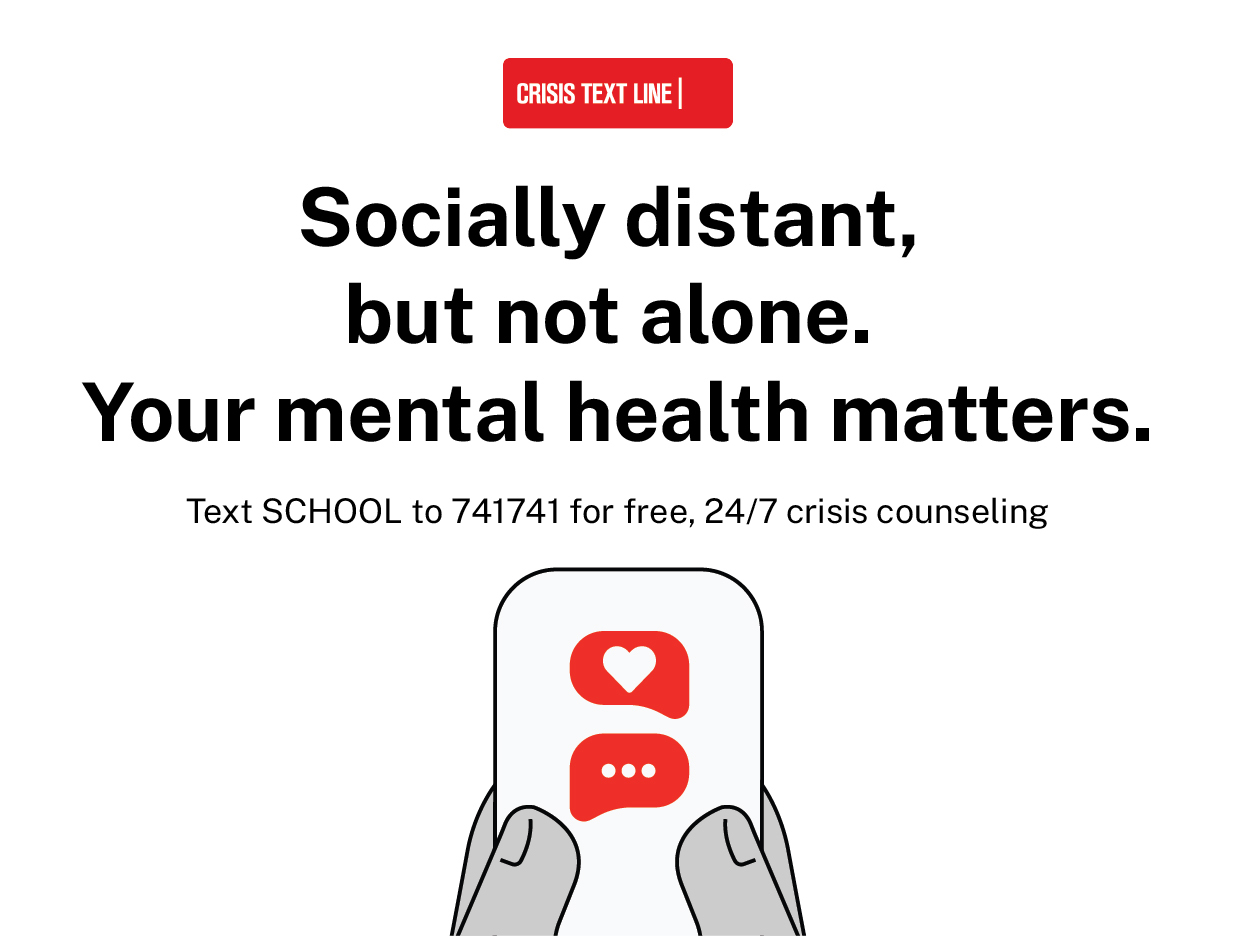 C

risis TEXT Line: Text SCHOOL to 741-741 to connect to a

counselor

C

risis

Help Line: 1-800-273-8255

Trevor Project Helpline: 1-866-488-7386

Common Ground Helps Line: 1-800-231-1127

Disaster Distress Helpline: 1-800-985-5990

National Suicide Prevention Lifeline: 1-800-273-8255

Call 911 or your local Police Department
Non-Crisis Contacts
S

tate of MI Peer Warmline: 888-733-7753

10 a.m. to 2 a.m., 7 days per week
Serves individuals living with persistent mental health challenges including anxiety, depression, and trauma. ​​​​​​

Mental Health and Wellness Clinic College of Education, Wayne State University

During the COVID-19 stay home stay safe order, until further notice, all sessions will be offered either via telephone (voice only), cell phone FaceTime (iPhones only), or Zoom (video conferencing).
There are no fees for our counseling/psychotherapy services at this time.
Go to go.wayne.edu/mhawcto learn more and to make an appointment, or email mhawc@wayne.edu for inquiries. Please see flier for more information.
There is additional mental health information and resources on the BHS Counseling Mental Health Information webpage.
Easterseals of Southeast Michigan
Services & Information
Easterseals continues to offer services including case management, youth peer services, peer recovery supports and individual, family and group therapy all via telehealth platforms. These platforms include: eVisit, Microsoft TEAMS, and Zoom. Easterseals is also able to facilitate sessions telephonically as needed.
Some of the evidence-based groups that are currently being offered are:
Mortal Recognition Therapy (MRT)

Dialectical Behavioral Therapy (DBT)

Prime for Life

Healthy Living (facilitated by Youth Peer Support Specialist)

Parent Support Groups

Incredible Years
To access services through a telehealth platform, please contact Easterseals Contact Center at 1-248-475-2150 or 1-800-75-SEALS.
Please visit

EastersealsMichigan.com for more information.
Parent Resources
Social Emotional COVID-19 Resources for Parents
Tips for Supporting Student Wellness at Home during COVID-19, Trails to Wellness at the University of Michigan Medical School
5 Ways to View Coverage of the Coronavirus, The American Psychological Association
Supporting Children's Emotional Well-being During the COVID-19 Pandemic, Child Trends
How to Talk to Your Child about the Coronavirus, Kids Health
Talking to Children About COVID-19 (Coronavirus): A Parent Resource, National Association of School Psychologists
Promoting Positive Mental Health for Teens Feeling Isolated, Erika's Lighthouse
Parent/Caregiver Guide to Helping Families Cope with the Coronavirus Disease 2019 (COVID-19), National Child Traumatic Stress Network
National Center for School Crisis and Bereavement,

Specific resources to the COVID-19 pandemic.
AP, SAT, & ACT COVID-19 Updates
AP exams
NEW - Upcoming

AP exam info videos now available!
Please visit

www.collegeboard.org or contact Jennifer Gebbie or Catherine Jasionowicz at CASA if you have specific testing questions.
Students will be taking their AP exams online. This means they will need to sign in to their AP account. If a student has trouble logging in to their AP account, they will need to contact AP directly at 866-315-6068.
Students will be able to take their exam on a tablet, smartphone, or laptop/desktop computer. Depending on your test, you will find it more advantageous to take it on one device versus the other.
Your test will be "easier" to take on your

smartphone

if you are taking a

science, math, or Spanish language

exam.

Your test will be "easier" to take on your

computer

if you are taking an

English, history, government, or art

exam.
Helpful links:
College Board will be posting simulation test questions and simulation testing uploads at the end of April. An "At-Home Testing Guide" will also be available at the end of April to all teachers, counselors, and students. It will have more details about signing in to your exam.
If a student feels too overwhelmed by the changes or the COVID-19 situation, all you have to do to get a full refund is NOT sign in to take your exam. Refunds will come to you in August.
If a student logs in, even if they do not finish the exam, or has difficulties due to technology issues, they will NOT get a refund. Their test will be graded and they will be charged the exam fee.
ALL STUDENTS will be taking their exams on

the first test date (May 11-22), even if you registered for a late exam. To take a late exam, you will need to prove that you had technology or health issues and get permission from CASA to take the late exam.
Rubrics for all questions will remain the same except for History and Government exams. The revised rubrics will be on the AP website. Please check

here for more information.
Specific exam information:
English Language:

Your test will be a single question- FRQ #2

English Literature:

Your test will be a single question- FRQ #2

Spanish:

Your test will be only the speaking portions. It will be Questions #1 and #3.

History:

Your test will be a single question, the DBQ, but you will only have 5 documents instead of 7

All other exams:

You will have two FRQs. The first FRQ will last for 25 minutes, then you will have a 5 minute break to upload your answers. Your second question will last for 15 minutes, then you will have a 5 minute break to upload your answers.

Calc BC:

Since there will be no Calc AB subscores, any student can contact CJ to change their BC test to an AB test. This must be done by

APRIL 20

!
Approved accommodations will automatically be applied to any test and will be reflected in timing when you sign in for your exam.
Security of the exam is very important. AP will be monitoring the normal social media and group chat sites. They also have a new software program that recognizes if the writing being submitted is by the student. Also, remember that teachers will be getting a copy of all exams on May 26th. If any cheating is suspected by anyone, the score WILL be canceled.
That being said, AP has said that students are allowed to consult textbooks and notes during the exam. No consulting other students or teachers!!
Keep in mind that you have been working towards this (or these) exam(s) all year. Colleges recognize that effort. Any college that gives credit for AP test scores is a member of College Board. Before College Board decided how they were going to administer the exams, they took a vote with their member colleges.
ALL the colleges, including UC, Yale, and U of M, have voted to allow this testing format and will accept a 3, 4, or 5 score for credit.
For full details and updates from College Board regarding AP exams, visit their

AP Coronavirus Updates Page.
SAT exams
Registration for the 2020-21 SAT administrations will open the week of May 26th.
At that point, June registrants will be able to transfer their seat to a 2020-21 administration.

All other students in the high school class of 2021 who don't have SAT scores will also have early access to register for the August, September, and October administrations.

This includes the previously scheduled tests on August 29, October 3, November 7, and December 5 and a new administration in September 26.

This includes students who had registered for March or May and had their registrations canceled and refunded.
Please check

College Board Coronavirus Updates for the latest information.
ACT exams
ACT has rescheduled its April 4th national test date to June 13th across the US.
All students registered for the April 4 test date will receive an email from ACT informing them of the postponement and instructions for free rescheduling to June 13 or a future national test date.
Please check the

ACT website for updates.