BHS COVID-19 Updates, Resources, & Tips
Click here for Berkley School District 2020-2021 Return to School information page.
Google Classroom Tricks & Academic Tips
Google Classroom Tips
When you login to

Google Classroom, you should see a screen with all of your classrooms showing. Click on the Menu button in the corner to find the "To Do" and "Calendar" features.
LIFE HACK: Calendar feature shows assignments from all of your classes on the same calendar.

LIFE HACK: To-Do feature allows you to see a list of all upcoming assignments in the order they are due.
Academic Tips & Tricks
Overwhelmed by all of the emails, assignments, and information that you are getting?! We understand and want to help!
Here are a couple of strategies you can try to make all of this more manageable.
Social-Emotional Tips for Students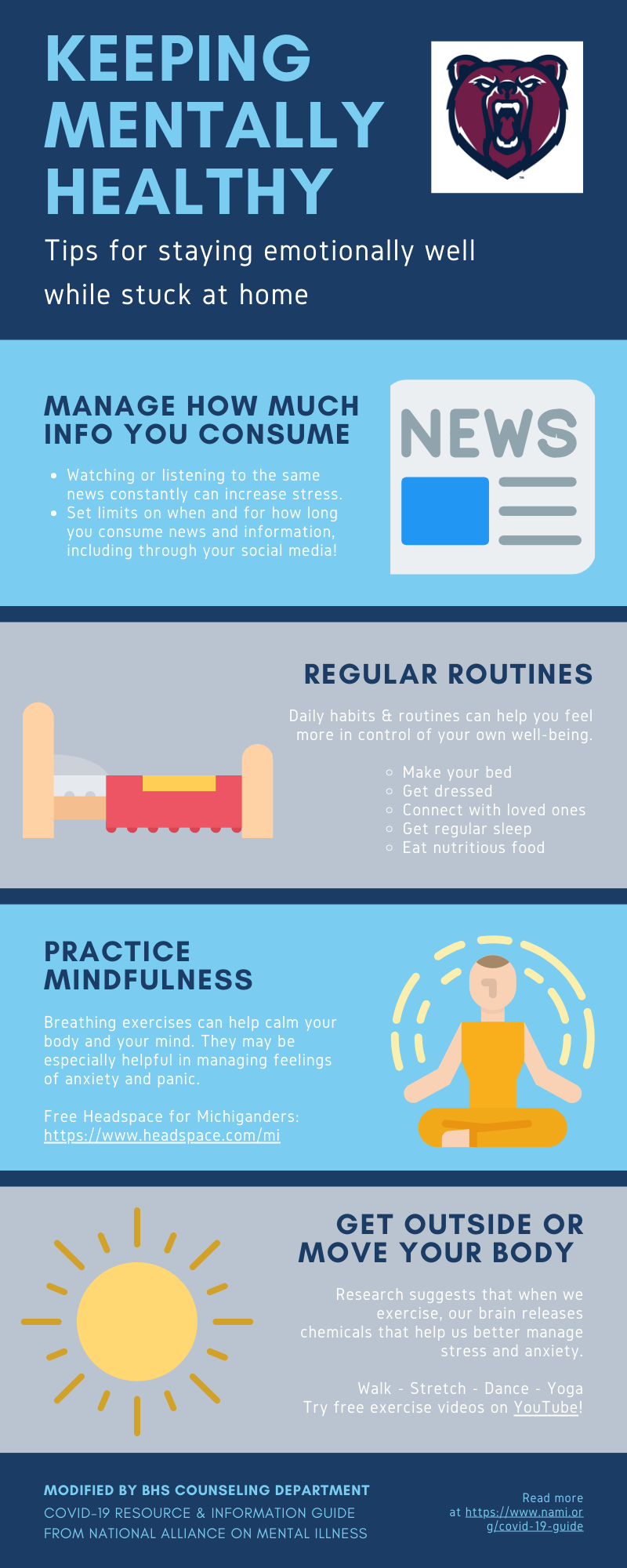 Virtual Bear Den & Wellness Room
Feeling overwhelmed, stressed, anxious, isolated, or sad? Please visit our Virtual Bear Den. In our Virtual Bear Den you'll find some outlets to help calm yourself and stay mindful.
Mental Health Resources
Crisis & Emergency Contacts
If you are struggling with your mental health and you need help, it is important that you talk with your parent/guardian and/or contact any of the crisis text/phone lines that are open 24 hours a day.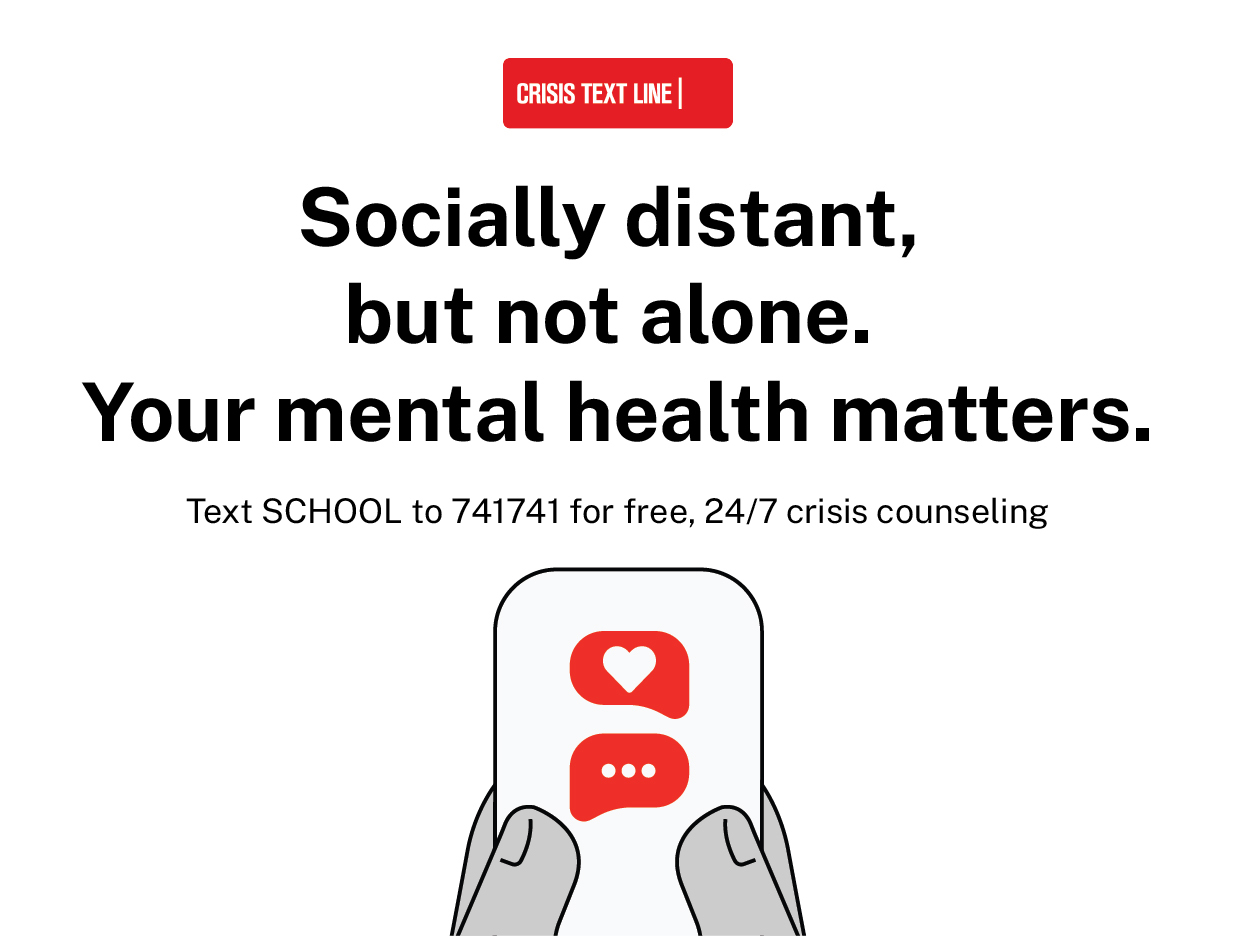 C

risis TEXT Line: Text SCHOOL to 741-741 to connect to a

counselor

C

risis

Help Line: 1-800-273-8255

Trevor Project Helpline: 1-866-488-7386

Common Ground Helps Line: 1-800-231-1127

Disaster Distress Helpline: 1-800-985-5990

National Suicide Prevention Lifeline: 1-800-273-8255

Call 911 or your local Police Department
Non-Crisis Contacts
S

tate of MI Peer Warmline: 888-733-7753

10 a.m. to 2 a.m., 7 days per week
Serves individuals living with persistent mental health challenges including anxiety, depression, and trauma. ​​​​​​

Mental Health and Wellness Clinic College of Education, Wayne State University

During the COVID-19 stay home stay safe order, until further notice, all sessions will be offered either via telephone (voice only), cell phone FaceTime (iPhones only), or Zoom (video conferencing).
There are no fees for our counseling/psychotherapy services at this time.
Go to go.wayne.edu/mhawcto learn more and to make an appointment, or email mhawc@wayne.edu for inquiries. Please see flier for more information.
There is additional mental health information and resources on the BHS Counseling Mental Health Information webpage.
Easterseals of Southeast Michigan
Services & Information
Easterseals continues to offer services including case management, youth peer services, peer recovery supports and individual, family and group therapy all via telehealth platforms. These platforms include: eVisit, Microsoft TEAMS, and Zoom. Easterseals is also able to facilitate sessions telephonically as needed.
Some of the evidence-based groups that are currently being offered are:
Mortal Recognition Therapy (MRT)

Dialectical Behavioral Therapy (DBT)

Prime for Life

Healthy Living (facilitated by Youth Peer Support Specialist)

Parent Support Groups

Incredible Years
To access services through a telehealth platform, please contact Easterseals Contact Center at 1-248-475-2150 or 1-800-75-SEALS.
Please visit

EastersealsMichigan.com for more information.
Parent Resources
Social Emotional COVID-19 Resources for Parents
Tips for Supporting Student Wellness at Home during COVID-19, Trails to Wellness at the University of Michigan Medical School
5 Ways to View Coverage of the Coronavirus, The American Psychological Association
Supporting Children's Emotional Well-being During the COVID-19 Pandemic, Child Trends
How to Talk to Your Child about the Coronavirus, Kids Health
Talking to Children About COVID-19 (Coronavirus): A Parent Resource, National Association of School Psychologists
Promoting Positive Mental Health for Teens Feeling Isolated, Erika's Lighthouse
Parent/Caregiver Guide to Helping Families Cope with the Coronavirus Disease 2019 (COVID-19), National Child Traumatic Stress Network
National Center for School Crisis and Bereavement,

Specific resources to the COVID-19 pandemic.
SAT & ACT COVID-19 Updates
SAT exams
Registration for the 2020-21 SAT administrations will open the week of May 26th.
At that point, June registrants will be able to transfer their seat to a 2020-21 administration.

All other students in the high school class of 2021 who don't have SAT scores will also have early access to register for the August, September, and October administrations.

This includes the previously scheduled tests on August 29, October 3, November 7, and December 5 and a new administration in September 26.

This includes students who had registered for March or May and had their registrations canceled and refunded.
Please check

College Board Coronavirus Updates for the latest information.
ACT exams
ACT has rescheduled its April 4th national test date to June 13th across the US.
All students registered for the April 4 test date will receive an email from ACT informing them of the postponement and instructions for free rescheduling to June 13 or a future national test date.
Please check the

ACT website for updates.