Parent & Classroom Presentations
Class of 2020 - Let The Journey Begin!
Navigating The College Application Process & Post-Secondary Landscape
April 24, 2019
Thank you to all of the families that attended our event. We hope that you felt it was valuable and worth your time. Remember, this event is just the beginning of the process. There are many steps along this journey and we will continue to share out materials as the process continues.
Below is a picture of some of the emotions that come to mind when thinking about starting this process. For those of you unable to attend there were some parents who used language not appropriate for school ;-) You are not alone in your thoughts and we will always do our best to help.
Beneath the image are links to some of the information that was shared as well as contact information for the guest presenters.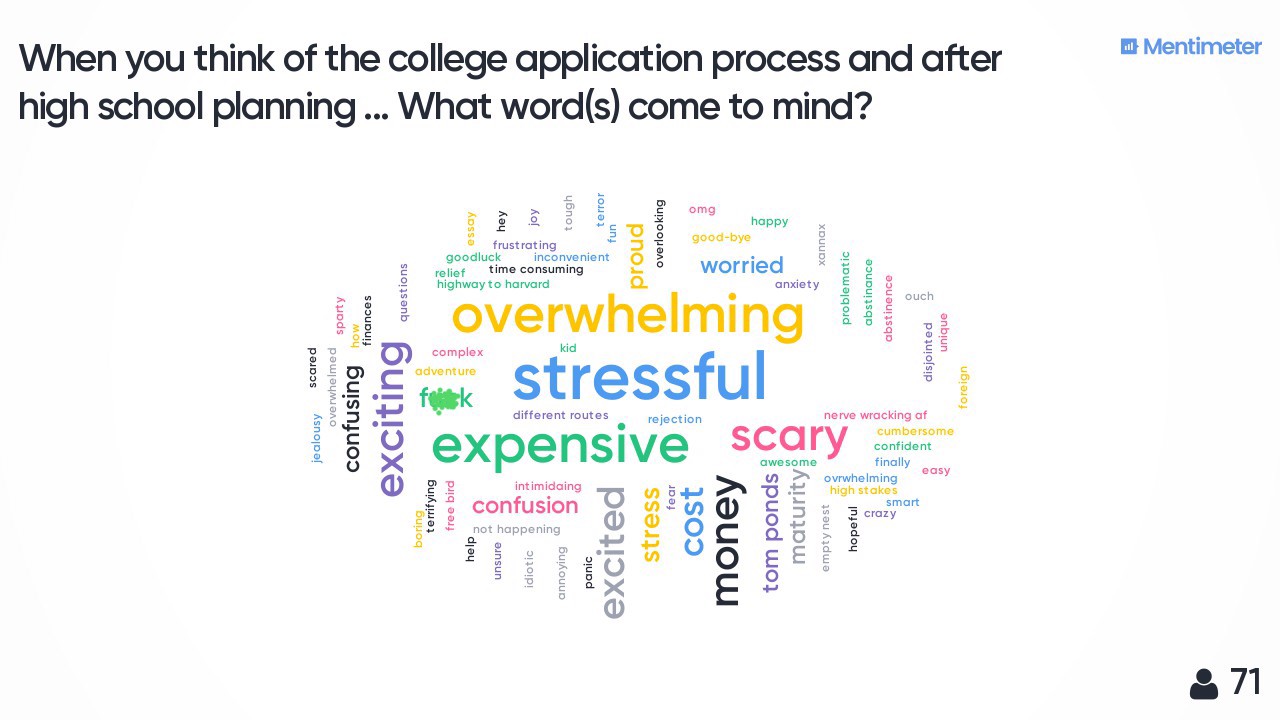 Class of 2020 - Let The Journey Begin! - Introduction Slides


The College Application Process, Part I: Where Do I Even Begin?


The College Application Process, Part II: Naviance 101


What Comes Next? Events and Suggestions

Class of 2020 Parent Night Survey Link
Presentation Information
The Berkley School District records many of the BHS Parent Information Nights and uploads them to the District's YouTube channel.

Past presentations on the BSD You Tube channel
2018-19 Presentation Materials & Information
Class of 2019 - Parent Night - 9.20.18

Class of 2019 - IMPORTANT DATES TO REMEMBER

Class of 2019 Parent Night Introduction Slides


Class of 2019 Applying to College Components - Prezi Link
Class of 2022 - Parent Night - 11.7.18

Class of 2022 Parent Night Slides


Class of 2022 Parent Night Handout
COMING SOON
Executive Functioning Presentation - Sarah Rappaport - The Tutoring Center
Past Presentations
Fresh Start, New Semester - Organization Workshop - 02.15.17
Presented by Sarah Rappaport from: THE TUTORING CENTER, BIRMINGHAM


Fresh Start, New Semester - Presentation Video - 02.15.17
Midterm Madness - Study Skills Workshop - 1.12.17
Presented by Sarah Rappaport from: THE TUTORING CENTER, BIRMINGHAM


Midterm Madness - Presentation Video - 1.12.17


Class of 2020 - Preparing for Exams - Study Skills Workshop Outline - 1.12.17


Class of 2020 - Organizational Tools & Samples - Study Skills Workshop - 1.12.17


Class of 2020 - Study Calendar Samples - Study Skills Workshop - 1.12.17
Class of 2017 - Parent Night - 9.21.16

Class of 2017 Parent Meeting Presentation Slides


Colleges Visiting Berkley High School (Updated 9.22.16)
Class of 2020 - Parent Night - 11.16.16

Handout 1: Clubs and Organizations


Handout 2: Michigan Merit Curriculum High School Graduation Requirements


9th Grade Parent Night - Power Point Presentation - General


9th Grade Parent Night - Power Point Presentation - The Tutoring Center


9th Grade Parent Night - The Tutoring Center - Studying Resources & Information
---