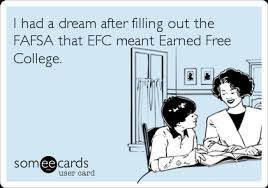 Paying for College
If you were unable to attend our FAFSA Completion Workshop with our Oakland University Financial Aid expert, Carrie Gilchrist, and still have some questions about the FAFSA, please see below FAFSA resources from Carrie's office:
Virtual FAFSA Appointments are available to assist high school seniors and their parents complete the FAFSA with professional assistance on an individual basis in a private webinar environment. Appointments are private and secure. Virtual appointments take place online from the comfort of your own home or other location you choose. You will receive a private link to your personal webinar environment after signing up for a virtual appointment. These appointments are free and available to the public.
Schedule a Virtual FAFSA Appointment
Prior to your appointment please review the FAFSA Checklist for a list of items necessary to complete the FAFSA. Students and parents should each create an FSA ID at least one week prior to completing the FAFSA. Use the FSA ID Worksheet to record related information for your files. Create an FSA ID now.
You may find it helpful to view these tutorials:

How to Create an FSA ID video to learn the steps necessary in creating the FSA ID

7 Easy Steps to the FAFSA video series to learn more about the application.
Or you may call OU's FAFSA help line at: 248-370-2550.