Trade School, Military, Gap Year, Working?
Interested in Trade Schools, Apprenticeships, Military, Gap Year or going straight to work?
Visit the BHS Career Center page for information and resources for these options and much more!
Overview of College Research + Application process

Class of 2023 Family Night - College Kickoff



Researching & Applying to College: Process Overview


Researching & Applying to College: Process Overview
---
College Planning Guides
A Guide for Families in the College Admissions Process, from the National Association of College Admissions Counselors
Step by Step Guide on College Awareness and Planning for 9th & 10th grade, from the National Association of College Admissions Counselors
Step by Step Guide on College Awareness and Planning for 11th & 12th grade, from the National Association of College Admissions Counselors
---
College Research + Exploration Resources
Tracker to stay organized!

My College List Research + Essay Tracker
Xello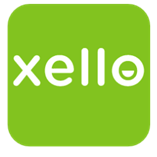 Use this link (or click on icon) Sign in with Google, select your Berkley account! You are able to research colleges, majors, careers, and take inventories and brief surveys about yourself to help guide you!
Virtual Campus Tours
The College Tour TV series on Amazon Prime!
CampusReel
YouVisit
College Admissions Representatives + Websites!
Colleges have admissions counselors assigned to specific states, counties, etc.
Call or email to connect with admissions counselors assigned to BHS!
Sign up for email updates from college admissions websites!
Arrange an in-person tour or virtual tour!
Search Engines + Websites
BigFuture
Cappex
College Confidential
"How to College" Playlist from CrashCourse
---
College Application Requirements

---
College Application Timeline
---
Recommended Reading
Important Preparing for College Tips
"Where You Go Is Not Who You Will Be"
"College Is Yours 2.0"
"Colleges That Change Lives"
"Looking Beyond the Ivy League"
Applying to College + the Common App
Great tool to stay organized!

My College List Research + Essay tracker
---
Apply to College for FREE in Michigan!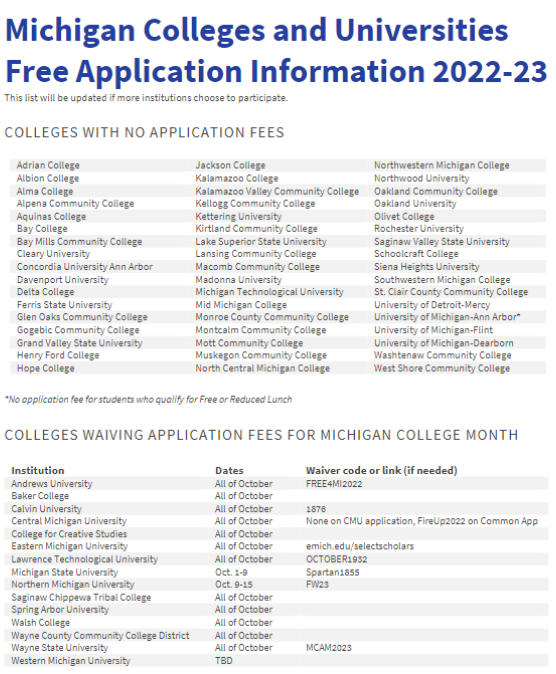 ---
College Application Requirements

---
College Application Timeline
---
College Application Process
---
Completing College Applications

Applications 101


Applications 101
---
The Common App
Common App tours, tips + presentations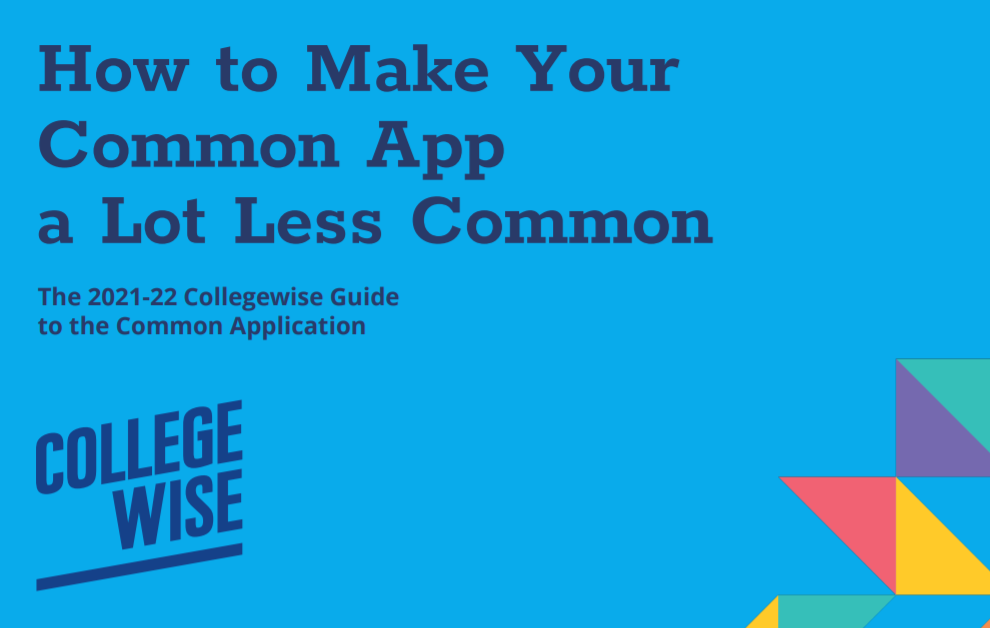 How to Make Your Common App a Lot Less Common
Other Common App help + resources
Find out colleges' writing requirements with Common App Writing Requirement Resource!
Common App playlist for First-time applicants
Common App for mobile
How to complete the Common App "Activities" section
Common App Ready's Application Dictionary
College readiness tool for families
Sending Transcripts + Test Scores to Colleges
Sending high school transcripts to Colleges + Universities
How to send transcripts?
Berkley High School has partnered with Parchment to order and send students and alumni transcripts securely. Students must order their transcripts using Parchment.

Students must indicate where they would like their transcripts sent (referred to as "Destination" in Parchment). Transcripts orders are fulfilled by the BHS registrar in 2-3 school days.
When to send transcripts?
When you are applying to colleges during 12th grade. Colleges will not review your application unless they have received your transcript via Parchment.
In May of 12th grade, once you know for sure which college you are attending the follow fall. When you request your final transcript be send to the college you will be attending, you must select "Hold for Grades" in Parchment. BHS will send your final transcript once 2nd semester grades are posted onto your transcript (a few days following graduation).
-Sometimes-, colleges will ask to see your 1st semester grades from 12th grade (7th semester grades) before they make an admissions decision. If that is the case, you must order your transcript in Parchment and select "Hold for Grades". BHS will send your transcript once 1st semester grades are posted onto your transcript (a few days after the start of 2nd semester).
Sending SAT/ACT Scores to Colleges/Universities
If you would like to submit your tests scores to colleges (and you didn't do so when you registered for the test), you need to order your scores in either your ACT account portal or College Board account portal.
Colleges want to receive test scores directly from these portals, not from BHS. Note: BHS does not have access to student portal login information.
Click below for more information and detailed instructions:
Community College | Transferring to a 4-year University
Michigan Transfer Network
Thinking of transferring? Check out this video!
Plan your Transfer
Planning your transfer is an important step to earning your degree. Students in Michigan have several options when it comes to transferring.
You may want to:
Transfer a course
Complete the Michigan Transfer Agreement
Complete an entire associate degree before transferring to earn your bachelor's degree.
Use the resources on Michigan Transfer Network to help plan your transfer!
Transfer your Courses
The Michigan Transfer Network allows students and advisors to view transfer course equivalencies between many Michigan colleges and universities. You can search for courses by sending institution (the institution where you completed the course) or by the receiving institution (the institution where you plan to transfer the course). This information is provided as a resource to identify potential transfer credit and is not an official credit evaluation or a guarantee of transfer credit.
Michigan Transfer Agreement
The Michigan Transfer Agreement (MTA) allows students to complete general education courses at participating colleges and universities in Michigan. Students may complete the MTA as part of an associate degree or as a stand-alone package at Michigan institutions.
To fulfill the Michigan Transfer Agreement, students must successfully complete at least 30 credits, with at least a 2.0 in each course and at least one credit completed at the institution awarding the MTA.
These credits should be met according to the following distribution:
One course in English Composition
A second course in English Composition or 1 course in Communications
One course in Mathematics from one of three pathways: Pathway to Calculus (includes College Algebra), Statistics, or Quantitative Reasoning
Two courses in Social Sciences (from two disciplines)
Two courses in Humanities and Fine Arts (from two disciplines, excluding studio and performance classes)
Two courses in Natural Sciences including one with laboratory experience (from two disciplines)
Transfer your Associate Degree
Students can complete an associate degree at a community college in a program of study and transfer to a participating university. Colleges and universities maintain articulation agreements and transfer guides to help students navigate the transfer process.
Use these guides to help plan your transfer pathway!
Articulation Agreements
Articulation agreements are transfer agreements between two institutions of higher education ensuring that courses transfer to specific academic programs.
Transfer Guides
Transfer Guides are published by colleges and universities to help students understand how courses transfer to selected academic programs.
MiTransfer Pathways
MiTransfer Pathways provide guidance about transferring courses in specific academic programs to multiple colleges and universities in Michigan.
---
Oakland Community College Transfer Information
When transferring from OCC to another institution, it is up to the receiving school which classes will be accepted and how your credits will transfer. Students should work with an OCC counselor to discuss transfer credits and academic planning to ensure they stay on track for degree completion.
---
Oakland Community College Short-term Programs
For high school graduates who aren't interested in the traditional college path, OCC offers a variety of training opportunities to prepare them for in-demand, high paying jobs. Programs last six months or less, and some are free. They include:
Training programs that prepare students for jobs in fields such as supply chain logistics, advanced manufacturing, CNC, sterile processing, CNA, and computer security.
Pre-apprenticeship programs where students can explore a trade or technical occupation and develop the skills and knowledge needed to prepare themselves for employment or apprenticeship opportunities.
Apprenticeship programs where students receive the related technical instruction to complete a U.S. Department of Labor registered apprenticeship program while earning wages from day one. Students are also advised on certificate and associate degree options after successful completion of an apprenticeship.
HBCUs | Historical Black Colleges + Universities
Thinking about an HBCU?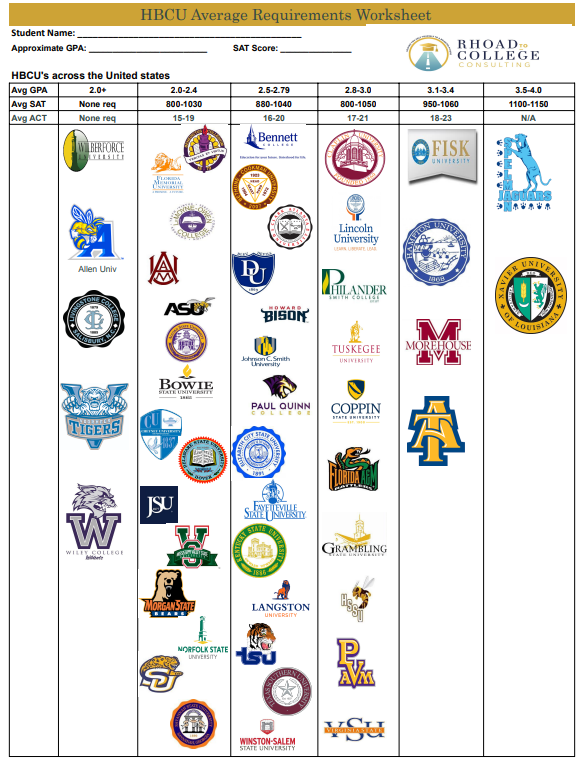 ---
Common Black College Application
---
Do you need an Essay?
Find out colleges' writing requirements with Common App Writing Requirement Resource!
If your colleges aren't on the Common App, check the colleges' admissions websites!
---
Essay Editing Services for High School Students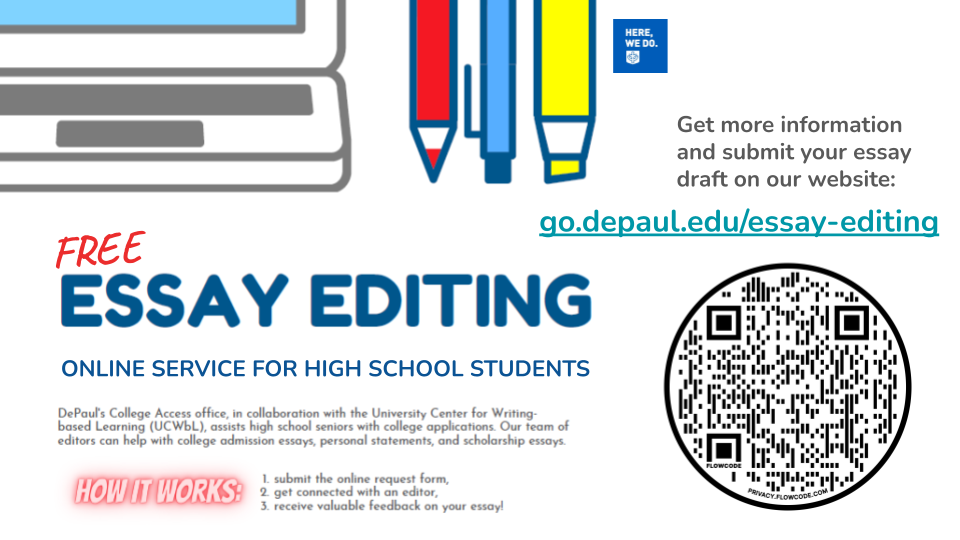 College Essay Writing presentations

Writing for College Admissions from DePaul University

A Guide to College Essay Writing from an essay expert!

Planning & Drafting Personal Statements from Berkley Public Library 10.17.20, including: Planning Personal Statements - Part 1, Drafting Personal Statements - Part 2

---
Free e-Book for students and parents!
How to Write an Effective College Application Essay: The Inside Scoop for Students
---
Essay Prompts
Common Application Essay Prompts
---
Essay Tips and Information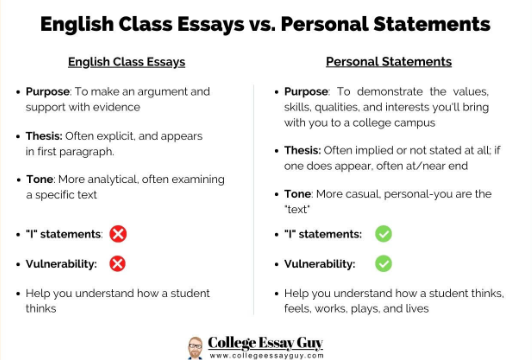 How to Write a College Essay: The Ultimate Step-by-Step Guide from the College Essay Guy
Strong Personal Statements Blog - Emory University
Essays That Worked - Johns Hopkins University
New York Times - College Essays
Helping Juniors Get a Jump on The College Essay
Financial Aid + FAFSA | Resources + Information
*NEW* Michigan Achievement Scholarship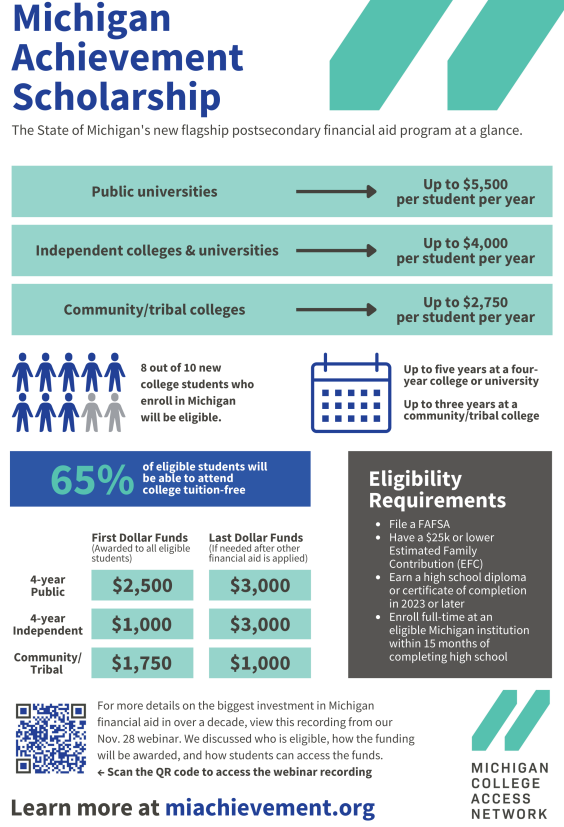 ---
Basic Financial Aid Info
Video Presentations
Sallie Mae video series on the Paying for College process


View the recorded Funding Education Beyond High School presentation from Financial Aid Expert below

Presentation Outline
---
Filling out the FAFSA
3 simple steps:
Create an FSA ID and record on FSA ID and FAFSA Instructional Worksheet.
Gather relevant documents using the FAFSA Checklist
Add Colleges/Schools on FAFSA + Create an MISSG portal!
You must list an eligible Michigan college to be considered for state grant aid.
Initial state of Michigan grant awards will be made to the college listed first on your FAFSA form.

If you update your school choice later, please notify your state agency by accessing the

Michigan Student Scholarships & Grants student portal

.
---
After the FAFSA...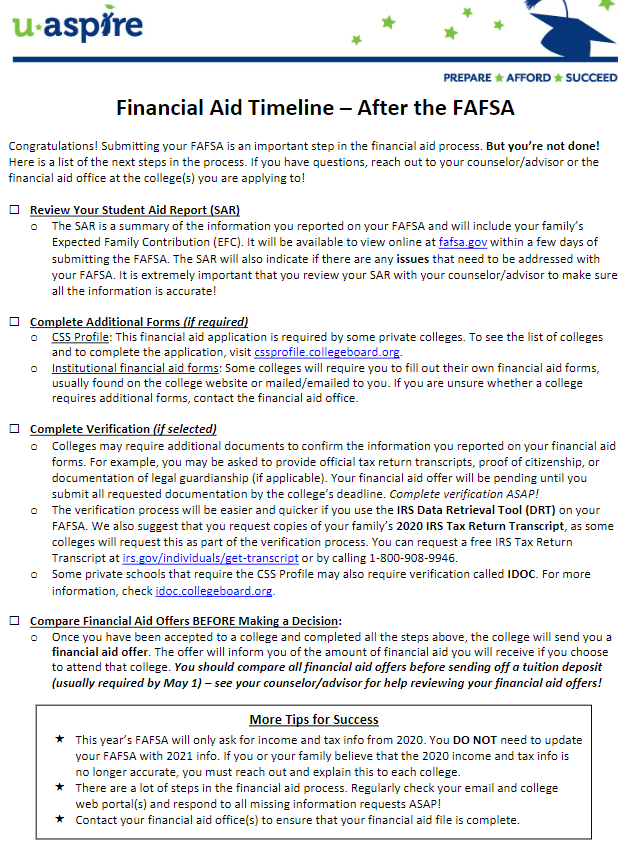 ---
Need help with the FAFSA?
Virtual FAFSA Appointments are available to assist high school seniors and their parents complete the FAFSA with professional assistance on an individual basis in a private webinar environment. Appointments are private and secure.
Virtual appointments take place online from the comfort of your own home or other location you choose. You will receive a private link to your personal webinar environment after signing up for a virtual appointment. These appointments are free and available to the public.
Prior to your appointment please review the FAFSA Checklist for a list of items necessary to complete the FAFSA.
Students and parents should each create an FSA ID at least one week prior to completing the FAFSA. Create an FSA ID now.
Use the FSA ID Worksheet to record related information for your files.
Video Tutorials

How to Create an FSA ID video to learn the steps necessary in creating the FSA ID


7 Easy Steps to the FAFSA video series to learn more about the application
FAFSA help line:
Call Oakland University's Financial Aid Help line at (248) 370-2550
---
Filling out the CSS Profile
Do the colleges you are applying to require an institutional aid application or the CSS Profile?
The following colleges, universities, and scholarship programs use CSS Profile as part of their financial aid process for some or all of their financial aid applicants in the populations listed below. Please check schools' websites or contact the institution for more information.
---
Understanding Financial Aid Award Letters
What to do after you receive Financial Aid Award Offer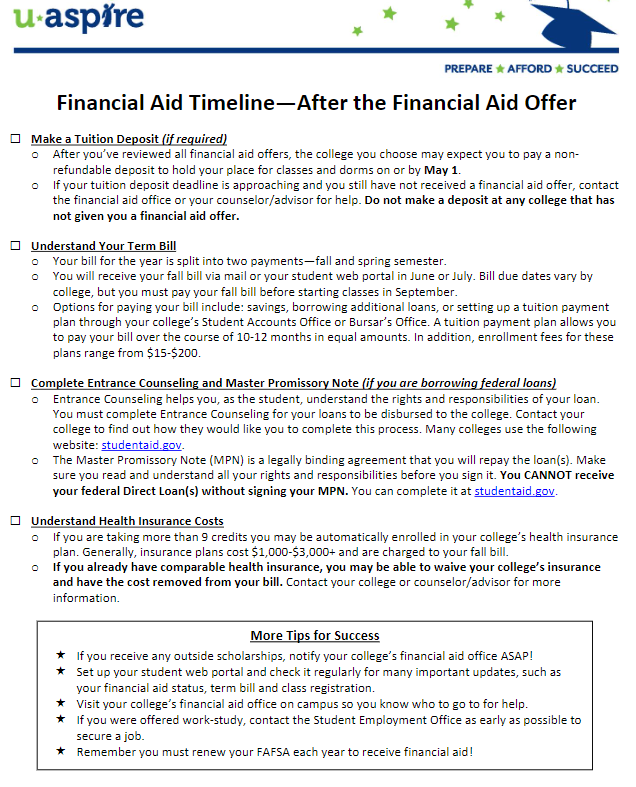 Financial Aid Award Letter Help
Understanding Award Letters resource
Financial Aid Award Letter Comparison Worksheet
---
Student Loans & How to Fund the Gap
Student Loan Information and Resources
Student Loan FAQs
Student Loan Repayment Estimator
Scholarships | Resources + Information
Scholarship Tips
Applying for Private Scholarships tips
Free college tuition in Michigan: Which schools offer what, Bridge Michigan 03.08.21
Most Common Essay Prompts for Scholarships


---
Scholarship Search Engines
Check out the following scholarship search engines! Create an account, complete a questionnaire and a list of scholarships you are eligible to apply for will be generated.
MI Student Aid Scholarship Finder
U.S. Dept. of Labor Career One Stop Scholarship Finder
Scholarships.com
Big Future
Scholar Snapp (recommended to use if applying to colleges via Common App)
Going Merry - BHS page: Check out the list below!

---
Micro-Scholarships using

RaiseMe!
Great for students in grades 9-11!
RaiseMe is a platform that helps students prepare for college by earning scholarships for their achievements in high school. Over 270 colleges and universities award micro-scholarships for both academics and extracurricular activities through the partnership with RaiseMe.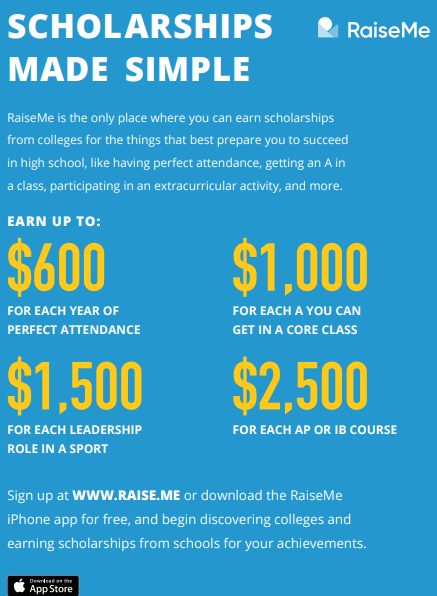 Colleges in Michigan that award scholarships on RaiseMe:
Hillsdale College
Lawrence Technical University
Madonna University
Rochester University
Siena Heights University
Wayne State University
Western Michigan University
Join the Berkley High School page at RaiseMe!
---
Where else can I look for Scholarships?
BHS Scholarships List! (updated weekly). The list can also be found in College + Career Center course in Schoology (click Scholarships folder).
Check scholarship webpages on college/universities websites. They often have additional scholarships outside of the merit scholarships that are usually awarded based on a student's admissions application.
Ask family members to check if employers, civic clubs, places of worship, etc. offer scholarship opportunities.
Check if Places/Companies you like to eat or shop award scholarships!
Check national and state professional associations or organizations of the career field or profession you intend to pursue.
ACT + SAT | Information, Registration + Test Prep

The BHS Counseling Department gets questions every day from parents and students about whether students should take the ACT or the SAT and when. Here are answers to some of our most frequently asked questions along with some recommendations.
Do colleges want me to take the SAT or ACT?
Most (not all) colleges and universities require students to officially submit either an ACT OR SAT score as part of their application. The vast majority of colleges and universities do not have a preference whether students submit an ACT or SAT score. They will accept either/or and students do not have to submit both. Therefore, it is up to the student to decide which test to take and which to submit.
Over the years a student in the Berkley School District has had exposure and practice with the SAT via PSAT experiences. Each student is provided a free, official SAT as part of the standardized tests required of juniors each year. Students do not have to sign up for or pay for this particular test in April of their junior year. However, many students take an official test before April of their junior year.
The Counseling Department recommends students take either an ACT or SAT prior to April, if possible. Which means – students have to register for an ACT or SAT (outside of the April test) on their own.
Can I still take the ACT?
If students still want to take the ACT or take the SAT outside of the one, free test offered at school – they will need to sign up for and pay to take another test independently by visiting the ACT or SAT websites directly.
It is the recommendation of the counseling department that students take one of each exam during their junior year (or prior) to see which test is better suited to them. Because students typically take the exam more than one time, signing up in the Summer of sophomore year or any time junior year is best.
How do I sign up for the ACT or SAT?
Visit the testing websites directly:
ACT Registration & Information
SAT Registration & Information
If I register for the ACT, will I still receive accommodations?
If you receive accommodations in the school setting and have a 504 Plan or IEP and is taking the ACT outside of the school setting for the first time this year, please contact your counselor directly and they will help you with explaining how the accommodated testing works for the first time.
Is there assistance in the registration fee?
If your family receives assistance via the Free/Reduced lunch program or is experiencing financial difficulties, please contact your child's counselor to inquire about a fee waiver.
How do I send my SAT/ACT scores to Colleges/Universities?
If you would like to submit your tests scores to colleges, you will have the option to send your score to four colleges/universities for free when you register online to take the SAT/ACT.
If you do not wish to send your scores for free at the time of registration and would prefer to wait for your scores before you send them to colleges, you may do so for a fee. To do this, you would need to order your scores through your ACT account portal or College Board account portal.
Colleges want to receive test scores directly from these portals, not from BHS. Note: BHS does not have access to student portal login information.
Click below for more information and detailed instructions:
Sending ACT scores to colleges/universities
Sending SAT scores to colleges/universities
---
ACT + SAT Test Dates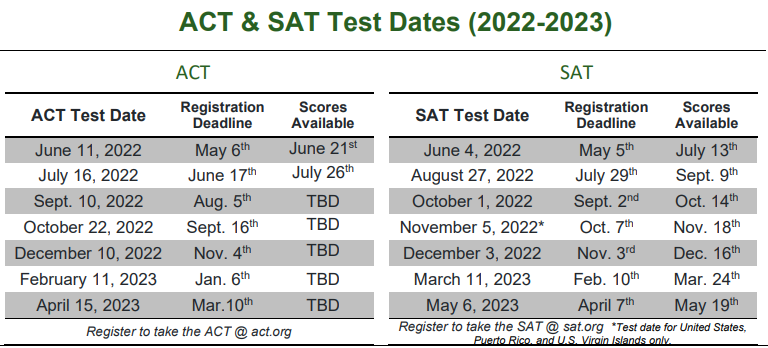 ACT & SAT test dates for the 2022-2023 school year (printable)
---
Registration for ACT + SAT:
Register here for the ACT

Register here for the SAT
---
Test Preparation Links + Resources:
ACT/SAT Free Test Prep Passes to The Tutoring Center in Birmingham

SAT Prep - Khan Academy

ACT Test Prep Services
---
COVID-19 UPDATE: Test-optional information
Please Don't Test, Jon Boeckenstedt, Oregon State University 07.24.20
"Test Optional Means Test Optional", National Association of College Admissions Counselors
List of colleges with test-optional policies in place affirm that they will not penalize students for the absence of a standardized test score.
College Athletics | NCAA + NAIA
College-bound student-athletes preparing to enroll in a Division I or Division II school need to register with the NCAA Eligibility Center to ensure they have met amateurism standards and are academically prepared for college coursework.
NCAA Eligibility Requirements and timeline


---
PlayNAIA.org is the official clearinghouse for NAIA eligibility. Every student-athlete must register with the NAIA Eligibility Center to play sports at an NAIA college or university..
Berkley High School Profile | Course Information + Statistics
Click here to view our school profile, which includes information and statistics regarding:
BHS courses, student opportunities, AP classes, college admissions testing scores, etc.
For a printable copy, please view BHS Profile for 2022-2023

school year.