Join the PTSA!
Learn more about the AMS PTSA, their initiatives and how to join by visiting their website.
More...
Parent/Teacher Conferences
AMS Parent/Teacher Conferences are Oct 26: 5:30-8 pm & Oct 27: 12:30-3 pm & 5:30-8 pm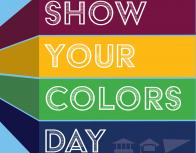 All District Show your Colors Day
Show your Colors Day is November 4th. Dress in your favorite college gear!
More...
Anderson Middle School students entering grades 6-8 are required to read THREE BOOKS during the summer. Students may opt to take Accelerated Reading (AR) quizzes during our summer quiz drop-in sessions. Summer quiz opportunities will be offered in the library media center on the following dates:
•Thursday, July 21 from 12-2 pm
•Thursday, August 18 from 12-2 pm
•Wednesday, August 24 (during 6th grade orientation and 7th/8th grade schedule pick-up)
News & Announcements
The Annual School Year Packet to register students for fall 2016 will be available on Family Access beginning July 27th through August 30th. The Picture Order form is in the packet and must be completed by August 24th to order pictures. If you do not have access to a computer and/or need assistance, the Media Center will be available beginning August 22nd.
Welcome to Anderson Middle School!
3205 Catalpa, Berkley MI 48072
OFFICE HOURS: 7:30 am - 4 pm
SCHOOL HOURS: 8 am - 3:30 pm
MAIN NUMBER: 248.837.8200
FAX NUMBER: 248.546.0696
ATTENDANCE LINE: 248.837.8230
Anderson Middle School serves students in grades 6-8
Anderson Calendar
‹

October

2016

›

S
M
T
W
T
F
S
1
2
3

Oct 3

7:30 AM to 4:00 PM

District Closed (Year Round Building Block Open)

District

District

4

Oct 4

7:30 AM to 4:00 PM

District Closed (Year Round Building Block Open)

District

District

5
6

Oct 6

6:00 PM to 7:00 PM

Angell Open House & Ribbon Cutting Ceremony

District

Please join us to celebrate the grand re-opening of Angell!

Evening events include a ribbon cutting ceremony and an opportunity to explore the building and see all the improvements funded through the 2015 Bond Initiative.

7:00 PM to 8:00 PM

Pattengill Open House & Ribbon Cutting Ceremony

District

Please join us to celebrate the grand re-opening of Pattengill!

Evening events include a ribbon cutting ceremony and an opportunity to explore the building and see all the improvements funded through the 2015 Bond Initiative.

7
8

Oct 8

9:00 AM to 11:00 AM

Saturdays for Success

BHS

District

9
10

Oct 10

7:00 PM to 8:00 PM

Berkley Instrumental Boosters Mtg

BHS

Anderson Middle School

7:00 PM to 9:00 PM

Board of Education Regular Meeting

Avery

District

11

Oct 11

7:00 PM to 9:00 PM

AMS PTSA Mtg

Media Ctr

Anderson Middle School

12

Oct 12

7:30 AM to 4:00 PM

District Closed (Year Round Building Blocks Open)

District

District

13
14

Oct 14

8:00 AM to 11:00 AM

AMS Picture Retake Day

AMS

Anderson Middle School

4:00 PM to 9:00 PM

AMS Tag Days

Anderson Middle School

15

Oct 15

8:00 AM to 9:00 PM

AMS Tag Days

Anderson Middle School

8:30 AM to 1:00 PM

Berkley/HW Youth Assistance Moms2Moms Sale

BHS East Gym

District

9:00 AM to 11:00 AM

Saturdays for Success

BHS

District

16

Oct 16

9:00 AM to 6:00 PM

AMS Tag Days

Anderson Middle School

17
18

Oct 18

6:00 PM to 7:00 PM

Norup Open House & Ribbon Cutting Ceremony

District

Please join us to celebrate the grand re-opening of Norup!

Evening events include a ribbon cutting ceremony and an opportunity to explore the building and see all the improvements funded through the 2015 Bond Initiative.

19
20
21
22

Oct 22

9:00 AM to 11:00 AM

Saturdays for Success

BHS

District

23
24
25

Oct 25

7:00 PM to 8:00 PM

PTSA Council Mtg

Avery

District

26

Oct 26

5:30 PM to 8:00 PM

AMS Parent/Teacher Conferences

AMS

Anderson Middle School

27

Oct 27

AMS & NIS - Half Day, AM Only

District

District

7:30 AM to 11:00 AM

AMS Half Day, AM Only

AMS

Anderson Middle School

12:30 PM to 3:00 PM

AMS Parent/Teacher Conferences

AMS

Anderson Middle School

5:30 PM to 8:00 PM

AMS Parent/Teacher Conferences

AMS

Anderson Middle School

28
29

Oct 29

9:00 AM to 11:00 AM

Saturdays for Success

BHS

District

30
31