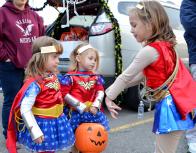 Trunk-n-Treat
Celebrate Halloween with Building Blocks families on October 27, 6-7 pm during the Annual Building Blocks Trunk-n-Treat at Tyndall.
HighScope Curriculum
Building Blocks use the HighScope Curriculum that emphasizes adult-child interaction, a carefully designed learning environment, and a plan-do-review process that strengthens initiative and self-reliance in children and young people.
Tyndall Receives Accreditation
Tyndall Center received National Accreditation from the National Accreditation Commission (NAC) for Early Childcare and Education Program in 2016.
Best Community for Music Education
Berkley Schools was named a 2017 Best Community for Music Education for the 6th year in a row!
News & Announcements
Curriculum Night/Open House
Wednesday, August 23rd from 6:00 p.m. - 7:00 p.m. Please join us to better understand the tuition based programs at Avery Center and Tyndall Center. Learn all about the HighScope Curriculum we follow. Meet the Lead Teachers and visit the classrooms to understand what a typical day consists of. The half day morning preschool Sunshine Club and Ready K classrooms will also be open this evening.
Explore our website and learn about our infant, toddler and preschool programs.

2011-2012 Head Start Annual Report
Berkley Building Blocks is now on Facebook! Click on Facebook tab above and like our page!
Welcome to Building Blocks!
Berkley Building Blocks serves students ages 6 weeks - 5 years.
Contact Us:
Supervisor: Jennifer Kidd
Hours: 7 am - 6 pm
Main number: 248.837.8900
Fax number: 248.546.9238
Avery Center:
14700 W. Lincoln, Oak Park MI, 48237
Tyndall Center:
14501 Talbot, Oak Park, MI 48237
Building Blocks Calendar
Building Blocks Calendar

‹

December

2017

›

S
M
T
W
T
F
S
1
2
3
4

Dec 4

7:00 PM to 9:00 PM

Board of Education Study Session

Avery

District

5

Dec 5

5:00 PM to 6:00 PM

Building Blocks Family Fun Night Head Start/GSRP

Avery

Building Blocks

6:00 PM to 7:00 PM

Building Blocks Dino Night

Tyndall

Building Blocks

6

Dec 6

8:00 AM to 9:00 AM

Superintendent Community Coffee

Avery

District

7
8

Dec 8

5:00 PM to 8:00 PM

Caring and Sharing: Packing and Sorting

Berkley High School

District

9

Dec 9

9:00 AM to 12:00 PM

Caring and Sharing Food Deliveries

District

10
11

Dec 11

6:00 PM to 7:00 PM

5th Grade Camp Information Night

BHS Auditorium

District

7:00 PM to 9:00 PM

Board of Education Regular Meeting

Avery

District

12
13
14
15
16
17
18

Dec 18

7:00 PM to 8:30 PM

Berkley Education Foundation Meeting

Avery

District

19
20

Dec 20

8:30 AM to 9:30 AM

Building Blocks Head Start/GSRP Coffee Connections

Avery

Building Blocks

21
22

Dec 22

All Schools - Half Day, AM Only

District

23
24
25

Dec 25

District Closed - Winter Break: CASA No School, Building Blocks Closed

District

26

Dec 26

District Closed - Winter Break: CASA No School, Building Blocks Closed

District

27

Dec 27

District Closed - Winter Break: CASA No School, Building Blocks Closed

District

28

Dec 28

District Closed - Winter Break: CASA No School, Building Blocks Closed

District

29

Dec 29

District Closed - Winter Break: CASA No School, Building Blocks Closed

District

30
31