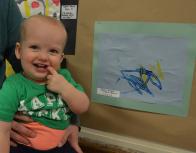 Building Blocks Art Shows
Building Blocks students show of their art! Avery: Thurs, 3/9 @ 6-7pm; Tyndall: Thurs, 3/16 @ 6-7 pm
HighScope Curriculum
Building Blocks use the HighScope Curriculum that emphasizes adult-child interaction, a carefully designed learning environment, and a plan-do-review process that strengthens initiative and self-reliance in children and young people.
Tyndall Receives Accreditation
Tyndall Center received National Accreditation from the National Accreditation Commission (NAC) for Early Childcare and Education Program in 2016.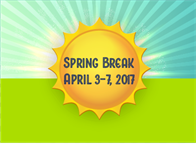 Spring Break
Spring Break is the week of April 3-7. District Offices are open. Building Blocks Year-Round is Open; Building Blocks School-Year is closed. CASA no School
News & Announcements
Explore our website and learn about our infant, toddler and preschool programs.

2011-2012 Head Start Annual Report
Mom2Mom sale hosted by Berkley Building Blocks will be Saturday, March 18th, for more information see below.
Berkley Building Blocks is now on Facebook! Click on Facebook tab above and like our page!
Welcome to Building Blocks!
Berkley Building Blocks serves students ages 6 weeks - 5 years.
Hours: 7 am - 6 pm
Main number: 248.837.8900
Fax number: 248.546.9238
Avery Center:
14700 W. Lincoln, Oak Park MI, 48237
Tyndall Center:
14501 Talbot, Oak Park, MI 48237
Building Blocks Calendar
‹

March

2017

›

S
M
T
W
T
F
S
1

Mar 1

7:00 AM to 5:00 PM

5th Gr Camp

District

District

2

Mar 2

7:00 AM to 8:00 PM

5th Gr Camp

District

District

3

Mar 3

7:00 AM to 8:00 PM

5th Gr Camp

District

District

4
5
6

Mar 6

7:00 PM to 9:00 PM

Board of Education Study Session

Avery

District

7
8

Mar 8

5:30 PM to 8:00 PM

AMS/NIS Parent/Teacher Conferences

District

District

9

Mar 9

AMS & NIS Half Day, AM Only

District

District

12:30 PM to 3:00 PM

AMS/NIS Parent/Teacher Conferences

District

District

5:30 PM to 8:00 PM

AMS/NIS Parent/Teacher Conferences

District

District

6:00 PM to 7:00 PM

Building Blocks Avery Art Show

Avery

Building Blocks

10
11
12
13

Mar 13

7:00 PM to 9:00 PM

Board of Education Regular Meeting

Avery

District

14
15
16

Mar 16

6:00 PM to 7:00 PM

Building Blocks Tyndall Art Show

Tyndall

Building Blocks

17
18

Mar 18

7:00 AM to 3:00 PM

Building Blocks Mom2Mom Sale

BHS West Gym

Building Blocks

19
20
21
22

Mar 22

8:30 AM to 9:30 AM

Building Blocks GSRP/Headstart Coffee Connections

Tyndall Rm 11

Building Blocks

5:30 PM to 8:30 PM

Elementary Parent/Teacher Conferences (not incl NIS)

District

District

23

Mar 23

Elementary Students - Half Day, AM Only (Not incl NIS)

District

District

12:30 PM to 3:00 PM

Elementary Parent/Teacher Conferences (not incl NIS)

District

District

5:30 PM to 8:00 PM

Elementary Parent/Teacher Conferences (not incl NIS)

District

District

24
25
26
27

Mar 27

7:00 PM to 9:00 PM

Board of Education Study Session/Regular Meeting

Avery

District

28

Mar 28

4:30 PM to 5:30 PM

Building Blocks PTA Mtg

Tyndall Rm 11

Building Blocks

7:00 PM to 8:00 PM

PTSA Council Mtg

Avery

District

7:00 PM to 9:00 PM

Jr. Band Jam, Grs 5/6

AMS

District

29
30

Mar 30

7:00 PM to 9:00 PM

Junior String Extravaganza, Grs 5/6

AMS

District

31

Mar 31

All Schools - Half Day, AM Only

District

District