Angell Trunk or Treat
Don't miss Angell's Trunk or Treat on October 28th @ 6:30 pm!
Join the PTA!
Parent involvement is critical to successful student achievement. Learn more about the Angell Parent Teacher Association and join today!
More...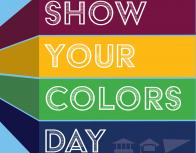 All District Show your Colors Day
Show your Colors Day is November 4th. Dress in your favorite college gear!
More...
News & Announcements
Please browse around the Angell website to learn about the exciting things happening at Angell Elementary School. The most relavent information will be found on our "News" and "Parent Information" pages.

5th Grade Camp presentation 2016
Welcome to Angell!
3849 Beverly, Berkley, MI 48072
Office Hours: 7:30 am - 4 pm
School Hours: 8 am - 3:20 pm
Main Number: 248.837.8500
Fax Number: 248.546.0848
Attendance Line: 248.837.8530
Angell serves students grades TK-5.
Angell Calendar
‹

October

2016

›

S
M
T
W
T
F
S
1
2
3

Oct 3

7:30 AM to 4:00 PM

District Closed (Year Round Building Block Open)

District

District

4

Oct 4

7:30 AM to 4:00 PM

District Closed (Year Round Building Block Open)

District

District

5
6

Oct 6

6:00 PM to 7:00 PM

Angell Open House & Ribbon Cutting Ceremony

Angell Elementary

Please join us to celebrate the grand re-opening of Angell!

Evening events include a ribbon cutting ceremony and an opportunity to explore the building and see all the improvements funded through the 2015 Bond Initiative.

7:00 PM to 8:00 PM

Pattengill Open House & Ribbon Cutting Ceremony

District

Please join us to celebrate the grand re-opening of Pattengill!

Evening events include a ribbon cutting ceremony and an opportunity to explore the building and see all the improvements funded through the 2015 Bond Initiative.

7

Oct 7

1:00 PM to 3:00 PM

Angell Fun Run

Playground

Angell Elementary

8

Oct 8

9:00 AM to 11:00 AM

Saturdays for Success

BHS

District

9
10

Oct 10

1:00 PM to 3:00 PM

Angell Fun Run Rain Date

Playground

Angell Elementary

7:00 PM to 9:00 PM

Board of Education Regular Meeting

Avery

District

11

Oct 11

7:00 PM to 8:00 PM

Angell PTA Mtg

Media Ctr

Angell Elementary

12

Oct 12

7:30 AM to 4:00 PM

District Closed (Year Round Building Blocks Open)

District

District

13
14
15

Oct 15

8:30 AM to 1:00 PM

Berkley/HW Youth Assistance Moms2Moms Sale

BHS East Gym

District

9:00 AM to 11:00 AM

Saturdays for Success

BHS

District

16
17
18

Oct 18

6:00 PM to 7:00 PM

Norup Open House & Ribbon Cutting Ceremony

District

Please join us to celebrate the grand re-opening of Norup!

Evening events include a ribbon cutting ceremony and an opportunity to explore the building and see all the improvements funded through the 2015 Bond Initiative.

19
20
21
22

Oct 22

9:00 AM to 11:00 AM

Saturdays for Success

BHS

District

23
24
25

Oct 25

7:00 PM to 8:00 PM

PTSA Council Mtg

Avery

District

26
27

Oct 27

AMS & NIS - Half Day, AM Only

District

District

28

Oct 28

1:00 PM to 3:00 PM

Angell Halloween Parade

Angell

Angell Elementary

6:30 PM to 7:30 PM

Angell Trunk or Treat

Angell

Angell Elementary

29

Oct 29

9:00 AM to 11:00 AM

Saturdays for Success

BHS

District

30
31