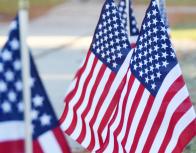 5th Annual Military Appreciation Day
The 5th Annual Military Appreciation Day will be held on November 14th @ 7 am. This event brings military personnel, both retired and active duty, together with high school students for a day filled with conversations, entertainment, and thoughtful connections.
More...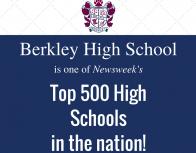 BHS Among Newsweek's Top 500 High Schools
Berkley High School has been named one of the top 500 high schools in the nation by Newsweek!
More...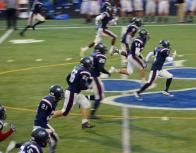 Homecoming Game
BHS Football vs Pontiac: Sept 30, 7 pm, Hurley Field. Cheer on the Bears!
News & Announcements
Berkley High School's Meet the Teacher night is Thursday, September 15 from 6:45-8:30 pm.
BHS Homecoming Game is Friday, September 30 at Hurley Field vs Pontiac. 7 pm kickoff.
Quick Links
Welcome to Berkley High!
2325 Catalpa, Berkley MI 48072
OFFICE HOURS: 7:30 am - 4 pm
SCHOOL HOURS: 7:40 am - 3 pm
MAIN NUMBER: 248.837.8100
FAX NUMBER: 248.544.5860
ATTENDANCE LINE: 248.837.8130
Berkley High School serves students in grades 9-12.
Berkley High Calendar
‹

October

2016

›

S
M
T
W
T
F
S
1

Oct 1

7:00 PM to 10:00 PM

BHS Homecoming Dance

West Gym

Berkley High School

2
3

Oct 3

7:30 AM to 4:00 PM

District Closed (Year Round Building Block Open)

District

District

4

Oct 4

7:30 AM to 4:00 PM

District Closed (Year Round Building Block Open)

District

District

5

Oct 5

7:00 PM to 8:00 PM

BHS Athletic Bear Boosters Mtg

BHS Rm 110

Berkley High School

6

Oct 6

6:00 PM to 7:00 PM

Angell Open House & Ribbon Cutting Ceremony

District

Please join us to celebrate the grand re-opening of Angell!

Evening events include a ribbon cutting ceremony and an opportunity to explore the building and see all the improvements funded through the 2015 Bond Initiative.

6:30 PM to 8:30 PM

CASA Parent/Teacher Conferences

CASA

Berkley High School

7:00 PM to 8:00 PM

Pattengill Open House & Ribbon Cutting Ceremony

District

Please join us to celebrate the grand re-opening of Pattengill!

Evening events include a ribbon cutting ceremony and an opportunity to explore the building and see all the improvements funded through the 2015 Bond Initiative.

7
8

Oct 8

9:00 AM to 11:00 AM

Saturdays for Success

BHS

District

9
10

Oct 10

7:00 PM to 8:00 PM

Berkley Instrumental Boosters Mtg

BHS

Berkley High School

7:00 PM to 9:00 PM

Board of Education Regular Meeting

Avery

District

11

Oct 11

BHS Picture Re-Take Day

Berkley High School

12

Oct 12

7:30 AM to 4:00 PM

District Closed (Year Round Building Blocks Open)

District

District

13
14

Oct 14

4:30 PM to 9:00 PM

BIB & BOA Tag Days

Off Campus

Berkley High School

15

Oct 15

8:00 AM to 9:00 PM

BIB & BOA Tag Days

Off Campus

Berkley High School

8:30 AM to 1:00 PM

Berkley/HW Youth Assistance Moms2Moms Sale

BHS East Gym

District

9:00 AM to 11:00 AM

Saturdays for Success

BHS

District

16

Oct 16

9:00 AM to 6:00 PM

BIB & BOA Tag Days

Off Campus

Berkley High School

17
18

Oct 18

6:00 PM to 7:00 PM

Norup Open House & Ribbon Cutting Ceremony

District

Please join us to celebrate the grand re-opening of Norup!

Evening events include a ribbon cutting ceremony and an opportunity to explore the building and see all the improvements funded through the 2015 Bond Initiative.

7:00 PM to 9:00 PM

BHS Marching Band Concert

Auditorium

Berkley High School

19

Oct 19

6:00 PM to 7:00 PM

BHS PTSA Mtg

Collaborative Ctr

Berkley High School

6:00 PM to 8:30 PM

BHS Parent/Teacher Conferences

BHS

Berkley High School

20

Oct 20

12:00 PM to 2:30 PM

BHS Parent/Teacher Conferences

BHS

Berkley High School

6:00 PM to 8:30 PM

BHS Parent/Teacher Conferences

BHS

Berkley High School

21

Oct 21

4:00 PM to 11:30 PM

BHS Robotics Fundraiser

West Gym

Berkley High School

22

Oct 22

8:00 AM to 11:30 PM

BHS Robotics Fundraiser

West Gym

Berkley High School

9:00 AM to 11:00 AM

Saturdays for Success

BHS

District

6:00 PM to 8:00 PM

BHS Athletic Boosters Road Rally

BHS

Berkley High School

23
24

Oct 24

7:30 PM to 9:30 PM

BOA Mtg

BHS Rm. 189

Berkley High School

25

Oct 25

6:00 PM to 9:00 PM

BHS 11th Gr FAFSA Completion Workshop

BHS Rm. 257

Berkley High School

7:00 PM to 8:00 PM

PTSA Council Mtg

Avery

District

7:00 PM to 9:00 PM

BHS/AMS/NIS Halloween Orchestra Concert

BHS Auditorium

Berkley High School

26

Oct 26

9:00 AM to 3:00 PM

BHS Challenge Day

West Gym

Berkley High School

27

Oct 27

AMS & NIS - Half Day, AM Only

District

District

28
29

Oct 29

9:00 AM to 11:00 AM

Saturdays for Success

BHS

District

30
31