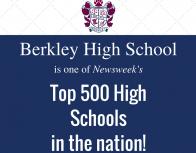 BHS Among Newsweek's Top 500 High Schools
Berkley High School has been named one of the top 500 high schools in the nation by Newsweek!
More...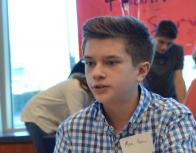 Prospective New Student/Family Night
Prospective new students and families are invited to a BHS Information Night on Thursday, December 8, 7 pm in the Auditorium
View this week's Berkley Beat!
The Berkley Schools creates an eNewsletter each week during the school year for all to enjoy called the Berkley Beat. The Beat will include information and photos of the great things happening in the Berkley Schools and flyers for important events.
More...
Welcome to Berkley High!
2325 Catalpa, Berkley MI 48072
OFFICE HOURS: 7:30 am - 4 pm
SCHOOL HOURS: 7:40 am - 3 pm
MAIN NUMBER: 248.837.8100
FAX NUMBER: 248.544.5860
ATTENDANCE LINE: 248.837.8130
Berkley High School serves students in grades 9-12.
Berkley High Calendar
‹

December

2016

›

S
M
T
W
T
F
S
1
2
3
4
5

Dec 5

7:00 PM to 8:00 PM

Berkley Instrumental Boosters Meeting

BHS

Berkley High School

7:00 PM to 9:00 PM

Board of Education Study Session

Avery

District

6
7

Dec 7

7:00 PM to 8:00 PM

Berkley Choir Boosters Meeting

BHS Choir Room

Berkley High School

7:00 PM to 8:00 PM

BHS Athletic Bear Boosters Mtg

BHS Rm 110

Berkley High School

8

Dec 8

7:00 PM to 8:15 PM

BHS Prospective New Student/Family Information Night

Library Media Center

Berkley High School

9
10
11
12

Dec 12

6:00 PM to 7:30 PM

5th Grade Camp Parent Info Night

BHS Auditorium

District

6:00 PM to 8:30 PM

Adult Transition - Parent Night- Special Services

Collaborative Center

Berkley High School

7:00 PM to 9:00 PM

Board of Education Regular Meeting

Avery

District

13
14

Dec 14

1:00 PM to 3:00 PM

BHS Challenge Day Remix

East Gym

Berkley High School

15

Dec 15

7:00 PM to 9:00 PM

BHS Winter Band Concert

Auditorium

Berkley High School

16
17
18
19

Dec 19

7:30 PM to 9:30 PM

BOA Mtg

BHS Rm. 189

Berkley High School

20

Dec 20

7:00 PM to 8:00 PM

BHS PTSA Mtg

Collaborative Ctr

Berkley High School

21

Dec 21

7:00 PM to 9:00 PM

Rotary Concert feat. BHS Choirs

BHS Auditorium

District

22
23

Dec 23

All Schools - Half Day, AM Only

District

District

12:00 PM to 3:00 PM

CASA No School

CASA

Berkley High School

24
25
26

Dec 26

7:00 AM to 4:00 PM

District Closed - Winter Break

District

District

27

Dec 27

7:00 AM to 4:00 PM

District Closed - Winter Break

District

District

28

Dec 28

7:00 AM to 4:00 PM

District Closed - Winter Break

District

District

29

Dec 29

7:00 AM to 4:00 PM

District Closed - Winter Break

District

District

30

Dec 30

7:00 AM to 4:00 PM

District Closed - Winter Break

District

District

31

Dec 31

7:00 AM to 4:00 PM

District Closed - Winter Break

District

District