April 10, 2023
Norup International School Raises $7,000 During March Miracles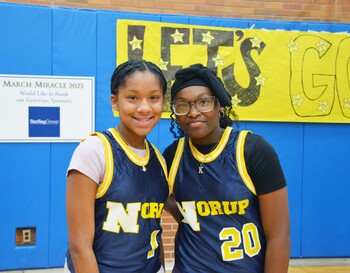 Norup International School Raises $7,000 During March Miracles
Norup International School hosted its annual March Miracles 3-on-3 basketball tournament finals on March 24, 2023. March Miracles is a building-wide fundraising initiative in support of The Leukemia and Lymphoma Society and Jack's Place for Autism. Students can enter the tournament with their team of three and compete in a March Madness bracket style competition.
This year's event raised $7,000, bringing the 21 year total to $248,000. The money was raised through a tournament entry fee and sponsorships from former Oak Park Mayor Jerry Naftaly, Bruce Trout from the Detroit Pistons, Danny Samson from The Sterling Group and Todd Luczak of Doggie in the Window.
The tournament kicked off with performances by the Norup Choir, Band and Berkley High School Dance Team. Students in the audience enjoyed cheering on their peers in skill competitions and in the basketball championships.
Congratulations to the winning teams from each grade:
WNIT Division Winning Team "Better Dunkin' Donuts": Claire Bradley, Morgan Jarvis, Ceila Rubin

NCAA Division Winning Team "Hot Shots": Nada Abdella, Adeline Dereniewski, Emma Sumnicht, Naomi Watt

WNBA Division Winning Team "Dunkin Donuts": Max Rubio, Avery Sters, Lexi Rosenbaum, Nora Anantharam, Lyla Anantharam

7th Grade Boys Winning Team:

Jordan Marx, Gavin Moore, Aiden Rouse, Ries Tuttle

8th Grade Girls Winning Team:

Max Rubio, Avery Sters, Lexi Rosenbaum, Nora Anantharam, Lyla Anantharam

8th Grade Boys Winning Team:

Sam Sermo, Drew Sermo, Emerson Somers, Ethan Trompeter

Slam Dunk Obstacle Course & 3 Point Shootout Winner: Drew Sermo