Through the Career Center, students are able to access information about post secondary opportunities, including college, apprenticeships, employment, and training programs.
Please contact our Career Center Coordinator, Sheri Sienkiewicz, with any questions.
NOW HIRING! Part-Time Jobs for Students
Berkley Parks & Rec is hiring!
Berkley Parks & Recreation is looking to add a few more outstanding people to the Summer 2021 Day Camp Staff.
Applicants need to be 18 years of age by June 21st and will work 8:30 am to 5:15 pm through the second week of August (3 or 4 days a week).
---
Lifetime Fitness in Troy is hiring!
Hiring lifeguards, swim instructors and pool attendants for the summer and school year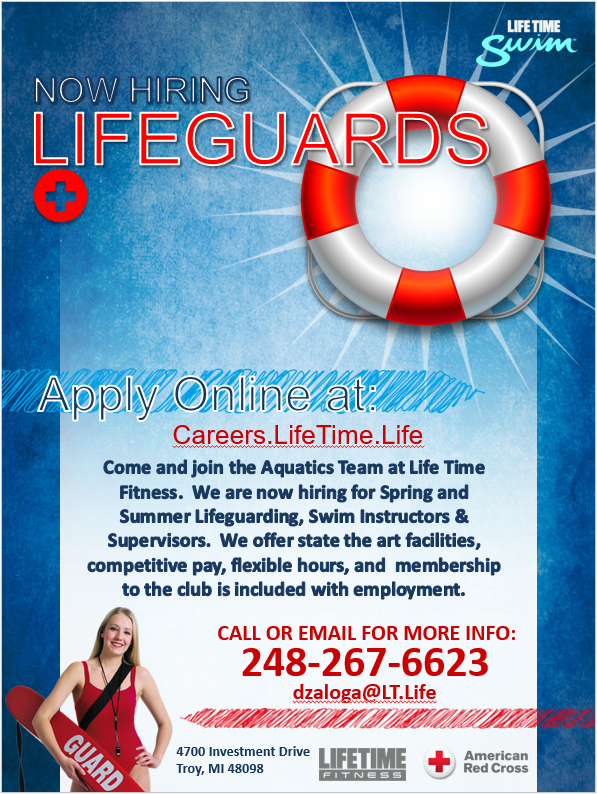 ---
Lifetime Fitness in Shelby Twp is hiring!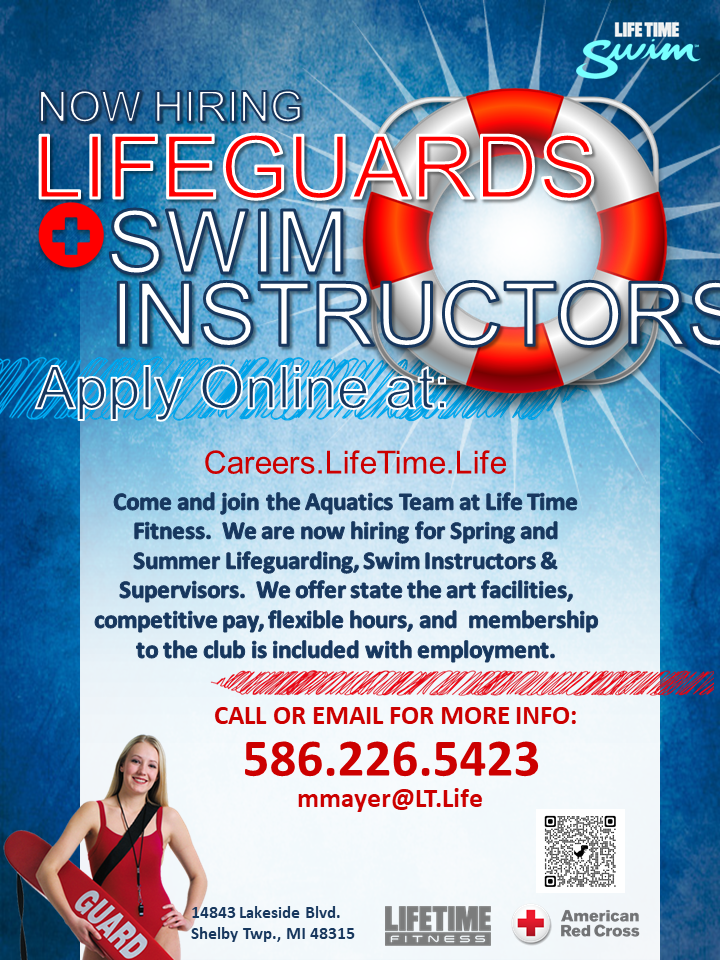 ---
Ray's Plants & Flowers is hiring!
Located at 14 mile & Northwestern Hwy. Please call 248-408-0111 if interested!
---
The Geller Foot and Ankle Center is hiring!
Podiatry office in Lathrup Village is looking to hire a receptionist and a medical assistant. Please contact migeller0711@gmail.com or call 248.353.0096 for more information!
---
Detroit Fleat is hiring!
Looking for a great summer gig? Detroit Fleat is hiring for host and busser positions! Detroit Fleat is Metro Detroit's first and only food truck park - home to great eats, a dog-friendly patio and a family-friendly environment. We'd love to add smiling faces to the team!
Must be 15 years or older to apply.
Gain experience working in an exciting, unique atmosphere and be a part of our friendly team!
We're seeking outgoing, self-motivated people with a great attitude to join us during our fun summer patio season.
Berkley A&W is hiring all positions! No waitressing or food service experience required. Minimal public contact, orders taken over speaker, waitresses deliver all orders in to-go bags, tips are accepted and 100% to wait staff. Daily shifts are 5 hours, or longer if desired. Will work around personal schedules, like high school sports, etc.
Click here for application! Please visit Berkley A&W or call 248-547-7126 and ask to speak to manager regarding available positions.
---
Huntington Woods Parks & Rec is hiring!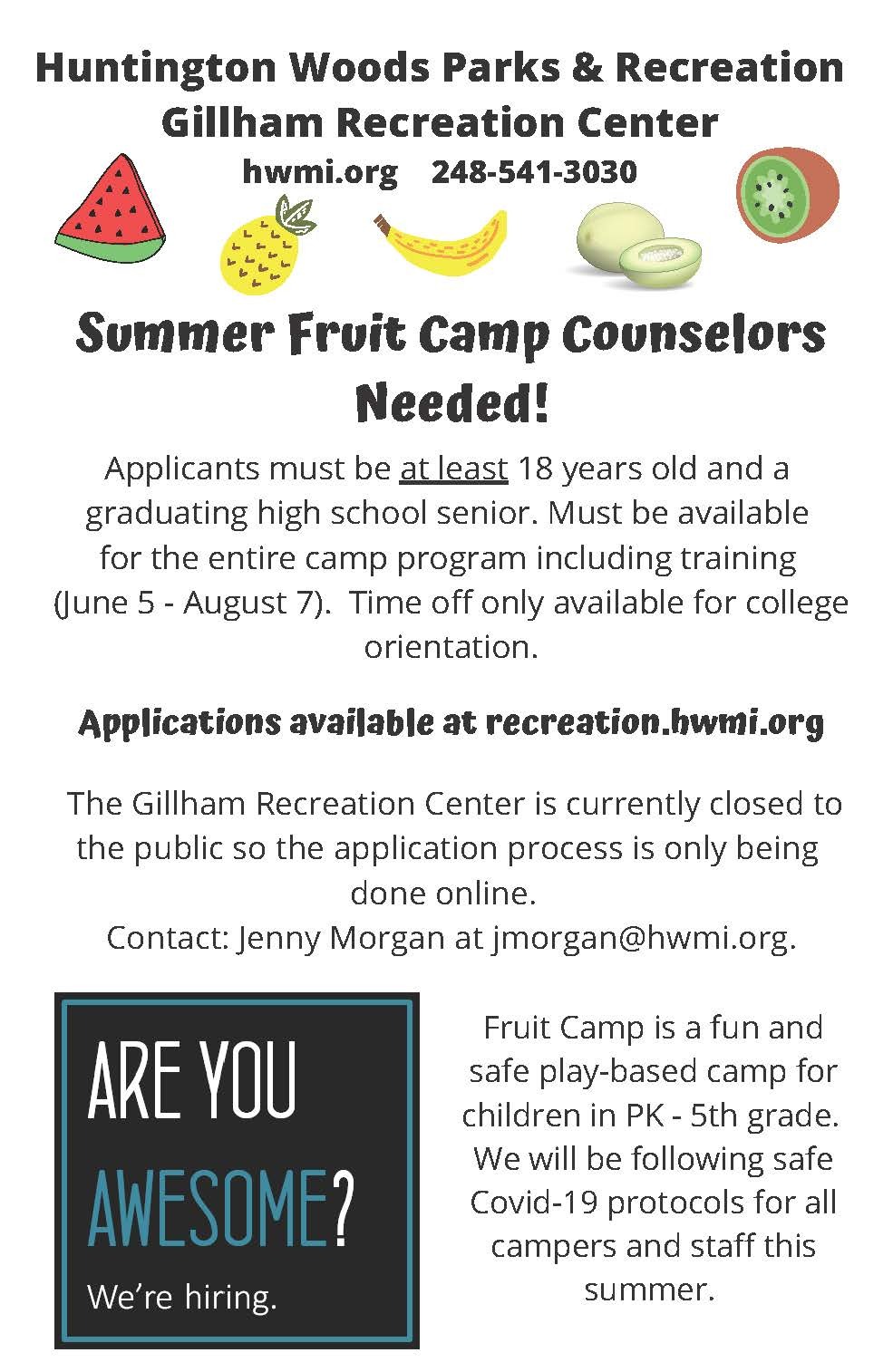 ---
Terminal Supply Co. is hiring!
Terminal Supply Co. in Troy is currently looking for Summer help for both Warehouse and Manufacturing Department positions.
---
Hortulus Gardens is hiring!
Hortulus Gardens is searching for crew members who understand plants! Call or text 248-798-4081 or email edblondin@mac.com for more information!
Solid knowledge of plants
Experience working in gardens
Ability to lift 30 lbs
Reliable transportation
Flexibility during inclement weather
Able to chat with customers
Either part-time or full-time
---
Crispelli's is hiring!
Crispelli's Bakery & Pizzeria is a small, locally-owned restaurant group based here in the Metro Detroit area with a focus on traditional thin crust pizza with a twist. Crispelli's is looking to hire students interested in the hospitality industry for our part-time positions, and are more than happy to work with students and provide scheduling flexibility based on their needs. Click here to view job openings and apply!
Need a Work Permit?
Obtaining a Work Permit
Print out a blank permit
Click on the link that reflects your age at time of employment:
Complete the required sections
You must complete Section 1.
Your employer must complete Section 2.
Once both sections are completed, please email a copy to the Main Office Secretary, Sarah Brooks, at sarah.brooks@berkleyschools.org.
Pre-College Programs | Enrichment Opportunities | Summer Camps
Where to look...
Local colleges and universities usually offer summer programs to high school students. If you google a local college and "summer camp for high school students", you will yield a lot results in your search! Below are some other great resources in locating pre-college, enrichment, and summer camp opportunities!
---
HS Navigator
Database of internships, enrichment opportunities for school students
Created by a high school student, HS Navigator is a one-stop search tool for finding pre-college summer program or internship or volunteer opportunities high school students. HS Navigator will help you to filter your search experience based on your diverse subject interest, location, preferred university, program duration, budget and more. Programs are added every week and you can subscribe for more updates.
Click here to check out HS Navigator!
---
Lawrence Tech Summer Camps for High School Students
Camps in STEM fields, Architecture, Design, Marketing
Please click here to view residential and day options and camp dates!
---
National Student Leadership Conference Pre-College Programs
Career-Focused Leadership conferences at over 15 universities nationwide!
Since 1989, The National Student Leadership Conference has been the premier provider of career-focused leadership conferences. Tens of thousands of high school students from across the globe have come to the NSLC for an unparalleled opportunity to meet with and learn from world leaders, academic experts and their peers. Each summer program helps students develop their own leadership potential while exploring some of today's most exciting professions.

Click here to view Pre-College Summer Enrichment programs offered through NSLC!
---
Georgetown University's Pre-College Online Program
Georgetown University is pleased to announce the launch of their new Pre-College Online Program—offering courses that enable high school students 13 and older to explore subjects they may wish to study in college. The program is launching with two interesting courses, with more in the works.
High school students are given an inside look at the profession, practice creating evidence-based arguments, analyzing information, and discerning fact from opinion. The course teaches valuable critical thinking skills. Topics covered offer a good background for potential college majors and career paths related to law.
High school students learn the processes researchers use to formulate and conduct studies, as well as evaluate the evidence gathered. Topics covered offer a good background for potential college majors and career paths related to STEM, medical research, pharmacology, and biostatistics.
---
Perry Outreach Program
The Perry Virtual Experience is a free, 2.5-hour, interactive online experience for high school and college-aged students who gender-identify as female and are interested in pursuing careers in orthopaedics and/or engineering. Participants will hear from women leaders in these fields and dive into online mock orthopaedic surgery simulations and biomechanics experiments.
Perry Outreach Program alumnae are welcome to register for a PVE session. If you are new to the Perry Initiative, participating in the PVE will not disqualify you from a POP at a later date.
---
Society of Women Engineers - Detroit
Click here for events and info!
---
ACE (Architecture, Construction, Engineering) Mentor Program of SE Michigan
High school students in the Detroit area can now benefit from a nationwide program designed to introduce them to the wide range of career opportunities open to young people in architecture, construction, engineering, and related areas of the building design and construction industry. At weekly meetings, student teams work directly with professionals from leading area firms, who volunteer their time to mentor the teams as they design hypothetical projects, tour local construction sites, and visit architectural, engineering and construction offices.
For students, it's a unique chance to discover and develop new skills, solidify future goals and get on track to exciting, rewarding careers. In addition, many students form positive relationships with industry professionals who can provide important references for obtaining college admissions, scholarships, internships and full-time employment.
Click here for information!
Trades | Apprenticeships
Apprenticeship Information & Listings
Jump Start Your Career Through Apprenticeships! (Apprenticeship.gov)
What is Apprenticeship? Apprenticeship is an industry-driven, high-quality career pathway where employers can develop and prepare their future workforce, and individuals can obtain paid work experience, classroom instruction, and a portable, nationally-recognized credential.
Why Become an Apprentice? Through an apprenticeship program, you can obtain paid, relevant workplace experience while acquiring the skills and credentials that employer's value. 94% of apprentices who complete an apprenticeship retain employment, with an average annual salary of $70,000. Learn more about the benefits of apprenticeship for career seekers and prospective apprentices.
Oakland County Apprenticeship Book
This valuable resource provides important information about career opportunities in Oakland County and the region that could change your life!
Michigan Works Oakland County Apprenticeship Services
How do I become an Apprentice?
There are two ways to become an apprentice:
through a partnership between a labor organization and an employer (called a Joint Apprenticeship Committee, or a JAC)
through a partnership between a community college and an employer.
JACs may have different requirements or procedures for applying for an apprenticeship; some will accept applications only from current employees and others are open to anyone. Applicants must pass a test and those with the highest scores are hired first. You should contact the JAC for a particular apprenticeship for more information.
The second path to an apprenticeship is a partnership between a community college and an employer. The classes are usually offered on the college's regular schedule, but remember that just taking the classes doesn't make you an apprentice; you must be hired by an apprenticeship employer first. If you're interested in a particular apprenticeship but aren't sure whether there are any openings, contact the Apprentice Coordinator at the college for assistance.
*All certified apprentices who attend a community college can apply their related technical instruction toward an associate's degree. An apprentice can receive up to 32 credit hours toward his/her associate's degree, which consists of 62 credit hours. Contact Oakland Community College at 248-232-4050 or another community college of your choice.​

Apprenti - Southeast Michigan (Tech Apprenticeships)
Tech is the fastest-growing industry in the world, and 1 in 20 job openings are in tech. Our unique apprenticeship program puts you on a straightforward, step-by-step fast track toward your dream job. The tech industry is seeking to diversify its workforce, so Apprenti is actively recruiting women, people of color, and veterans — although anyone is eligible to apply.
---
Construction | Trades Apprenticeships
Construction Apprenticeships in Michigan

MUST Construction Apprenticeships | Explore trades by video

Southeast Michigan Construction Academy
---
More Apprenticeship News & Info
Michigan Registered Apprenticeship Data Dashboard
This online tool allows users to explore registered apprenticeships in regions across the state, including how many active apprentices there are and the occupations and industries in which they are employed.
Press Release: $6 million in Registered Apprenticeship grants will support career opportunities for underrepresented populations - March 1, 2021
Certificate Programs | Career Training
Certificate & Career Training Programs
Looking for a career, 2-4 years of college isn't for you?
Check out the Certificate and Job Training Programs at Oakland Community College!
EMERGENCY SERVICES training programs at OCC
INDUSTRIAL TECHNOLOGY training programs at occ
HEALTH CARE SERVICES Training Programs at OCC
Military Service Information | Youth Programs
Types of Military Service
The U.S. Military consists of six active-duty Service branches and their respective Guard and Reserve components. Together, they offer a broad variety of ways to serve.
The Army is part of the Department of Defense (DOD) and is the largest of the five military branches. It handles major ground combat missions, especially operations that are ongoing. The Army Special Forces unit is known as the Green Berets for its headgear. Service members are known as soldiers. The reserve components are Army Reserve and Army National Guard.
The Marine Corps is part of the DOD. It provides land combat, sea-based, and air-ground operations support for the other branches during a mission. This branch also guards U.S. embassies around the world and the classified documents in those buildings. Marine Corps Special Operations Command (MARSOC) members are known as Raiders. All service members are referred to as Marines. The reserve component is Marine Corps Reserve.

The Navy is part of the DOD. It protects waterways (sea and ocean) outside of the Coast Guard's jurisdiction. Navy warships provide the runways for aircraft to land and take off when at sea. Navy SEALs (sea, air, and land) are the special operations force for this branch. All service members are known as sailors. The reserve component is Navy Reserve.
The Air Force is part of the DOD. It's responsible for aerial military operations, defending U.S. air bases, and building landing strips. Service members are known as airmen. The reserve components are Air National Guard and Air Force Reserve.

The Space Force is a new service, created in December 2019 from the former Air Force Space Command. The Space Force falls within the Department of the Air Force. It organizes, trains, and equips space forces to protect U.S. and allied interests in space and to provide space capabilities to the joint force.
The Coast Guard is part of the Department of Homeland Security (DHS). It's responsible for maritime law enforcement, including drug smuggling. It manages maritime search and rescue and marine environmental protection. It also secures ports, waterways, and the coasts. Service members are known as Coast Guardsmen, nicknamed Coasties. The reserve component is Coast Guard Reserve.
---
Explore Careers in the Military
Careers in the Military Explore/investigate job and career opportunities across the branches of the military.
---
Enlisted members versus Officers in the Military
Information below from USA.gov
Enlisted members make up most of the military workforce. They receive training in a job specialty and do most of the hands-on work. Usually, you'll sign up for four years of active duty and four years inactive. After you've completed your active duty time, you can either extend your contract or re-enlist if you want to continue serving.
Officers make up a much smaller part of the workforce. To join as an officer, you typically must have a four-year college degree and complete an officer program. You compete for promotion to continue your career. Most officers are managers who plan and direct operations. Others are professionals like doctors and lawyers. Officers get paid more than enlisted members and enjoy certain other benefits.
You don't have to join as an officer to become one though. You can join as an enlisted member and attend officer training later on.
---
Steps for Joining the Military
Information below from USA.gov
1) Start by doing some research about your options for joining the military. Learn about the five active-duty branches and their part-time counterparts. Know the main differences between officers and enlisted members.
2) Once you know which branch you're considering, contact a recruiter. A recruiter will give you an overview and answer your questions about that service. If you're interested in more than one branch, contact a recruiter for each. If you're interested in joining as an officer, the recruiter will explain any options you may be eligible for.
3) If you decide to enlist, you will report to a military entrance processing station (MEPS). You'll spend a day or two completing pre-enlistment steps.
These include taking the

ASVAB

, having a physical exam, meeting with a career counselor, and if you're accepted,taking the oath of enlistment.

From there you'll receive orders for basic training, usually to start within a few weeks. (If you enrolled in a delayed entry program, you'll go home and get orders for basic training within a year.)
Contact a Recruiter or Apply Online
Air Force
Army
Navy
Marine Corps
Coast Guard
Space Force
Contact an Air Force recruiter: 1-800-423-

USAF

(

1-800-423-8723

)
---
Educational & Testing Requirements for Enlisting
Information below from USA.gov
You must have a high school diploma or a GED to enlist. The services accept only a small number of people with GEDs each year. You can increase your chances of qualifying with a GED by:

Earning some college credits and/or

Scoring well on the Armed Forces Qualification Test (AFQT)

ASVAB Program
​​​

Career exploration tool for careers in the military.
---
Health & Fitness Requirements for Enlisting
Information below from USA.gov
You must pass a military entrance medical exam. This includes a physical exam, hearing test, vision test, and height/weight measurements.
Each service has its own physical requirements and fitness standards. These depend on the demands of its mission. Even within the same branch, some jobs have tougher or extra requirements.
---
Youth Programs
Young Marines
The Young Marines strengthens the lives of America's youth by teaching the importance of self-confidence, academic achievement, honoring our veterans, good citizenship, community service, and living a healthy, drug-free lifestyle. The Young Marines promotes the mental, moral and physical development of its members. The program focuses on character building and leadership and promotes a lifestyle that is conducive to being productive members of society. The Young Marines is the premier youth organization in its Drug Demand Reduction efforts.

The Young Marines is open to all youth ages 8 through the completion of high school. The only membership requirement is that the youth must be in good standing at school. Upon joining a local Young Marine unit, youth undergo a 26-hour orientation program, generally spread out over several weekly meetings. This orientation is called Recruit Training. The youth learn general subjects such as history, customs and courtesies, close order drill, physical fitness, and military rank structure. After graduating from Young Marine Recruit Training, the youth have the opportunity to learn even more new skills, earn rank, wear the Young Marine uniform and work toward ribbon awards. Young Marines earn ribbons for achievement in areas such as leadership, community service, swimming, academic excellence, first aid and drug resistance education.
US Naval Sea Cadet Corps
The senior cadet program exposes its cadets to the full rigors of a military training program. Cadets are required to attend a mandatory two-week recruit training camp. After this requirement is met, cadets are eligible to participate in a variety of advanced training sessions. These sessions serve to expose cadets to seamanship and seagoing subjects. They also focus on developing an appreciation for our country's rich naval history, customs and traditions.
After enrolling in the program, all Sea Cadets must attend a mandatory two-week recruit training session. These training sessions are taught at the Navy's Recruit Training Command, at other naval bases or stations and at regional recruit training sites using other military host resources.
The curriculum of this training is approved by the U.S. Navy and standardized at all training sites. Cadets receive 106 hours of instruction, with a focus on the Navy's core values of honor, courage and commitment. Both tone and tenor of instruction are modeled after the Navy's recruit training.
US Air Force Auxiliary, Civil Air Patrol Cadet
Do you want to prepare for your future while making new friends? Would you like to conquer new Challenges while having some fun? Then rise to the challenge of cadet membership in the U.S. Air Force Auxiliary, Civil Air Patrol.
The CAP Cadet Program is a year-round program where Cadets fly, learn to lead, hike, camp, get in shape, and push themselves to new limits. If you're dreaming about a career in aviation, space, or the military, CAP's Cadet Program is for you.
To become a cadet, you must be be at least 12 years old and not yet 19 years old. Cadets meet 2 hours per week and one Saturday per month, on average, and also have opportunities to attend leadership encampments, career academies, and other activities during the summer.
US Coast Guard, Auxiliary Youth Sea Scouts
The Coast Guard Auxiliary has adopted the Boy Scouts of America's Sea Scout program as its official youth program. The Sea Scouts are a program for young men and women ages 14 (or 13 years of age and completed eighth grade) through 20. Sea Scouts provide a program for religious, fraternal, educational, and other community organizations to use for effective character, citizenship, and mental and personal fitness training for youth. As part of this training, Sea Scouts are expected to develop personal religious values, learn the principles of American heritage and government, and acquire skills that will prepare them to become successful adults.
All Sea Scouts and Sea Scout leaders are automatically Associate Members of the Coast Guard Auxiliary Association. Any Sea Scout who is at least 14 years old or Sea Scout leader may also choose to become full members of the U.S. Coast Guard Auxiliary by following the normal application process.
Employment Support | Resources
Volunteer | Service Organizations
Volunteering & Service Organizations
AmeriCorps
AmeriCorps, a federal agency, brings people together to tackle the country's most pressing challenges through national service and volunteering. AmeriCorps members and AmeriCorps Seniors volunteers serve with organizations dedicated to the improvement of communities. AmeriCorps helps make service to others a cornerstone of our national culture.
Peace Corps
The Peace Corps is a service opportunity for motivated changemakers to immerse themselves in a community abroad, working side by side with local leaders to tackle the most pressing challenges of our generation.

The Student Conservation Assoc.
The Student Conservation Association (SCA) is America's conservation corps. Our members protect and restore national parks, marine sanctuaries, cultural landmarks and community green spaces in all 50 states.
Gap Year Information | Programs
Educational Development Plan (EDP) with Xello
How do I access Xello?
Log into the Chrome Browser with your BRK Google Email account.
Open Chrome
Click on Counseling
Click on Career Center
---
What do I need to do to complete my EDP?
1.

Xello

Dashboard Avatar Top Right
Click on Account
Update your Personal Information

Update address using edit button
Update Mobile Number
Add a non school email address

Click on Avatar

Click on Dashboard​​
2. Get Started With Your EDP
Get Started
To unlock this lesson - complete the tasks
The tasks vary from grade to grade
Green check marks will show up when you have completed a task.
Once all lessons have been done, you will open the lesson.
3. Lesson - What is your dream job and why?

Enter in space provided.
Then "Turn In".
One or two sentences is good.
You are done!! Congratulations!
Feel free to continue exploring your future in Xello!
---
What if I need help?

Email Mrs. Sienkiewicz
How to Access the Full Version of Xello from a Mobile Device
Driver's License | Learner's Permit Information
State of Michigan Teen Driver's License Information
Managing Your Money
Make Smart Money Decisions!
Oakland County Michigan Works! is launching a series of FREE financial wellness workshops to help you address a variety of challenges and seize financial opportunities. Open to anyone who is interested in better managing their money!
Topics include, among others:
Credit and debt management

Budgeting

Investing

Credit scores

Paying for higher education

Retirement planning

Homeownership

Elderly care

And more