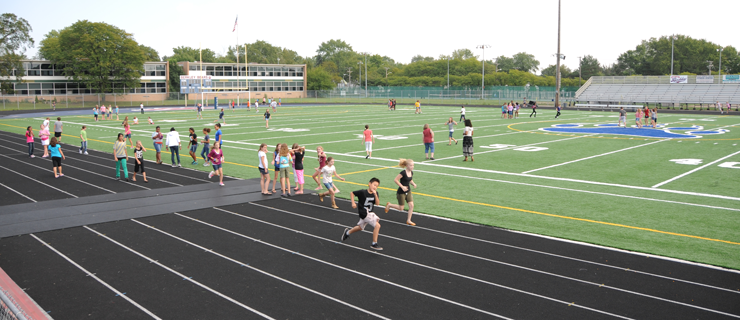 Hurley Field: Track Open for Exercise
A 7 lane / 400 Meter running track surrounds turf field
The track surrounding the turf field is open to the general public for exercise purposes from mid-March through the end of November, weather permitting, except during school hours and during events.
The general rule of thumb is the running track is closed during school hours, any event when admission is charged, such as BHS soccer and football games, MHSAA soccer and football games and Berkley Steeler football games to name a few. Please check the Berkley Schools Facility Calendar for what is scheduled at Hurley Field.
Access to the running track is via one of two turnstile gates that are open even when the main gate under the home side bleachers is locked. The first of these turnstiles is located at the south end of the stadium building and the second is located on the southeast corner of the complex by the baseball diamond. They will be locked when the track is closed for selected events.
Use of the turf playing field is by Field Permit Only - a copy of the permit request form can be obtained at the Administrative Offices building, 248-837-8000, or contact Meg Boring, Hurley Field Manager, at 248-786-9287 for field availability and additional information. You can also visit Rent Hurley Field section of this website for additional information.
No food, gum, sunflower seeds or any colored drinks (including coffee, tea & soft drinks) are allowed inside the fence surrounding the running track - Only clear liquids can be taken onto the turf field.
Thank your for your cooperation!