School Hours
Berkley High School runs on a six (6) period schedule.
School starts at 8:20 am
Dismissal time for half days is 11:35 am
Berkley High School Profile
Berkley High School is nestled in a residential and small business community, located in Oakland County. Our 4,800 district students come from Berkley, Huntington Woods and the north portion of Oak Park.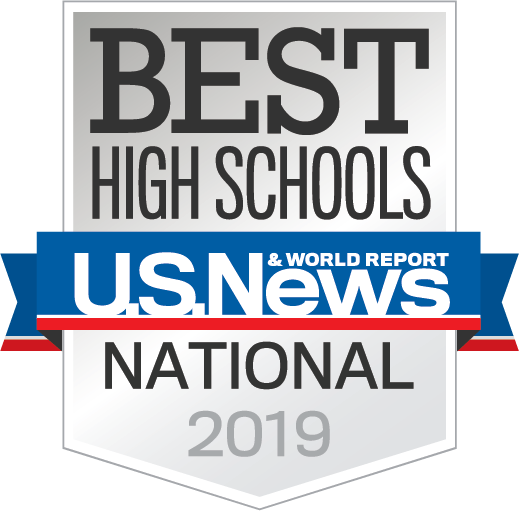 Berkley High School has been named a Best High School in the 2019 Rankings fro U.S. News & World Report. BHS Ranked #1807 nationally and #62 in Michigan. (Based on 2016-17 data). View the 2019 BHS listing. BHS was also a Silver Medal recipient from U.S. News & World Report in their 2018 Best High Schools ranking. BHS ranked #1520 in the National Rankings and #52 in Michigan. Schools are ranked based on their performance on state-required tests and how well they prepare students for college. Additionally, BHS was named a 2017 Most Challenging High School by the Washington Post, among Newsweek's Top 500 High Schools in 2016, and as was on the Newsweek's The Daily Beast 2014 list of 735 Best High Schools in the nation -- ranked 6th in Michigan. These rankings highlight the schools that have proven to be the most effective in turning out college-ready graduates.
Andrew Schildcrout, Class of 2018 valedictorian will be attending the University of Chicago, while Gabrielle Feber, salutatorian, will be attending MIchigan Technological University.
This Class of 2018 was accepted at American College of Greece, American University of Paris, Boston University, Case Western University, University of Hawaii, McGill University, Tufts University, Howard University and the University of Alaska to name a few out-of-state institutions.
In-state, for the Class of 2018:
43% of class accepted to UM
72% of class accepted to MSU
Depth and Breadth of Curriculum
A total of 327 students took 679 Advanced Placement tests in 2017. Many upper classmen dual enroll at one of the many colleges/community colleges in our area. In addition, approximately 30% of our Seniors attend classes at CASA (Center for the Advanced Studies and the Arts), and OSTC (Oakland Schools Technical Campus).
Scholarships & Awards
The Class of 2018 was awarded over $3 million dollars in scholarships and financial aid.

2017 BHS Profile - Print Version
School Information
School Details
CEEB/ACT Code: 230295
Public: Comprehensive
Grades: 9-12
Enrollment: 1373
Senior Class: 308
Schedule: 6 Period Schedule
Class Periods: 61 minutes
Accreditation: North Central Association
Memberships
Michigan Association of Schools and Colleges
Michigan Association for College Admission Counseling
National Association for College Admission Counseling
Professional Staff
79 Teachers
4 Counselors
3 Administrators
1.5 Media Specialists
1.5 Social Workers
1 Speech Pathologist
1 School Psychologist,
1 Academic Intervention Coordinator
1 College and Career Coordinator Specialist
1 Athletic Coordinator
1 Drama Director
80% Master's Degree
Graduation Requirements
Graduation Requirements, Grade Point Average and Class Rank
Twenty two credits are required for the Class of 2018 to graduate from Berkley High School. All courses are worth .50 credit. Students are required to meet the following minimum department requirements:
English 4 credits
Math 4 credits
Physical Education 1 credit
Science 3 credits
Social Studies 3 credits
Foreign Language 2 credits
Visual, Performing, Vocational, or Applied Arts 1 credit
The grade point average on a transcript is weighted if a student has taken an Advanced Placement (AP) course and/or select honors (HON) courses. Courses taken outside of grade level will be indicated with an * on student's transcript. A "G" grade indicates a passing grade in a pass/fail option. The lowest grade one can earn and still receive credit is a D-.
Grade Equivalents
A = 94-100
A- = 90-93
B+ = 87-89
B = 83-86
B- = 80-82
C+ = 77-79
C = 73-76
C- = 70-72
D+ = 67-69
D = 63-66
D- = 60-62
Class of 2017 GPA Distribution
GPA distribution includes grades earned through 11th grade
Class of 2017: 308 Seniors
Highest: 4.500
Median: 3.081
Lowest: 1.068
1st Quintile 4.500-3.885
2nd Quintile 3.881-3.419
3rd Quintile 3.372-2.819
4th Quintile 2.814-2.117
5th Quintile 2.113-1.068
Recent Student Honors
Prudential Spirit of Community Honoree, Central Florida National Merit Scholarship, Alma Trustee Scholarship, Horace Mann Fellow, Ohio State National Buckeye Scholarship, Universtiy of Michigan Literature, Science & Arts Scholarship, Tulane Dean's Honor Scholarship, Excellence in Education - Oakland County, Bill Gates Millennium Scholar, Comcast Leaders & Achievers Scholar, Michigan High School Athletic Association Scholar Athlete, Western Golf Association Chick Evans Caddie Scholarship Winner, DECA National Qualifiers, Symphonic Band - superior rating MI Schools Band & Orchestra Association (MSBOA), superior rating Solo & Ensemble Festival, Symphony Orchestra First Division rating MSBOA's District and State Band and Orchestra Festival, 100 AP Scholars
Honors Courses
Honors courses (HON) are offered in the following subjects.
Those indicated with * are grade weighted courses.
English 9
English 10
*English 11
*Advanced Writing (Practice of Academic Writing)
*Textual Studies (Class and Literary Texts)
*Advanced Earth and Space
*Anatomy & Physiology
*Zoology
*Organic Chemistry
*Calculus 3
*Differential Equations
Note: Advanced Writing, Calculus 3, Differential Equations and Textual Studies are articulated college courses through Syracuse University.
Advanced Placement Courses (24)
Berkley High School offers the following Advanced Placement (AP) courses:
Offered at BHS:
AP Studio Art (new)
AP Environmental Science (new)
AP Chemistry
AP Biology
AP Physics 1, 2
AP English Literature
AP Calculus AB
AP Calculus BC
AP Statistics
AP Government
AP Economics
AP Comparative Government
AP Microeconomics
AP European History
AP World History
AP Computer Science
Offered at CASA:
AP French
AP Music Theory (new)
AP Spanish
AP English Language
AP Seminar
AP Human Geography
AP Psychology
AP Physics C
AP US History
Advance Placement Scores
In 2017, 327 students took a total of 649 tests in 18 subjects.

| AP Score | Total Exams | # of Scores |
| --- | --- | --- |
| 5 | 96 | 15% |
| 4 | 156 | 24% |
| 3 | 207 | 32% |
| 2 | 150 | 23% |
| 1 | 40 | 6% |
(There is no limit to the number of Advanced Placement classes a student can take)
Test Scores
Starting the year of 2016-17, students began taking the SAT instead of the ACT as a part of the Michigan Merit Exam.

| | Class of 2017 | Class of 2016 | Class of 2015 |
| --- | --- | --- | --- |
| SAT | 308 Tested | | |
| Composite | 1085 | n/a | n/a |
| | | | |
| ACT | 150 Tested | 296 Tested | 276 Tested |
| Composite | 25.4 | 23 | 22 |
| English | 25.2 | 23.1 | 21.5 |
| Math | 24.9 | 21.9 | 21.5 |
| Reading | 26.2 | 23.6 | 22.4 |
| Science | 25.1 | 22.8 | 22.2 |
Post Secondary Education
Percentage of total graduating class attending 4 year college, 2 year college or Military/trade/technical school.

| Class of | Students | 4 Year College | 2 Year College | Military/Technical/Trade School | Total |
| --- | --- | --- | --- | --- | --- |
| 2017 | 343 | 67% | 28% | 3% | 98% |
| 2016 | 288 | 67% | 29% | 2% | 98% |
| 2015 | 263 | 68% | 30% | 1% | 99% |
| 2014 | 275 | 67% | 29% | 1% | 98% |
Previous Colleges Students Have Been Accepted
Over the past four years, our students have been accepted to:
Adrian College, Albion College, Alma College, Baldwin Wallace College, Bard College, Baylor University, Beloit College, Bentley University, Boston University, Bryn Mawr College, CA College of the Arts, California Polytechnic State University, Carleton College, Case Western Reserve University, Central Michigan University, Clark University, College for Creative Studies, College of Wooster, Columbia College Chicago, Denison University, DePaul University, Drake University, Duke University, Embry-Riddle Aeronautical University, Georgetown University, Grand Valley State University, Hampshire College, Harvard University, Howard University, Illinois Institute of Technology, Johns Hopkins University, The Juilliard School, Kalamazoo College, Keio University, Kenyon College, Kettering University, Loyola University Chicago, McGill University, Michigan State University, Michigan Technological University, Mount Holyoke College, New York University, Northern Michigan University, Northwestern University, Oakland University, Oberlin College, Ohio State University, Parsons School of Design, Rensselaer Polytechnic Institute, Rice University, Robert Morris University, Roosevelt University, San Diego State University, Saginaw Valley State University, Smith College, Syracuse University, Tulane University, Tuskegee University, United States Military Academy, West Point, United States Naval Academy, University of Detroit Mercy, University of California Berkeley, University of Chicago, University of Miami, University of Michigan, University of Minnesota Twin Cities, University of Montana, University of New Hampshire, University of Notre Dame, University of Pennsylvania, University of Toronto, University of Wisconsin-Madison, Vanderbilt University, Vassar College, Wayne State University, Wellesley College, Wesleyan University (CT), Western Michigan University, Westminster College, Williams College, Worcester Polytechnic Institute, Yale University