BHS Student Hub
Welcome, students to the BHS Student Hub.
Here you'll find links to frequently used websites, information on senior events, how to purchase a yearbook, student productions and BHS student news.
2021 Yearbook Spring Supplement

Download and view the 2021 Yearbook Insert (This is a large file)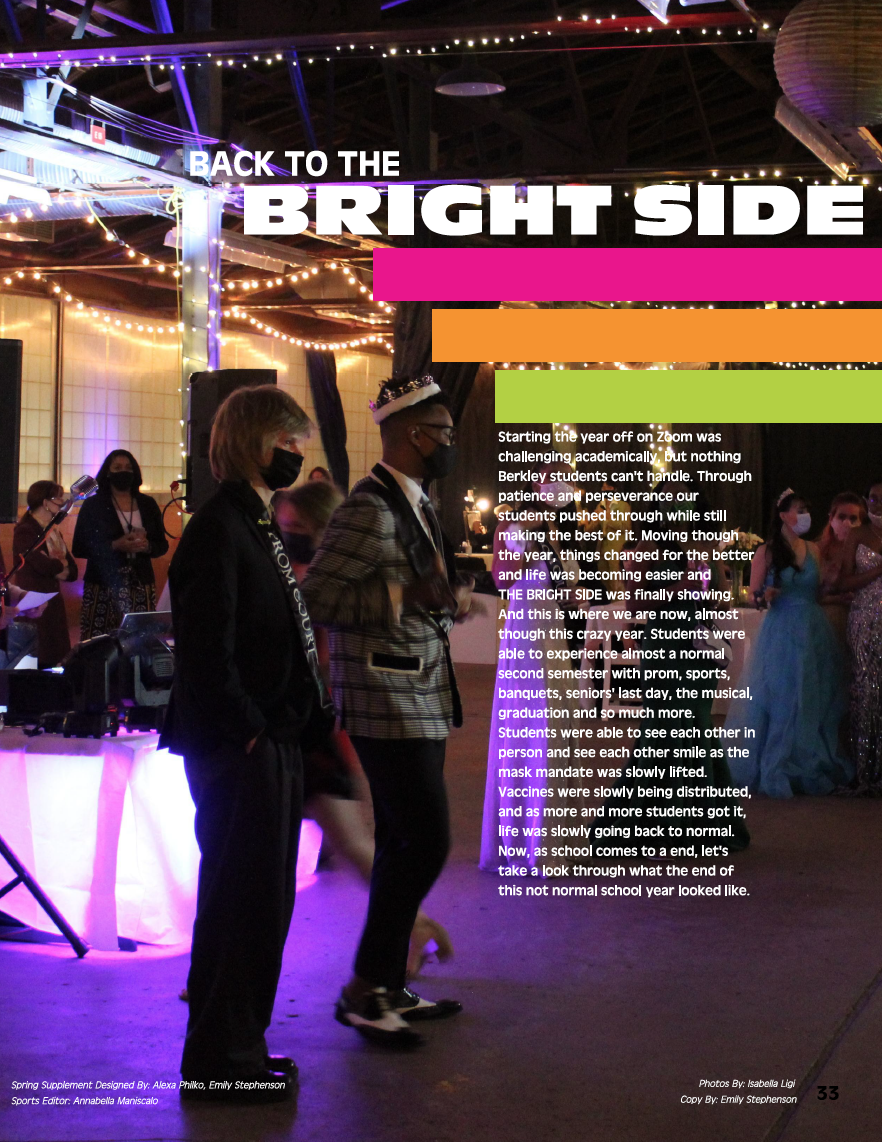 Berkley High School welcomes all and has no tolerance for bullying. Please take time to read through the BHS Code of Conduct and the Board policy on bullying.

District Student Code of Conduct

Berkley Schools Anti-Bullying Policy
Buy Your 2021-22 Yearbook
Buy your 2020-21 yearbook now and SAVE, SAVE, SAVE!
Buy online at the Herff Jones Yearbook Order Center and use order number 2822, or pay at BHS with a check.
Yearbooks are $65 until September 13, 2021.
Price goes up to $75 on Monday, November 29, 2021
Last day to buy a yearbook is Friday, January 14, 2022
Questions? Contact Caye Matthews, Advisor
In 2017, Berkley High School moved away from class rank for all students. This new plan was first enacted for the Class of 2019. The letter below was sent to the BHS community from then principal Randy Gawel explaining the decsion.
March 28, 2017
Dear Berkley High School Parents and Students:
Sometimes organizations do things because they have always done those things in a particular way, not because it makes sense to continue to do so. Practices are often continued because it is easier to just move forward with them rather than to review them and, if finding them to be no longer necessary, end them. Class ranking in high schools has been one of those things.
After much research and careful consideration, it has been decided that starting with the class of 2019, and for each successive class thereafter, Berkley High School will be ending the practice of ranking students. We will be doing this for a number of reasons:
The process of positioning themselves for a particular rank within the class causes undue and unnecessary stress on students and takes the focus away from learning.
Students take courses based upon the impact on class rank, not because the content of the course is of interest to them.
Students often do not take a challenging course because they are afraid that it will hurt their class rank.
Students have in the past opted to not participate in fine or performing arts classes because these courses are not grade-weighted and lower their class rank.
Colleges and universities (both state and national) have reported to us that whether or not a high school ranks students makes no difference at all in admissions, as they use a multitude of factors in the admissions process.
Many of the top high schools in Oakland County (Bloomfield Hills, Novi, Birmingham, West Bloomfield, Troy, Rochester) no longer rank, and we will be joining them.
Please know that we are making this decision with the best interests of our students in mind, both for the time that they are enrolled here at BHS and with an eye to their future. If you have any questions about this decision, please do not hesitate to contact myself or your child's counselor.
Yours in Education,
Randy Gawel
Work Permits
If you need a work permit processed while school buildings are closed, please email the completed form to secretary Lesli Wyatt. She will complete it and send it back to you.
BHS Upcoming Events

Calendar:

Berkley High School

BHS Homecoming Game v. Ferndale

Calendar:

Berkley High School

Calendar:

Berkley High School

Michigan Tech Info Session

Time:

11:30 AM to 12:30 PM

Location:

College + Career Center

Calendar:

BHS Counseling Department Calendar

Kettering University Info Session

Time:

9:30 AM to 10:30 AM

Location:

College + Career Center

Calendar:

BHS Counseling Department Calendar

Time:

12:45 PM to 1:15 PM

Location:

College + Career Center

Calendar:

BHS Counseling Department Calendar

Are you a senior confused about...the college application process?... filling out college applications?... not knowing where to start?

Drop-in College App Help in the College + Career Center every Tues & Wed @lunch!

Starts next Tues, Sept. 5th thru Wed, Nov. 1st!
Bring your device, lunch, and a friend!
Be sure to check out the BHS Counseling College website for answers to many of your questions!

Time:

12:45 PM to 1:15 PM

Location:

College + Career Center

Calendar:

BHS Counseling Department Calendar

Are you a senior confused about...the college application process?... filling out college applications?... not knowing where to start?

Drop-in College App Help in the College + Career Center every Tues & Wed @lunch!

Starts next Tues, Sept. 5th thru Wed, Nov. 1st!
Bring your device, lunch, and a friend!
Be sure to check out the BHS Counseling College website for answers to many of your questions!

Berkley Athletic Booster Meeting

Location:

BHS Collaborative Center

Calendar:

Berkley High School

Calendar:

Berkley High School

Saginaw Valley State University Info Session

Time:

10:30 AM to 11:30 AM

Location:

College + Career Center

Calendar:

BHS Counseling Department Calendar

Wayne State University Info Session

Time:

11:30 AM to 12:30 PM

Calendar:

BHS Counseling Department Calendar

BHS PSAT/NMSQT Testing: Gr 11

Calendar:

Berkley High School

American University (DC) Info Session

Time:

11:30 AM to 12:30 PM

Location:

College + Career Center

Calendar:

BHS Counseling Department Calendar

Central Michigan University Info Session

Time:

9:30 AM to 10:30 AM

Location:

College + Career Center

Calendar:

BHS Counseling Department Calendar

Michigan State University Info Session

Time:

10:30 AM to 11:30 AM

Calendar:

BHS Counseling Department Calendar

Loyola University Chicago Info Session

Time:

11:30 AM to 12:30 PM

Location:

College + Career Center

Calendar:

BHS Counseling Department Calendar

Northern Michigan University Info Session

Time:

9:30 AM to 10:30 AM

Location:

College + Career Center

Calendar:

BHS Counseling Department Calendar

Time:

12:45 PM to 1:15 PM

Location:

College + Career Center

Calendar:

BHS Counseling Department Calendar

Are you a senior confused about...the college application process?... filling out college applications?... not knowing where to start?

Drop-in College App Help in the College + Career Center every Tues & Wed @lunch!

Starts next Tues, Sept. 5th thru Wed, Nov. 1st!
Bring your device, lunch, and a friend!
Be sure to check out the BHS Counseling College website for answers to many of your questions!

Onsite Admissions Day for Seniors

Time:

8:30 AM to 12:30 PM

Calendar:

BHS Counseling Department Calendar