Students
The parents of students who have an unexcused absence will receive an automated phone call in the evening from BHS. Students may not be allowed to make up work or tests for days on which they were unexcused.
If you have questions with the accuracy of the attendance record, please call the Attendance line at 248-837-8130.
If you have questions about the contact phone number listed in our system or need to update any other Family Access information, please call Mrs. Downer at 248-837-8141.
Important Student Information
2019 Yearbook Spring Supplement

Download and view the 2019 Yearbook Insert (This is a large file)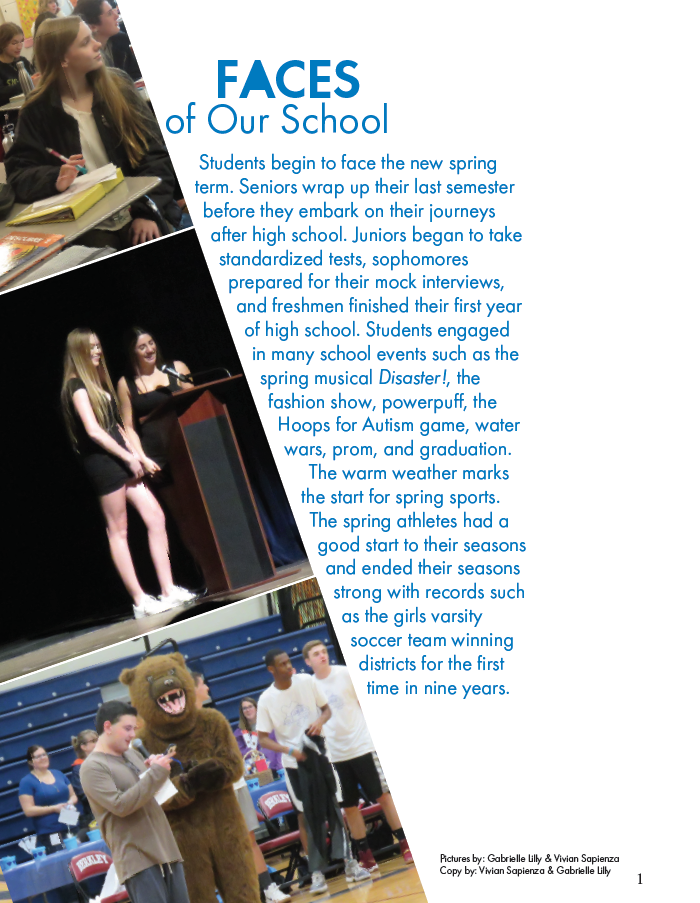 Students begin to face the new spring term. Seniors wrap up their last semester before they embark on their journeys after high school. Juniors began to take standardized tests, sophomores prepared for their mock interviews, and freshmen finished their first year of high school. Students engaged in many school events such as the spring musical Disaster!, the fashion show, powerpuff, the Hoops for Autism game, water wars, prom, and graduation. The warm weather marks the start for spring sports. The spring athletes had a good start to their seasons and ended their seasons strong with records such as the girls varsity soccer team winning districts for the first time in nine years.
Student Dress Code
Student Dress Code
All students are expected to give proper attention to personal cleanliness and to dress appropriately for school and school functions. Students and their parents have the primary responsibility for acceptable student dress and appearance.
Teachers and all other district personnel should exemplify and reinforce acceptable student dress and help students develop an understanding of appropriate appearance in a school setting. A student's dress, grooming and appearance, including hairstyle/color, jewelry, make-up and nails, shall:
Be safe, appropriate and not disrupt or interfere with the educational process.

Recognize that tight or revealing garments, such as tube tops, net tops, halter tops, spaghetti straps, plunging necklines (front and/or back), shorts and skirts that are brief and/or see-through garments, are not permitted. Exposure of the mid section in not allowed.

Ensure that underwear is completely covered with outer clothing. Do not wear clothing that reveals underwear.

Include footwear at all times. Footwear that is a safety hazard will not be allowed.

Not include skirts and shorts that are less than the length of the tip of the middle finger when the arm is relaxed at the shoulder.

Not include the wearing of sunglasses or other item that obscure the eyes or face inside school buildings.

Not include wearing hats in the classroom.

Not include scarves or other head coverings unless worn for religious or health reasons.

Not include wearing hoods in school.

Not include wearing items that are vulgar, obscene, and libelous or denigrate others on account of race, color, religion, creed, national origin, gender, sexual orientation or disability.

Not include wearing anything that promotes and/or endorses the use of alcohol, tobacco or illegal drugs and/or encourages illegal, sexual or violent activities.

Failure to comply with the dress code may result in an insubordination referral. Students may be required to return home for a change of clothing if dressed inappropriately. The Principal and Assistant Principals will make final decisions regarding what apparel is appropriate for an educational setting.