Anderson Middle School students entering grades 6-8 are required to read THREE BOOKS during the summer. Students may opt to take Accelerated Reading (AR) quizzes during our summer quiz drop-in sessions. Summer quiz opportunities will be offered in the library media center on the following dates:
•Thursday, July 21 from 12-2 pm
•Thursday, August 18 from 12-2 pm
•Wednesday, August 24 (during 6th grade orientation and 7th/8th grade schedule pick-up)
Curriculum Night Welcome Video from AMS Principal, Michael Ross
In case you missed the AMS Curriculum Night on September 17 or if you would like to review the welcome video from AMS Principal, Michael Ross, please click on the

AMS Curriculum Night 2019 Welcome Video:
Anderson Middle School Named as 2020 Best Schools in Michigan!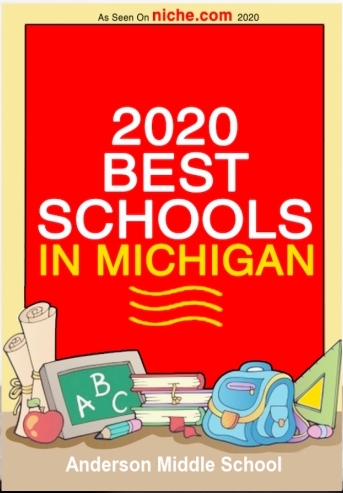 2019 - 2020 School Year Information and Links to Resources


Welcome to Anderson Middle School!
3205 Catalpa, Berkley, MI 48072
OFFICE HOURS: 7:30 am - 4 pm
SCHOOL HOURS: 8:15 am - 3:15 pm
HALF DAY DISMISSAL: 11:30 am
MAIN NUMBER: 248.837.8200
FAX NUMBER: 248.546.0696
ATTENDANCE LINE: 248.837.8230
Anderson Middle School serves students in grades 6-8
Anderson Calendar
Anderson Calendar

‹

January

2020

›

S
M
T
W
T
F
S
1
2
3
4
5
6

Jan 6

7:00 PM to 8:00 PM

Board of Education Organizational Mtg/Study Session

Location:

Administrative Offices

7
8
9
10

Jan 10

7:00 PM to 8:00 PM

Middle School Musical, Elf, Jr.

11

Jan 11

7:00 PM to 8:00 PM

Middle School Musical, Elf, Jr.

12
13

Jan 13

7:00 PM to 8:00 PM

Board of Education Regular Meeting

Location:

Administrative Offices

14
15

Jan 15

7:00 PM to 8:00 PM

AMS Winter Orchestra Concert

Calendar:

Anderson Middle School

16
17

Jan 17

1/2 Day Students - 1/2 Day Records

18
19
20

Jan 20

8:00 AM to 1:00 PM

MLK Day of Service: A Day On, Not a Day Off

Location:

Berkley High School Auditorium

Join the Berkley and Royal Oak School Districts to be inspired by Dr. King's work and then roll up your sleeves to volunteer all morning.

This year's event is hosted at Berkley High School. Many local and off-site volunteering opportunities will be available after a presentation in the Auditorium.

21
22
23
24
25
26
27

Jan 27

7:00 PM to 8:00 PM

BEF Meeting

Location:

Administrative Offices

28

Jan 28

7:00 PM to 8:00 PM

Berkley Area PTSA Council

Location:

Administrative Offices

29
30
31