Anderson Middle School students entering grades 6-8 are required to read THREE BOOKS during the summer. Students may opt to take Accelerated Reading (AR) quizzes during our summer quiz drop-in sessions. Summer quiz opportunities will be offered in the library media center on the following dates:
•Thursday, July 21 from 12-2 pm
•Thursday, August 18 from 12-2 pm
•Wednesday, August 24 (during 6th grade orientation and 7th/8th grade schedule pick-up)
AMS Return to School Guide to Virtual Learning for 2020-21
To learn more about the virtual schedule and guidelines and expectations for students, please click on the informational video below from AMS Principal, Michael Ross:

AMS Return to In Person Learning Q&A Session

AMS March 2021 Learning Calendar

AMS April 2021 Learning Calendar
Anderson Middle School Named as 2020 Best Schools in Michigan!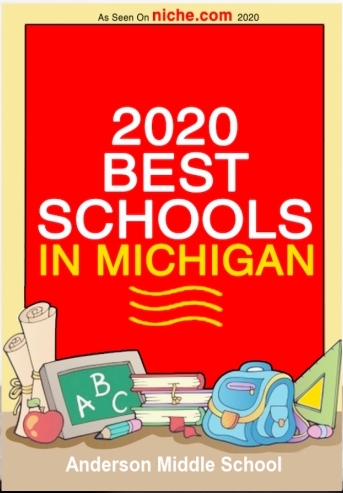 2020 - 2021 School Year Information and Links to Resources



AMS 2019-20 School Improvement Plan



AMS Suggested Supply List 2020 - 2021

Anderson Middle School AER: 2019-20 : Annual Education Report
Welcome to Anderson Middle School!
3205 Catalpa, Berkley, MI 48072
OFFICE HOURS: 7:30 am - 4 pm
SCHOOL HOURS: 8:15 am - 3:15 pm
HALF DAY DISMISSAL: 11:30 am
MAIN NUMBER: 248.837.8200
FAX NUMBER: 248.546.0696
ATTENDANCE LINE: 248.837.8230
Anderson Middle School serves students in grades 6-8
Anderson Calendar
Anderson Calendar

Previous

April

2021

Next

S
M
T
W
T
F
S
1

Apr 1

All Schools - No School Spring Break

2

Apr 2

District Closed - Good Friday

3
4
5

Apr 5

6:00 PM to 8:00 PM

Berkley Instrumental Boosters Board/GM Meeting

Board meeting 6-7; General Membership 7-8

7:00 PM to 9:00 PM

Board of Education Study Session & Regular Meeting

6

Apr 6

AMS & NIS PSAT TESTING: Gr 8

7
8
9
10
11
12

Apr 12

Ramadan Starts (begins at sundown through May 11)

7:00 PM to 10:00 PM

Board of Education Special Meeting - Superintendent Search Interviews

13

Apr 13

7:00 PM to 10:00 PM

Board of Education Special Meeting - Superintendent Search Interviews

14
15

Apr 15

7:00 PM to 9:00 PM

Board of Education Special Meeting - Determining Final Superintendent Candidates

16
17
18
19

Apr 19

7:00 PM to 8:30 PM

Berkley Education Foundation Meeting

20
21

Apr 21

Administrative Professionals Day

22

Apr 22

Take our Daughters and Sons to Work Day

23
24
25
26
27

Apr 27

7:00 PM to 8:00 PM

Berkley Area PTSA Council Meeting

28

Apr 28

7:00 PM to 9:00 PM

Board of Education Special Meeting - Superintendent Search Finalist Interviews

29

Apr 29

7:00 PM to 9:00 PM

Board of Education Special Meeting - Superintendent Search Finalist Interviews

30