May 8, 2023
Norup Pep Band Performs at Detroit Tigers Game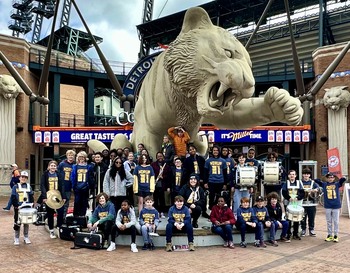 Norup Pep Band Performs at Detroit Tigers Game
Norup Band Director Carole Hoste likes to challenge her students to perform in a variety of environments. She does this to show all the places music can take them, and to share the students' talent and hard work with the community. This mission led to the Norup International School Pep Band performing outside Comerica Park on April 30, 2023.
Ms. Hoste contacted the Tigers organization and learned about the opportunities they have for student groups to perform before games.The 6th-8th grade band classes are separate at Norup, but all grades came together to learn an impressive setlist of 15 songs. The setlist was a mix of popular stadium classics such as "The Hey Song," classic rock and pop music.
On the day of the performance, 46 students and 134 Norup family members gathered outside Comerica Park to watch the band play. The students played for about 40 minutes in front of a cheering crowd, including Paws, the mascot.
Ms. Hoste shared, "When we debriefed back in school on Monday, one sixth grader described it as 'a once in a lifetime opportunity' and many others said they couldn't believe how much music we had really learned."