May 22, 2023
Norup Students Explore Outdoor Adventure Center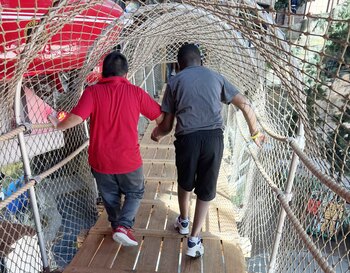 Norup Students Explore Outdoor Adventure Center
On May 11, Norup K-8 students accompanied by teachers Kristi Metz, Carolyn Schall, and Galina Mednik embarked on an educational excursion to the Department of Natural Resources Outdoor Adventure Center (OAC) located in Detroit.
This outing allowed the students to explore Michigan's diverse habitats, learn about local wildlife, and gain knowledge about Michigan's natural resources through a variety of engaging activities. Students had the opportunity to participate in simulated outdoor adventures such as kayaking, fishing, snowmobiling, and bicycling. An OAC educator provided insight into the native mammals, birds, fish, and reptiles that call Michigan home. Students were even introduced to a live snake that is housed at the OAC.
The trip concluded with lunch on the Detroit Riverwalk and Milliken State Park. This location provided the perfect backdrop for the students as they took in unique views of the city and reflected on what they learned.