June 22, 2022
Norup and Anderson 7th Graders Attend Trip Up North and to the Upper Peninsula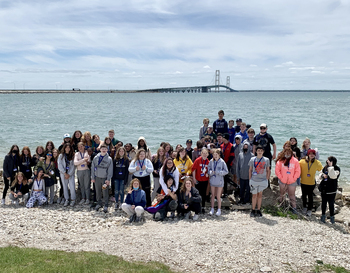 Norup and Anderson 7th Graders Attend Trip Up North and to the Upper Peninsula
In June, 7th graders at Anderson and Norup had the opportunity to attend a trip to the Upper Peninsula and Northern Michigan.
Anderson
On June 1-3, Anderson took two teachers, 10 parents and 60 seventh graders, along with school mascot Andy the Viking to Mackinaw City, Mackinac Island, Sault Ste Marie, Whitefish Point, Pictured Rocks and the Tahquamenon Falls, crossing the Mackinac Bridge four times.
In Sault Ste Marie, the group went to the Soo Locks and the Museum Ship: Valley Camp. On Mackinac Island students rode bikes around the island, visited Fort Mackinac and did lots of shopping, especially for fudge.
At Tahquamenon Falls, students visited the Upper Falls and spent 45 minutes with a Department of Natural Resources ranger learning about the history, flora and fauna of the area.
The trip continued to Whitefish Point, where students visited the Great Lakes Shipwreck museum and lighthouse. After a two hour boat ride to Pictured Rocks, teacher Beth Hanna shared that after a brief thunderstorm, students enjoyed a beautiful rainbow.
Norup
On June 8-10, 100 Norup 7th grade students and eight chaperones went to explore the state of Michigan. On the first day of the trip students ventured west to the Platte River Fish Hatchery and learned more about the salmon they raised in the classroom from November to May. A quick stop for lunch allowed them to catch a few innings of the Traverse City Pit Spitters baseball game where the team was leading against Kalamazoo. The day ended at Sleeping Bear Dunes. Norup teacher Sarah Cartwright shared that the students loved climbing the dunes and the great views of Little Glen Lake and Lake Michigan.
On Day 2 of the trip students were able to do sightseeing in the Upper Peninsula. At Tahquamenon Falls, the Upper Falls were dropping roughly 5,000 gallons per second of water. Students then went to Whitefish Point/Great Lakes Shipwreck museum and found out how brisk but beautiful this spot is. The crew's quarters house brought the students back in time and they enjoyed learning about the wrecks of the Great Lakes. The final stopping point of Day 2 was visiting the Pictured Rocks Lakeshore on a boat cruise. Ms. Cartwright said the students were curious about the formations of the rocks and how the waterfalls flowed.
On the final day of the trip students explored Mackinac Island. They enjoyed biking the 8 mile loop, seeing the Grand Hotel and the cannon firing, while making sure to stop to test out all the favorite fudge shops and get ice cream.