January 23, 2023
AMS Students Participate in Honors Orchestra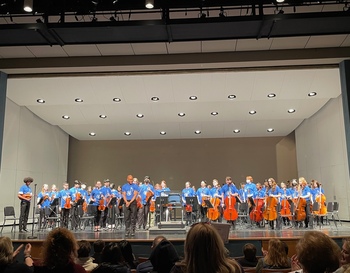 AMS Students Participate in Honors Orchestra
Congratulations to the following Anderson Middle School orchestra students who participated in the first ever MSBOA (Michigan School Band and Orchestra Association) Honor's Orchestra!
Directors from MSBOA District IV (Oakland County) and District XVI (Macomb County) were able to nominate up to six students from their program. Because of the large number of students nominated, three students were selected from each school between the two counties. Pam Kilbride, AMS orchestra teacher, nominated six students total and the following students were selected to participate in this event: Cellist Natalie Ellis, violinist Kara Neiman, and violist Lily Pearson.
The students worked to learn four selections of music and rehearsed over 6 hours on Saturday, January 14th at Rochester High School under the direction of guest clinician, Rodney Lamar-Page. The event concluded with an excellent performance of the 60 piece orchestra after a day of sectionals and rehearsals.
Congratulations on a fine performance, Natalie, Kara, and Lily!