January 23, 2023
37 Teams Compete in the AMS Battle of the Books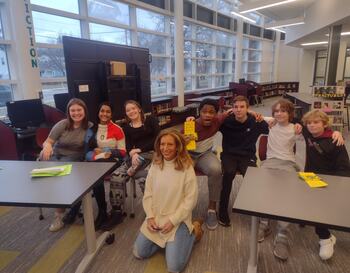 37 Teams Compete in the AMS Battle of the Books
On Friday, January 13, Anderson 8th grade students competed in the 5th annual Battle of the Books. Students assembled 37 teams of 3-5 students each to get ready for the competition. In English Language Arts (ELA) class, students read dystopian books in book clubs as part of a dystopian unit in the fall. ELA teacher Erin Burke shared, "Students continued to work together and challenge themselves with their reading and discussions of the books throughout the first semester."
During the Battle, student teams answer questions about the books they read and receive points for the correct answers. The event runs in a single elimination bracket-style tournament. There are six rounds total. Congratulations to the winning team, the Black Widows: Sophina Runde, Grace Shaik and Sophia Collins. The winning team members each received candy and a cash prize while the runner-up team members each got candy.
This year's Battle books are as follows:
The Giver

by Lois Lowry

Scythe

by Neal Shusterman

Unwind

by Neal Shusterman

Legend

by Marie Lu

The Testing

by Joelle Charbonneau

Lockdown

by Alexander Gordon Smith

Icebreaker

by Lian Tanner

Life As We Knew It

by Susan Beth Pfeffer

Among the Hidden

by Margaret Peterson Haddix
"The Battle of the Books is a fun competition at the end of the semester to celebrate our reading and teamwork," shared Ms. Burke.