May 8, 2023
Rogers Student Council Hosts Occupation Day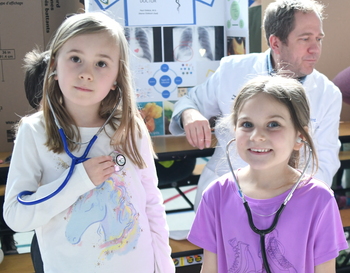 Rogers Student Council Hosts Occupation Day
On April 26, 2023, Rogers students participated in Occupation Day. This event provides an opportunity for caregivers to showcase their job to students. Using a tri-fold poster to feature the different aspects of their occupation, the adults spoke with rotating Rogers classes. This science-fair style allowed students to visit with many adults during their allotted session. Students asked questions after listening to the talking points about each occupation and left with many ideas of what they want to be when they grow up.
Occupation Day was introduced by Rogers Student Council in 2019. The goal of Occupation Day is for students to realize the many different jobs that are available in their future and for adults to showcase the hard work it takes to accomplish them.
Watch the video below for a look at Rogers Occupation Day.