November 21, 2022
Berkley High School Hosts HBCU Night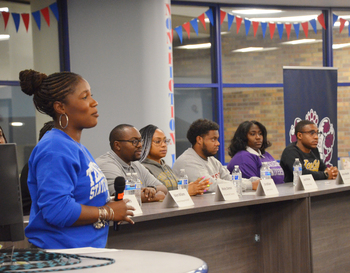 Berkley High School Hosts HBCU Night
On Wednesday, November 16, the Berkley School District community was invited to attend Historically Black Colleges and Universities (HBCUs) night hosted by Berkley High School and the Berkley African American Parent Network. BHS Assistant Principal Evelyn Coleman along with BHS College & Career Counselor Christina Belsky organized and facilitated this annual event.
HBCU night included an open house with colleges, sororities, fraternities and financial aid programs. Students and families were able to meet with representatives from these groups and learn more about what they offer. After the open house families and students were welcomed into the library media center for a question and answer panel consisting of panelists from seven different HBCUs. Mrs. Coleman (proud Tennessee State University Tiger alumni) was the moderator for the panel.
Panelists included Richard Spears (Morgan State alumni), Jacob Mosely (Morehouse College alumni), Ariana Alexander (Tuskegee University alumni), Jalen Williams (Miles College alumni), Kalynn Williams (University of Arkansas Pine Bluff alumni), Wesley Coleman (North Carolina A & T University alumni) and Erin Williams (Southern University alumni).
To kick off the panelist portion of the event, Mrs. Coleman shared the following about HBCUs. "HBCUs were founded at a time in American history where slavery was just ending and there was no space for our Black ancestors to learn. Out of that, HBCUs were born, which are still thriving and surviving in our society today. There are still 101 HBCUs that remain and continue to nurture and develop the top scientists, scholars, engineers, doctors, and educators in our nation and world," she said.
Mrs. Coleman then asked the panelists to share about their HBCU experiences including why they chose to attend an HBCU, what campus life was like, what the rigor of classes felt like, what they say to people who question whether an HBCU experience would be "diverse enough," and why students should choose to attend today.
Quick Facts About Historically Black Colleges & Universities
Historically Black Colleges and Universities (HBCUs) were established to serve the educational needs of Black Americans. Prior to the time of their establishment, and for many years afterwards, Blacks students were generally denied admission to traditionally white institutions. As a result, HBCUs became the principle means for providing postsecondary education to Black Americans.
As of 2022, there are 101 HBCUs located in 19 states, the District of Columbia and the US Virgin Islands that enroll almost 300,000 students.
Over half of all Black American professionals are graduates of HBCUs with more than half of Black public school teachers and 70% of Black dentists having earned degrees at HBCUs.
Some of the first HBCUs were established to train teachers, preachers and other community members.
HBCUs significantly contribute to the creation of African American science degree holders: agriculture (51.6%), biology (42.2%), computer science (35%), physical science (43%) and social sciences (23.2%).
Nine of the top ten colleges that graduate most of the African American students who go on to earn Ph.Ds are HBCUs.
Notable HBCU graduates include Vice President Kamala Harris (Howard), Oprah Winfrey (Tennessee State), Samuel L. Jackson (Morehouse) and Stacey Abrams (Spelman).