June 22, 2022
June 21, 2022: Berkley Beat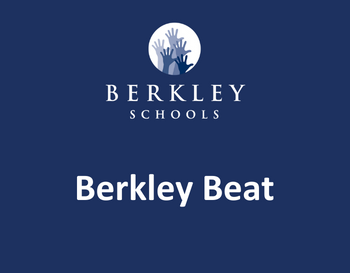 June 21, 2022: Berkley Beat
Promotion Ceremonies Celebrate End of the Year

Berkley Schools Celebrates 5th and 8th Graders

Norup 8th Grade Students Present IB Community Projects

BHS Kicks Off Summer Reading

Students Perform Zoo Tunes at Burton

Rainbow Room at Anderson Middle School

Rogers Ice Cream Social

Board of Education Honors Students, Athletes

Car Parades Celebrate 5th Graders

Burton 5th Graders Celebrate End of Year with a Party

Pattengill Students Showcase Talent

Norup and Anderson 7th Graders Attend Trip Up North and to the Upper Peninsula

Burton Students Visit Pinspiration

Burton PTA Hosts Ice Cream Social

Kensington Metropark Brings Shells, Scales and Pollywog to Berkley Building Blocks

Norup and Anderson Mark End of the Year with Field Day

BHS Bands Accumulate Successes Throughout School Year

Burton Explores the Magic of Science

AMS & Norup Tennis Team Competes at Championship Match

2022 BHS Yearbook Supplement Ready for All

BHS Students Participate in LGBTQ+ Student Panel to Share Experiences

2022 Drama Camp Registration Now Open for Students Entering Grades 6-12

Berkley Public Library Summer Reading Program

LGBTQ+ Pride Month Resources for Families

Berkley High School Credit Recovery Registration Open

Berkley School District is Hiring

Sign Up for Text Alerts
Promotion Ceremonies Celebrate End of the Year
AMS
8th grade Anderson students were honored on June 14 for completing their middle school career. Students arrived at school ready for their ceremony with family and friends and celebrated outside on Hurley Field. Michael Ross, AMS Principal, addressed the 8th graders, sharing well wishes for the students. In addition, the student body said farewell to retiring Assistant Principal Jim Cowdrey. Special awards were given out with scholarships, students were recognized for special academic achievement and three students addressed their classmates. When the recognition from the podium was complete, students had their names called one by one and were celebrated as graduates of Anderson Middle School.
Adult Transition Program
On June 14, the Adult Transition Program held a graduation ceremony for the six students who completed their program this year. During the ceremony, ATP Principal Jennifer Gebbie, Special Education Supervisor Nic Farquhar and Student Services Director Heather Lackey spoke to the students and parents. In addition to the speeches, the graduates and their families viewed a video that featured well wishes from their classmates and teachers. Mrs. Farquhar presented the plaques to the graduates as part of the ceremony. Everyone enjoyed a reception following the festivities.
Norup
Norup 8th graders gathered outside on June 14 to hear words of wisdom from Principal Paul Yowchuang and to receive their end of year certificates. Special recognition was given to students who spent their entire educational careers at Norup, Kindergarten through 8th grade, and to students who received special Norup awards for exemplifying the IB traits. Mr. Yowchuang also honored the founder of the Berkley African American Parent Network, Khadija Walker-Fobbs. Each member of the class was given their own moment as they received certificates and a handshake from Mr. Folmar, counselor, and Mr. Yowchuang, principal. After the ceremony, Norup families formed a tunnel as Mr. Yowchuang led the 8th graders through a final walk through Norup.
Pattengill
On June 15, Pattengill Elementary 5th graders said farewell to their elementary school in a morning promotion ceremony. The ceremony began with a whole-school clap out. Pattengill students and staff lined the halls and cheered on the 5th graders as they exited to the playground one last time. At the promotion ceremony, students each received certificates as they shook hands with their 5th grade teacher and Principal Shamika Womble. After the ceremony, students posed for photos with classmates and teachers before heading to the 5th grade party.
Rogers
On Tuesday, June 14, the Rogers Elementary community said farewell to their 5th graders and retirees. The morning began with a clap out parade - the retirees led the parade in a classic car and the 5th graders followed behind on foot. Students and families lined the streets with farewell signs, cheering for all those who were leaving Rogers.
After the parade, the student body settled into the main entrance area outside and the school gave their gifts to the retirees. Students sang the Rogers song, modified for a goodbye to Principal Beth Meacham and their "Wish You Well" song to retiring secretary Natalie Hill and paraeducator Michelle Thompson. The PTA presented each retiree a gift bag and student artwork with thumbprints from each child. In addition, the PTA gifted the Rogers Media Center a rocking chair in honor of Mrs. Meacham.
After the retirees were honored, the 5th graders had a chance to enjoy their last moments at Rogers. Students were recognized for their participation in safety squad, the recycling club and had a chance to read their personal quote to family and friends who were gathered for the ceremony.
Berkley Schools Celebrates 5th and 8th Graders
As the school year winds down, the last week of school always includes special Berkley Schools traditions - clap outs. At each clap out, although a little different at each school, students and teachers line the halls, clap, cheer and say goodbye as the outgoing students walk through the building one last time.
Norup 8th Grade Students Present IB Community Projects
As Norup eighth graders get ready to enter high school, they take part in the 8th Grade IB Exhibition. Exhibition is a capstone experience that is unique to the International Baccalaureate Middle Years Programme (MYP). During their final year of MYP, eighth graders take ownership of their learning and display what they have learned and who they have become. This year's 8th graders presented their projects to family and friends on June 7.
This project began in December when students formed groups and brainstormed issues that would be of interest to them. Topics covered a variety of issues such as Rouge River cleanup, donating to animal shelters, helping the homeless, food insecurity, school safety, equal pay and more. Norup IB Coordinator Brett Greer shared, "We are trying to help young people to develop into good human beings, and part of being a good person is bringing positive change in the world where you can."
BHS Kicks Off Summer Reading
Berkley High School students often have summer reading to complete for their English classes before the school year begins in the fall. To help students be successful and come fully prepared for the 2022-23 school year, BHS hosted a Summer Reading Kickoff where students cycled through the media center visiting with teachers and learning which books are on the summer reading list. Copies of summer reading books were available for students to check out from the high school's collection. In addition, dozens of free books were donated by The Book Beat in Oak Park as an incentive for those students who checked out books from the media center during the event. Representatives from Berkley, Oak Park and Huntington Woods libraries were also onsite to register students for library cards, so they can check out their summer reading from the local libraries as well. Happy summer reading, BHS!
Students Perform Zoo Tunes at Burton
Students in Stacy Reynolds' class at Burton held a concert for family and friends on June 7, 2022. The concert titled Zoo Tunes featured a variety of songs. Some of the songs were accompanied by a dance or musical instrument. The concert was a great opportunity for students to showcase their talents and how music therapy has been incorporated into the classroom this semester.
Rainbow Room at Anderson Middle School
Anderson Middle School's Gay, Straight Alliance (GSA) group rebooted in the 2021-22 school year, after taking a pause during the pandemic, joining GSA clubs at both Norup and Berkley High School. Visual Arts Teacher Crystal Reid volunteered to coordinate the GSA with the help of paraeducator, Brian Ball. They renamed Anderson's GSA to The Rainbow Room and joined a variety of clubs offered at AMS such as Dungeons and Dragons, Anime, Art, Gaming, Homework and Ski Club.
The Rainbow Room gathered weekly in the AMS Art Room to socialize, share music, make crafts and more. Check out the video below for an inside look at The Rainbow Room and to learn the history of The Rainbow Room poster, painted by AMS 7th grader, Kira Moritz.
Rogers Ice Cream Social
The Rogers Community gathered to celebrate the end of the school year at the annual ice cream social on June 7, 2022. Students met with classmates in the new gaga ball pit, playground and soccer field and browsed the book fair. Families also had the opportunity to meet Jack Gitler, Rogers new incoming Principal. This ice cream social also marked Beth Meacham's last as Rogers principal as she will be retiring after this school year.
Board of Education Honors Students, Athletes
On Monday, June 13, at the Regular Meeting, the Berkley Board of Education honored the top 5% of the BHS Class of 2022, track and field athletes, the varsity tennis team and outstanding senior athletes.
BHS Class of 2022 Top 5%
The Board recognized the top 5% of the BHS Class of 2022. Each student in this grouping has a GPA of 4.3 and higher.
Victoria Auerbach

Lillian Barber

Annabel Bean

Audrey Bellak

Rebecca Bernard

Morgan Collens

Lindsay Dudovitz

Amelia Fadoir

Joseph Fredal

Abigail Gurvitz

Stella Hurwitz

Kaitlyn Kizy

Elliot Perkins

Andrew Sallan

Aurora Sousanis

Zachary Vigliotti

Jonah Weinbaum

Jackson Wright
Track and Field
The Board honored two junior track and field athletes for competing at the State meet - DaKya Cunningham and David Rolands. DaKya competed in the 100m and 200m sprints and finished 6th in the 100m and 5th in the 200m, earning her All-State status for both events. In addition, DaKya was the league champ and county champ in the 100m and 200m races, earning her All-League and All-Region honors. David competed in shot put, and finished 10th in the state, with a throw (and personal record) of 48 feet .75 inches. In addition, David was the county champ in the Shot Put and earned All-League and All-Region honors.
BHS Girls Varsity Tennis Team
The BHS Girls Varsity Tennis Team qualified for and competed at the State Meet. At the State Championships, the team finished in 12th place and the team finished in 2nd place at the OAA Championships! In addition to their accomplishments on the court, this team earned Academic All-State with a team average of 4.07 GPA, after surpassing the 3.25 GPA requirement and setting a school record for the highest team GPA average in school history. Five senior players were also recognized for earning individual Academic All-State Awards: Annabel Bean, Payton Asher, Lola Belchinsky, Ellie Kubicki and Aurora Sousanis.
Outstanding Senior Athletes
The Board of Education Honored Aurora Sousanis and LaVaughn Veasey for being outstanding senior athletes. Aurora is a 4-year varsity tennis player and a 4-year member of the girls basketball team. While participating in two sports each year, Aurora maintained a 4.0 GPA or higher throughout her high school career. Aurora was also the recipient of the Berkley Athletic Boosters Roz Warren Scholarship for outstanding female athlete. LaVaughn is a 4-year varsity swimmer. LaVaughn qualified for the state swim meet for all four years and, as a senior, competed in the 50 meter Freestyle, 100 meter Freestyle and 200 meter relay. LaVaughn was also the recipient of the Berkley Athletic Boosters Bob Jarvis Scholarship for outstanding male athlete.
Car Parades Celebrate 5th Graders
During virtual learning, the Berkley Schools community held car parades for outgoing 5th graders instead of the traditional building clap outs. This new tradition has stuck at Angell and Burton elementaries and on June 15, students and staff lined the streets and cheered on their schoolmates as they drove by. The 5th graders decorated cars with window paint, streamers and more and waved out of sunroofs and windows. Congratulations to all and best of luck in middle school!
Burton 5th Graders Celebrate End of Year with a Party
On Tuesday, June 14, Burton 5th Graders enjoyed their end of year party, a 5th Grade Luau, organized by 5th grade parents. Rather than a promotion ceremony, students enjoy spending an afternoon with their classmates. The event kicked off with a video featuring photos of the students from Kindergarten through 5th Grade. Next, students enjoyed lunch and lawn games and finished their afternoon at the Huntington Woods pool.
Pattengill Students Showcase Talent
Pattengill held its annual talent show outside for family and friends on June 10, 2022. The Pattengill community gathered in the courtyard to watch musical performances, dance routines, comedy acts and more. Congratulations to all participants!
Norup and Anderson 7th Graders Attend Trip Up North and to the Upper Peninsula
In June, 7th graders at Anderson and Norup had the opportunity to attend a trip to the Upper Peninsula and Northern Michigan.
Anderson
On June 1-3, Anderson took two teachers, 10 parents and 60 seventh graders, along with school mascot Andy the Viking to Mackinaw City, Mackinac Island, Sault Ste Marie, Whitefish Point, Pictured Rocks and the Tahquamenon Falls, crossing the Mackinac Bridge four times.
In Sault Ste Marie, the group went to the Soo Locks and the Museum Ship: Valley Camp. On Mackinac Island students rode bikes around the island, visited Fort Mackinac and did lots of shopping, especially for fudge.
At Tahquamenon Falls, students visited the Upper Falls and spent 45 minutes with a Department of Natural Resources ranger learning about the history, flora and fauna of the area.
The trip continued to Whitefish Point, where students visited the Great Lakes Shipwreck museum and lighthouse. After a two hour boat ride to Pictured Rocks, teacher Beth Hanna shared that after a brief thunderstorm, students enjoyed a beautiful rainbow.
Norup
On June 8-10, 100 Norup 7th grade students and eight chaperones went to explore the state of Michigan. On the first day of the trip students ventured west to the Platte River Fish Hatchery and learned more about the salmon they raised in the classroom from November to May. A quick stop for lunch allowed them to catch a few innings of the Traverse City Pit Spitters baseball game where the team was leading against Kalamazoo. The day ended at Sleeping Bear Dunes. Norup teacher Sarah Cartwright shared that the students loved climbing the dunes and the great views of Little Glen Lake and Lake Michigan.
On Day 2 of the trip students were able to do sightseeing in the Upper Peninsula. At Tahquamenon Falls, the Upper Falls were dropping roughly 5,000 gallons per second of water. Students then went to Whitefish Point/Great Lakes Shipwreck museum and found out how brisk but beautiful this spot is. The crew's quarters house brought the students back in time and they enjoyed learning about the wrecks of the Great Lakes. The final stopping point of Day 2 was visiting the Pictured Rocks Lakeshore on a boat cruise. Ms. Cartwright said the students were curious about the formations of the rocks and how the waterfalls flowed.
On the final day of the trip students explored Mackinac Island. They enjoyed biking the 8 mile loop, seeing the Grand Hotel and the cannon firing, while making sure to stop to test out all the favorite fudge shops and get ice cream.
Burton Students Visit Pinspiration
On Tuesday, June 14, students in Erin Fisher's class at Burton took a field trip to Pinspiration in Berkley. Students had a blast in the splatter paint room. Mrs. Fisher's class would like to thank Jenna Hance and the Pinspiration crew for graciously hosting the class.
Burton PTA Hosts Ice Cream Social
On Friday, June 10, the Burton PTA hosted its annual Ice Cream Social. Students and families enjoyed Treat Dreams, ice slushies, pizza and Detroit BBQ while playing on the playground. Students kept busy dancing with Star Trax DJs, too, even through the rain.
Kensington Metropark Brings Shells, Scales and Pollywog to Berkley Building Blocks
Berkley Building Blocks spent the morning of June 7, 2022, with scaly friends from Kensington Metropark. During this in-school field trip titled "Shells, Scales and Pollywog Tails," students interacted with amphibians and reptiles such as a turtle, snake and toad. The presentation covered the animals' habitat, diet and lifecycle.
Norup and Anderson Mark End of the Year with Field Day
Anderson
Anderson 6th and 7th grade students participated in Field Day on June 15 at Hurley Field. Students cycled through kickball, capture the flag, tag and more. Students cooled off and talked about summer plans in between activities.
Norup PYP
On June 7, Norup PYP students raced friends in silly games, kicked a soccer penalty shot, enjoyed parachute games, drew with sidewalk chalk and more during field day. Students enjoyed snacks and popsicles during a Field Day rotation.
Norup MYP
On June 15, Norup MYP students raced friends in games, competed in a tug of war, cornhole, fowling and more. Students enjoyed being outside in the sunshine as they celebrated the end of the year with classmates.
BHS Bands Accumulate Successes Throughout School Year
Congratulations to the BHS Band program and students for achieving the following accolades during the 2021-22 school year. Students and bands participated in the following Michigan School Band and Orchestra Association (MSBOA) events this year.
MSBOA All-State
The following students auditioned and as a result, received the following All-State honors:
Russell Calhoun

, Trumpet, Honorable Mention for Jazz

Zeddy Ball

, Clarinet, All-State Band Member
MSBOA District IV Honor Band Members
Amelia Fadoir

, Flute

Iris Macaulay

, Clarinet

Bryson Willoughby

, Tuba

Shaya Schrieber

, Clarinet
MSBOA District IV Solo and Ensemble
The following students received a Division I Rating at Solo & Ensemble:
Iris Macaulay

, Clarinet

Elliot Perkins

, Oboe
MSBOA District IV Band and Orchestra Festival
Combined Concert Band/Wind Symphony received straight 1s (Excellent) at Festival

Symphonic Band received straight 1s, All As, with nine A+s (Excellent) at Festival
MSBOA District IV State Jazz Festival
Jazz Ensemble received straight 1s and all As (Excellent) at Jazz Festival
University of Michigan Jazz Ambassadors Summer Intensive
Sam Melkonian

, Percussion/Drum Set
Burton Explores the Magic of Science
On Thursday, May 19, Burton Elementary students enjoyed the Magic of Science Assembly presented by Mobile Ed Productions. During the presentation, students saw demonstrations on how chemistry can create a volcano-like "explosion," optical illusions and how physics can help you seem like a true magician. The students enjoyed helping with some of the presentations and learning all about how magical science can be!
AMS & Norup Tennis Team Competes at Championship Match
Congratulations to the HawKings (the combined Norup Hawks and AMS Vikings team name) for competing at the middle school boys tennis championship tournament. Below are the results from the tournament.
#1 Doubles Team: Alden Ritter & Wesley Macdonald - 3rd Place

#2 Doubles Team: Benjamin Stiles & Grady Nolan - 1st Place

#3 Doubles Team: Dylan Field & Josh Bhagwan - 8th Place

#4 Doubles Team: Ira Retish & Asa Somers - 1st Place

#1 Singles: Evan Weber - 2nd Place

#2 Singles: Sam Sermo - 4th Place

#3 Singles: Will Qualman - 2nd Place

#4 Singles: Julian Glass - 6th Place
BHS Students Participate in LGBTQ+ Student Panel to Share Experiences
On Thursday, June 23, at 7 pm, the Royal Oak Diversity Council invites the community to tune in to their YouTube channel to watch a student-led LGBTQ+ panel. Students from Berkley, Clawson, West Bloomfield, Royal Oak and Ferndale participated in this panel to share their perspectives and experiences. Students facilitated as well as participated in the panel. Watch the panel premiere here: https://tinyurl.com/rohslgbtpanel
2022 BHS Yearbook Supplement Ready for All
Berkley High School students and families - the 2022 BHS Yearbook Supplement is now ready for all to view. This year's supplement was created by next year's staff and new editors Stephen Rothchild and Lillith Fleishauer. These pages are free for everyone to access regardless if they purchased a book or not.
https://drive.google.com/file/d/1iQFRuQgs61PiQi4NUa479zdCZykMw-qx/view?usp=sharing
2022 Drama Camp Registration Now Open for Students Entering Grades 6-12
The Berkley Schools Drama Department announces three opportunities for summer programming for students interested in the dramatic arts. Registration is now open for the following sessions:
Session 1 - General Musical Theater Camp

, June 27 - July 1, for middle school students entering grades 6-8

Session 2 -

Acting Camp

, August 1-5, for middle/high school students entering grades 6-12

Session 3 - Advanced Musical Theater Camp

, August 8-12, for middle/high school students entering grades 6-12
Drama Camp Details
When:

Monday-Friday, 10 am - 3:30 pm with a 45 minute lunch ("brown bag" lunch or off-campus lunch for high school students only)

Location

: Berkley High School Auditorium, 2325 Catalpa, Berkley, MI 48072.

Tuition

: $175/session payable via

MISTAR Parent Portal

. A reduced rate of $150/session if a student pays for more than one session at the time of initial registration. There is a $10 cancellation fee and refunds will not be given after the first class session.

Behavior/Attendance/Dismissal Policy

: Students are expected to arrive on time and follow all provisions outlined in the Student Code of Conduct. The instructor may dismiss a student from the program at any time for behavior deemed inappropriate, and tuition will not be refunded to students dismissed from the program.
Registration
Register now using this

Google Form

Payment is made through the

MISTAR Parent Portal

Click on the SBA Info section on the left

Under Accounts, click on the words "Click Here to Access Online SBA Payments"

Choose your student

Under Item, choose how many Drama Camp sessions you signed up for

Click Add to Cart

Click Proceed to Checkout to complete the transaction
Berkley Public Library Summer Reading Program
Friends of Berkley Public Library and Vibe Credit Union present the 2022 Summer Reading Program, Oceans of Possibilities! From June 15 - August 13, the Berkley Public library will host weekly activities and story times throughout the summer. In addition, participants can join the children, teen and adult reading challenges to be entered in drawings throughout the summer.
Visit the full calendar of events here.
LGBTQ+ Pride Month Resources for Families
June is LGBTQ+ Pride Month in the United States. During this month, many pride events are held to recognize the impact LGBTQ+ people have had in the world. Pride Month is also celebrated annually in June to honor the 1969 Stonewall riots, and works to achieve equal justice and equal opportunity for lesbian, gay, bisexual, transgender, and questioning (LGBTQ) Americans.
To learn more about Pride Month, and to see resources to share with your children, check out the list of resources below.
Affirmations LGBTQ+ community center has been the hub for southeast Michigan LGBTQ+ communities and its allies for the last 30 years. Affirmations provides a welcoming space where people of all sexual orientations, gender identities & expressions, and cultures can learn, grow, socialize and access the vital support they need.
Celebrate Pride with Us - Human Rights Campaign
The Human Rights Campaign (HRC) strives to end discrimination against LGBTQ people and realize a world that achieves fundamental fairness and equality for all. HRC envisions a world where lesbian, gay, bisexual, transgender and queer people are ensured equality and embraced as full members of society at home, at work and in every community. The HRC has developed a website full of Pride month activities, videos and resources.
This collection of Key Concepts and Terms is designed to provide a basic understanding of words, phrases and ideas related to lesbian, gay, bisexual and transgender (LGBT) people and their experiences. All language is constantly evolving; new terms are introduced, while others fade from use or change their meaning over time.
The It Gets Better Project's mission is to uplift, empower, and connect lesbian, gay, bisexual, transgender, and queer (LGBTQ+) youth around the globe.
OUR CHILDREN offers a fresh eye for families and others about what to do when a loved one comes out. Full of useful knowledge, helpful tips, expert opinions and first-person stories, OUR CHILDREN--which has a focus on sexual orientation and gender expression--is a must read for anyone looking to learn more about how to support LGBTQ loved ones...or looking for support for themselves.
LGBTQ+ videos for kids! Host Lindsay and her best stuffed friend, Teddy, we'll be teaching you what gay means, what LGBT stands for, what's up with marriage equality and so much more!
A place where LGBTQ youth and their allies can find answers to frequently asked questions, and explore resources related to sexual orientation, gender identity and more!
Berkley High School Credit Recovery Registration Open
The high school summer program will be focused on Credit Recovery Courses. Credit Recovery Courses should be selected in consultation with each student's school counselor. Credit Recovery coursework will be delivered through the APEX online learning system, assisted, facilitated, and overseen by certified teachers. Students will complete the coursework in person. These courses are tailored to each student and are mastery-based, which means the length of time students must spend in Credit Recovery will vary and is dependent upon mastery of course objectives.
Program Details for Credit Recovery

June 27 - July 28, 2022 (no class July 4 & 5)

All classes held at Berkley High School

Monday - Thursday, 8-10:15 am or 10:20 am - 12:30 pm
Fee - $100 per credit recovery class for students attending Berkley Schools. The fee is $220 per class for out of district students. Any Berkley Schools student who is eligible for free/reduced meals will receive a reduced rate of $25/class.
Additional details are available in the High School Summer Learning & Credit Recovery document
Registration - Now Open!
Berkley School District is Hiring
The Berkley School District is hiring multiple positions including building substitute teachers, head custodians, custodians, GSRP/Head Start associate teachers, paraeducators, childcare assistants and lunch aides and kitchen support. Custodial and Child Care positions include bonuses after completing 60 days of work! If you or someone you know are interested in these positions, visit the employment page on our website. On this page you will find more information on the positions and how to apply.
Sign Up for Text Alerts
Quick Steps to Receive Text Alerts from Berkley Schools
In order to receive text messages from the District or your school, you must opt-in. Text messages will be sent out when the District closes or there is an emergency situation. Texts may also be sent from the District and schools for reminder messages during the day that are not urgent.
In order to receive text messages, every parent/guardian must opt-in each cell phone listed in MISTAR.
Steps to Opt-In
Text the word YES (in the message field) to the phone number 67587 (in the To field). Then you are all set!