August 8, 2022
Online Back to School Packet is Open!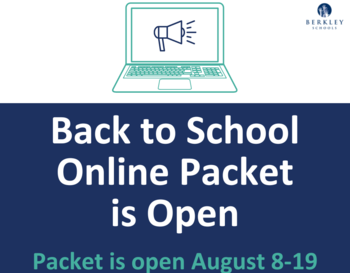 The Annual Back to School Packet is open!
Find the packet in the MISTAR App and MISTAR Parent Portal.
The Annual Packet must be completed for each child registered with the Berkley Schools.
Please allow approximately 15-20 minutes to complete the Packet per child. For optional online payments in the Packet (pictures, school lunch, PTA Memberships, etc.) you will need your driver's license and credit card ready.
PACKET DEADLINE: August 19, 2022
Complete your packet by the end of the day on August 19, 2022. Complete the packet to receive class assignments and student schedules.
IMPORTANT THINGS TO REMEMBER
Read the directions in each section to ensure each step is completed.

You will verify information brought over from last year's Packet or from when you registered if you are new to the Berkley Schools.

Make sure to choose the correct phone type per number listed and update your email address to ensure you don't miss any District and school communications.

You have the option to add your child's phone number in the student section of the Packet, if you wish. Be sure to enter your child's phone number only in this section and your phone numbers in the parent/guardian section to avoid duplicate entries.

It is recommended to use a personal computer (desktop or laptop) rather than a phone or tablet to complete the Packet, unless you are using the App.

Some steps require you to leave the Parent Portal and visit an outside website (PTA membership, photo packages, etc). When you click on these links, a new window will open on top of the Parent Portal window.

The free meal program has ended

. To continue to receive free/reduced meals, read through the

Food Service Important Information

section, and complete the Free and Reduced Meal Application to find out if you're eligible.

Remember to mark each step in the Packet as complete.
HOW DO I FIND THE PACKET IN THE MISTAR PARENT PORTAL?
Once you are logged-in to Parent Portal, click on the bright red text in the upper right that says: Back to School packet.
You can also find the Packet in the MISTAR App. To download the app, follow these directions:
In your mobile device app store, download

Q ParentConnection.

Inside the app, select the State, County and District.

Select

Enter ParentConnection.

In the upper right, select Log In.

Enter your MISTAR Parent Portal Pin and Password.

The App can be used to complete the packet as well as add to the food service accounts, track attendance and grades.
QUESTIONS?
If you are having problems logging in, have questions about completing information online or are experiencing technical difficulties, email the MISTAR Help inbox, from the email address you have on file in MISTAR. Be sure to include your name, the name of your child and a phone number where you can be reached.