September 19, 2022
September 16, 2022: Berkley Beat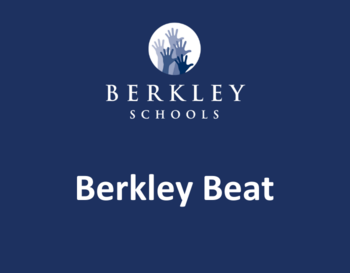 September 16, 2022: Berkley Beat
Viking Fest Takes Over Hurley Field

Rogers Racoons Celebrate at Septemberfair

Welcome, New Berkley Schools Staff Members!

National Hispanic Heritage Month

BHS College & Career Fair

You're Invited to the BAAPN Kick-Off Celebration

Galapagos Island Trip Open to Students Grades 6-12

Federal Government Offers Discounted Internet Service Program

Travel to Scotland in March 2023

Food Service Alerts & Adding Funds to Your Child's Account

Join the Berkley Schools Family

Sign Up for Text Alerts
Viking Fest Takes Over Hurley Field
On September 14, AMS students and families gathered at Hurley Field for Viking Fest. This annual event brings AMS families together to celebrate the start of a new school year with food and fun. This year, students enjoyed inflatables, outdoor games, food trucks, a raffle to benefit the PTSA and a bake sale. Viking Fest is sponsored by the Anderson PTSA.
Rogers Racoons Celebrate at Septemberfair
Rogers Elementary hosted its annual Septemberfair on Friday, September 9, 2022. Families and friends of Rogers students participated in lawn games, inflatable obstacle courses, a raffle and catching up with schoolmates. This event is provided by, and in support of, the PTA.
Welcome, New Berkley Schools Staff Members!
In mid-August the Berkley School District hosted an orientation for new teaching staff to learn about the District. The new staff members were greeted by Superintendent Scott Francis, learned about the District and prepared for the new school year. On Monday, September 12, the Board of Education invited new staff to a welcome reception before the meeting and honored them during the Board Recognition portion of the Regular Meeting. Welcome to all our new staff, listed below.
District-Wide
Ashley Johnson, Substitute Custodian
Berkley Building Blocks
Chantay Pettiford, Lead GSRP/Head Start Teacher

Kiera Grobbel, Paraeducator
Angell Elementary School
Carolyn Schall, English Learner Instructional Specialist
Burton Elementary School
Ociel Torres, 4th Grade Teacher

Carolyn Schall, English Learner Instructional Specialist

Margi Werber, Paraeducator & Lunch Aide
Pattengill Elementary School
Lauren Green, Special Education Teacher

Carolyn Schall, English Learner Instructional Specialist

Rebecca Skoczylas, School Psychologist

Beth Smith, Social Worker

Chantinique Gulley, Paraeducator & Lunch Aide

Iman Ayuk, Paraeducator
Rogers Elementary School
Jack Gitler, Principal

Amanda Rohda, Instructional Secretary
Anderson Middle School
Carman Smith, Assistant Principal

Steven Lott, Family Consumer Science Teacher

Julie Maimes, Science Teacher

Justin Mustonen, Social Studies Teacher

Natalie Shefer, Speech Pathologist

Rebecca Skoczylas, School Psychologist

Hunter Parmley, Paraeducator

Howard Sherman, Paraeducator
Norup International School
Renee Catchings, Special Education Teacher

Danielle Crowder, 5th Grade Teacher

Heather Gitler, 3rd Grade Teacher

Erica Roberts, Secretary

Jessica Minor, Paraeducator

Jacqueline Pierik-Dolkowski, Paraeducator

Ericka Rogers, Paraeducator
Berkley High School
Emily Glosch, Social Studies Teacher

Brian Johnson, Special Education Teacher

Elizabeth Meinhart, Math Teacher

Meredith Montgomery, Spanish Teacher

Matthew Rawlik, Social Studies Teacher

Kimberly Sclafani, Special Education Teacher

Kelley Yell, Family Consumer Science Teacher

Latoya Thompson, Counselor

Amanda Al-Nimri, School Psychologist

Olivia DePaul, Paraeducator

William Parkinson, Paraeducator

Makoto Takata, Paraeducator

Stanley Yolkiewicz, Paraeducator
Adult Transition Program
Michael Azar, Paraeducator

Brian Voight, Paraeducator
Administrative Offices
Kristin Folsom, Secretary
National Hispanic Heritage Month
September 15th - October 15th is nationally recognized as Hispanic Heritage Month. The month-long celebration highlights the culture, achievements and contributions of Hispanic Americans who have positively influenced and enriched our nation and society.
Share in the learning about Hispanic Heritage Month with your family by visiting these resources:
BHS College & Career Fair
Berkley High School families and students are invited to the BHS College and Career Fair on Thursday, October 6 from 6-7:30 pm in the BHS West Gym. Students will learn about various college and career opportunities for life after BHS from 66 different schools and organizations.
You're Invited to the BAAPN Kick-Off Celebration
The Berkley African American Parent Network invites the Berkley Schools community to their Kick-Off Celebration on Thursday, September 22, from 6:30-8 pm in the Berkley High School Courtyard.
The event will include free food, entertainment, giveaways and fun!
The BAAPN is a parent run organization that works in partnership with the Berkley School District. The BAAPN is a way for parents with African American children in Berkley Schools to connect with each other.
Join the Network:
Email - baapninfo@gmail.com
Galapagos Island Trip Open to Students Grades 6-12
Anderson Middle School teacher Athena Troher is hosting a Berkley Schools trip to the Galapagos Islands during Spring Break 2024. Students in grades 6-12 are invited to join this educational travel experience.
Families can hear the trip details, including the itinerary, activities, academic opportunities, the cost of the trip and EF's risk-free enrollment period at the upcoming informational meeting on September 19, 2022, at 6:30 pm, in the Anderson Middle School cafeteria.
Register for the informational meeting and to receive additional information about this trip.
Federal Government Offers Discounted Internet Service Program
Berkley Schools families can now access a new Federal program for discounted home internet service, the Affordable Connectivity Program (ACP). The ACP was launched by the Federal Communications Commission (FCC) to help connect qualifying families and households struggling to afford broadband internet service.
The ACP program provides:
A discount of up to $30 per month for home internet service

A discount of up to $75 per month for home internet service for households on tribal lands

A one-time discount of up to $100 for a laptop, desktop computer, or tablet purchased through a participating provider
Eligible households can enroll through a participating broadband provider or directly with the Universal Service Administrative Company (USAC) using an online or mail in application.
You can learn more about the benefits, including eligibility and enrollment information, by visiting the ACP website, or by calling 877-384-2575.
Travel to Scotland in March 2023
Norup MYP will be collaborating with EF Tours on a guided tour of Scotland for Spring Break 2023! Go beyond seeing Scottish landmarks and experience the kingdom of the north through the stories of the Scots. This trip is open to all Berkley middle schoolers, ages 11-15. View the slideshow for more information.
Food Service Alerts & Adding Funds to Your Child's Account
Now that meals are no longer free, many of the regular Food Service systems are back and running.
Through the MISTAR Parent Portal parents/guardians are able to add funds to their child's food service account to pay for meals and apply for the Free/Reduced Meal Program. In addition, Berkley Schools started sending out negative balance and low balance notifications for food service accounts that are low.
Add Funds to Your Child's Food Service Account
To add funds to your child's Food Service Account, follow these steps.
Login to the

MISTAR Parent Portal

Choose any of your children

Open the Cafeteria link from the left navigation bar

In the Cafeteria window, click the "Click Here to Access Online Food Service Payments" link

Enter any amount in the Payment Amount column for one or all of your children, then click the Continue button

Confirm the amount you added to your child's account and then click Check Out

You will be redirected to PayPal to complete the payment
To fill out the Free/Reduced Meal Application, follow these steps.
Login to the

MISTAR Parent Portal

Choose any of your children

In the School Links section, click 'Click to Apply for Free or Reduced Meal Benefits'

In the top section, choose from the top application options and follow the instructions to complete the application
Food Service Alerts
The District's communications system is set up to send courtesy reminders for families whose balances have dipped under $5 per child as well as those who have dipped into the negative. Currently, a phone call and email for children who have a negative balance is sent out on Monday, Wednesday and Friday at 6 pm. Unfortunately, there is not a way to streamline the calls to one per family because each child has their own food service account.
Low balance alert emails are sent on Monday, Wednesday and Friday if a child's balance is less than $5.
If a child's balance dips into the negative, each child will still receive a full meal, however the account will be charged for each meal provided.
As a reminder for secondary students, each student's pin number can be used to purchase food.
If you have trouble paying your balance, please reach out to the Food Service Department at 248-837-8122. If payments are a hardship for your family, you may qualify for free or reduced lunch. The application is online, through the MISTAR Parent Portal and available through the Food Service Department.
Join the Berkley Schools Family
The Berkley School District is hiring! We are looking for talented individuals to fill a variety of positions. Visit our website (https://bit.ly/3BVnZH1) to apply and share our postings with your networks!
Now Hiring:
Business/Marketing Teacher

Saturdays 4 Success Teachers

Kids' Zone Latchkey

School Psychologist

Paraeducators

Coaches

Custodians

Berkley Building Blocks Assistant Teachers

Lunch Aides
Sign Up for Text Alerts
Quick Steps to Receive Text Alerts from Berkley Schools
In order to receive text messages from the District or your school, you must opt-in. Text messages will be sent out when the District closes or there is an emergency situation. Texts may also be sent from the District and schools for reminder messages during the day that are not urgent.
In order to receive text messages, every parent/guardian must opt-in each cell phone listed in MISTAR.
Steps to Opt-In
Text the word YES (in the message field) to the phone number 67587 (in the To field). Then you are all set!