September 29, 2022
September 23, 2022: Berkley Beat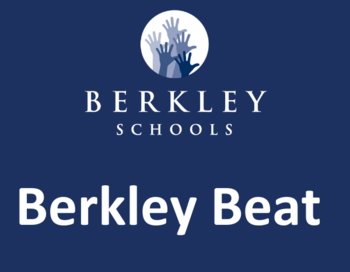 September 23, 2022: Berkley Beat
Get to Know the New AMS Assistant Principal

International Day of Peace Celebrations Across the District

Burton Students ROAR at School Assembly

Pattengill Families Celebrate Together at the Hot Dog Roast

Save the Date for Homecoming 2022

Berkley African American Parent Network Hosts Kick-Off Celebration

Meet the Berkley School District's School Nurse

Welcome Lunch Aides!

Berkley High School Hosts Blood Drive

National Hispanic Heritage Month

Galapagos Island Trip Open to Students Grades 6-12

Saturdays for Success - Registration Now Open

Federal Government Offers Discounted Internet Service Program

Travel to Scotland in March 2023

BHS College & Career Fair

F

ood Service Alerts & Adding Funds to Your Child's Account

Join the Berkley Schools Family- Now Hiring!

Sign Up for Text Alerts
Get to Know the New AMS Assistant Principal
Carman Smith joined the Anderson Middle School family in August 2022 as the new Assistant Principal. Mr. Smith comes to AMS with 20 years of educational experience in the Birmingham School District as an ELA and social studies teacher at Berkshire Middle School and Groves High School, along with four years of administrative experience as an Assistant Principal at Derby Middle School. During his time at Derby, Mr. Smith oversaw the Minority Student Achievement Network, the Where Everybody Belongs Program, and several other character education initiatives. He also served as the building's Athletic Coordinator. Mr. Smith has a passion for maintaining a school culture that promotes diversity, equity, and inclusion and the importance of building strong rapport and relationships with school and community stakeholders.
Watch the video, below, to learn more about Mr. Smith.
International Day of Peace Celebrations Across the District
Rogers Elementary
International Day of Peace, a holiday that celebrates world peace, took place on Wednesday, September 21. Students at Rogers celebrated Peace Day for the entire day, beginning with the annual Peace Day assembly. This was the first whole-school assembly since September 2019.
Students heard stories of peace, the origins of the peace pole (and why Rogers has one in its courtyard), shared peace together with a handshake, fist bump or hug, heard poems about peace and sung many peace songs together. In addition, students shared how to say the word 'peace' in the language they speak at home or with their family, or from their heritage.
The crowd favorite was the song "Nothing More," by the Alternate Routes. The song includes lyrics like, "To be humble, to be kind, It is the giving of the peace in your mind. To a stranger, to a friend... To give in such a way that has no end… We are how we treat each other and nothing more." Rogers students shared the importance of kindness when speaking about peace including kindness to friends, family and classmates.
Angell Elementary
Angell 5th Grade teacher Gale Tosto was inspired to bring an International Day of Peace celebration to Angell this school year. Mrs. Tosto organized an all school assembly. During the assembly, students learned the origins of International Day of Peace, and were treated to a performance by the 5th grade choir who performed "Peace Like a River" by Paul Jennings. The assembly concluded with a Peace Day affirmation that encouraged students and staff to spread peace everyday.
In addition to the assembly, students had the option to participate in the International Day of Peace - Peace Crane Project. Mrs. Tosto connected Angell with Bangkok Prep in Thailand as part of a peace crane exchange. The Peace Crane Project is a global project to promote connection and peace amongst communities worldwide. The PTA hosted a crane making event on September 15th and all the cranes that were created will be shipped to Bangkok Prep.
Norup Kindergarten
Norup Kindergarten teachers Liz Reynolds and Kristina Scholl gathered students around Norup's peace pole to learn about and reflect on International Day of Peace. Students wore peace day hats and enjoyed a reading of The Peace Book by Todd Parr.
According to the Peace Pole Project, the peace pole is a "symbol of the hopes and dreams of the entire human family, standing vigil in silent prayer for peace on earth."
Burton Students ROAR at School Assembly
Al "The Respect Guy" Ulman brought The ROAR Show to Burton Elementary on September 22, 2022. The ROAR Show reminds students to "Respect Others, Act Responsibly" and promotes character building and positive self-esteem for students. Through music, storytelling and audience participation, students learned lessons of inclusion, acceptance, kindness, responsibility, respect, safety, bullying prevention and how to take accountability for their actions. This assembly was sponsored by the Burton PTA.
Pattengill Families Celebrate Together at the Hot Dog Roast
Pattengill families celebrated an evening of fun and games during the annual Pattengill Hot Dog Roast on September 22, 2022. Students enjoyed carnival games, inflatables, music, eating hot dogs and more during this PTA sponsored event.
Save the Date for Homecoming 2022
Calling all Berkley High School alumni! Join the District in celebrating Homecoming on Friday, September 30, 2022. The Berkley High School Varsity football team will take on the Royal Oak Ravens at Hurley Field starting at 7 pm - the community is welcome to attend. At the game, guests will also enjoy a half time performance by the BHS Marching Band and BHS Cheer and Dance Teams. Go Bears!
Berkley African American Parent Network Hosts Kick-Off Celebration
On Thursday, September 22, from 6:30-8 pm in the Berkley High School Courtyard, the Berkley African American Parent Network invited the Berkley Schools community to their Kick-Off Celebration. At the event, guests enjoyed food, connections and lawn games. Those in attendance had a chance to win two prize giveaways as well.
Principals Andy Meloche and Paul Yowchuang manned the grill, BAAPN members greeted guests and shared information and BAAPN President Khadija Walker-Fobbs welcomed everyone.
The BAAPN is a parent run organization that works in partnership with the Berkley School District. The BAAPN is a way for parents with African American children in Berkley Schools to connect with each other. The BAAPN also sponsors the Saturdays for Success (S4S) program, which begins on October 8.
Join the BAAPN at one of their upcoming meetings, all held at 7 pm at Norup International School:
October 13

November 17

January 19

February 16

March 16

April 20

May 18
Join the Network:
Email - baapninfo@gmail.com
Meet the Berkley School District's School Nurse
Berkley School District hired a part-time school nurse for the 2022-23 school year. Rose Guglielmetti, RN, joined the District in September and will work directly in all our buildings with staff and students to support a healthy school and workplace environment.
Rose lives in Berkley with her husband Frank, and her two children, Jack (6) and Maximiliano (3). Jack goes to Angell Elementary! Rose shared, "We are very involved in the community and love everything about Berkley."
Rose became a nurse about 10 years ago, the last 7 working in the Emergency Trauma Center at Royal Oak Beaumont. Rose shared her passion was pediatric nursing in the Emergency Department. "I am very excited to join this wonderful community," she said.
Welcome Lunch Aides!
This school year the Berkley School District hired 10 new lunch aides for many of our schools. Welcome to the Berkley Schools family, and thank you for all you do to keep our kids safe and well cared for at lunch time!
Burton
Norup
Nicola Greir

Heather Fireman

Mary Lynn Stapula

Girtha Blakely Perry

Lashunn Williams
Pattengill
Chantinique Gulley

Hailey Mitchell

Rogers

Jenn Alexander

Amy Bluhm
If you are interested in joining the Berkley Schools as a Lunch Aide, positions are open at Pattengill, Anderson and Angell. Primary job duties include meal prep, supervising students on the playground and/or in classrooms for indoor recess days and light cleaning in the kitchen. Visit our Employment page or reach out to each building principal to apply today - pay is $15/hour!
Berkley High School Hosts Blood Drive
On Tuesday, October 4, Berkley High School invites the community to sign up for their Blood Drive, hosted in partnership with Versiti Blood Center of Michigan.
The drive will take place from 8:30 am - 1:30 pm in the Auditorium Lobby.
National Hispanic Heritage Month
September 15th - October 15th is nationally recognized as Hispanic Heritage Month. The month-long celebration highlights the culture, achievements and contributions of Hispanic Americans who have positively influenced and enriched our nation and society.
Share in the learning about Hispanic Heritage Month with your family by visiting these resources:
Galapagos Island Trip Open to Students Grades 6-12
Anderson Middle School teacher Athena Troher is hosting a Berkley Schools trip to the Galapagos Islands during Spring Break 2024. Students in grades 6-12 are invited to join this educational travel experience.
Families can learn more about the trip details by viewing this presentation.
To guarantee a spot on the tour for students and receive a $200 travel discount, lock in one of the 35 spots available with a $95 deposit by September 28th.
Space is limited, and is first-come, first-served. Enroll today on the ET Tour website.
You can also view the Parent Guide to Travel from EF Educational Tours. It covers everything from details about EF to options for high school and college credit to payments plans and what to expect on a tour.
Saturdays for Success - Registration Now Open
The Berkley African American Parent Network (BAAPN), in partnership with the Berkley School District, sponsors the Saturdays for Success (S4S) program. The purpose of S4S is to help all Berkley students have a successful academic experience by providing educational opportunities in literacy and math, and developing study skills that will ensure long term success. S4S classes are facilitated by Berkley Schools teachers.
What happens at Saturdays for Success?
Literacy and math support for students in grades TK-5

Saturday tutoring, homework help and small group work for students in grades 6-12 for math and language arts

National Honor Society High School students will be

volunteering with elementary student(s) assisting with math drills/ games and literacy activities.
When are the S4S Sessions?
October 8, 15, 22, 29 & November 5, 12

9:30-11 am

Berkley High School
Cost
The cost of the program is $20 per child (fee covers all 6 sessions). If your family is eligible for free and/or reduced lunch benefits the cost is $10 per child.
Location
Berkley High School
Sign Up
Complete this registration form to sign up
Federal Government Offers Discounted Internet Service Program
Berkley Schools families can now access a new Federal program for discounted home internet service, the Affordable Connectivity Program (ACP). The ACP was launched by the Federal Communications Commission (FCC) to help connect qualifying families and households struggling to afford broadband internet service.
The ACP program provides:
A discount of up to $30 per month for home internet service

A discount of up to $75 per month for home internet service for households on tribal lands

A one-time discount of up to $100 for a laptop, desktop computer, or tablet purchased through a participating provider
Eligible households can enroll through a participating broadband provider or directly with the Universal Service Administrative Company (USAC) using an online or mail in application.
You can learn more about the benefits, including eligibility and enrollment information, by visiting the ACP website, or by calling 877-384-2575.
Travel to Scotland in March 2023
Norup MYP will be collaborating with EF Tours on a guided tour of Scotland for Spring Break 2023! Go beyond seeing Scottish landmarks and experience the kingdom of the north through the stories of the Scots. This trip is open to all Berkley middle schoolers, ages 11-15. View the slideshow for more information.
BHS College & Career Fair
Berkley High School families and students are invited to the BHS College and Career Fair on Thursday, October 6 from 6-7:30 pm in the BHS West Gym. Students will learn about various college and career opportunities for life after BHS from 66 different schools and organizations.
Food Service Alerts & Adding Funds to Your Child's Account
Now that meals are no longer free, many of the regular Food Service systems are back and running.
Through the MISTAR Parent Portal parents/guardians are able to add funds to their child's food service account to pay for meals and apply for the Free/Reduced Meal Program. In addition, Berkley Schools started sending out negative balance and low balance notifications for food service accounts that are low.
Add Funds to Your Child's Food Service Account
To add funds to your child's Food Service Account, follow these steps.
Login to the

MISTAR Parent Portal

Choose any of your children

Open the Cafeteria link from the left navigation bar

In the Cafeteria window, click the "Click Here to Access Online Food Service Payments" link

Enter any amount in the Payment Amount column for one or all of your children, then click the Continue button

Confirm the amount you added to your child's account and then click Check Out

You will be redirected to PayPal to complete the payment
To fill out the Free/Reduced Meal Application, follow these steps.
Login to the

MISTAR Parent Portal

Choose any of your children

In the School Links section, click 'Click to Apply for Free or Reduced Meal Benefits'

In the top section, choose from the top application options and follow the instructions to complete the application
Food Service Alerts
The District's communications system is set up to send courtesy reminders for families whose balances have dipped under $5 per child as well as those who have dipped into the negative. Currently, a phone call and email for children who have a negative balance is sent out on Monday, Wednesday and Friday at 6 pm. Unfortunately, there is not a way to streamline the calls to one per family because each child has their own food service account.
Low balance alert emails are sent on Monday, Wednesday and Friday if a child's balance is less than $5.
If a child's balance dips into the negative, each child will still receive a full meal, however the account will be charged for each meal provided.
As a reminder for secondary students, each student's pin number can be used to purchase food.
If you have trouble paying your balance, please reach out to the Food Service Department at 248-837-8122. If payments are a hardship for your family, you may qualify for free or reduced lunch. The application is online, through the MISTAR Parent Portal and available through the Food Service Department.
Join the Berkley Schools Family- Now Hiring!
The Berkley School District is hiring! We are looking for talented individuals to fill a variety of positions. Visit our website to apply and share our postings with your networks!
Now Hiring:
Business/Marketing Teacher

2nd Grade Teacher

School Psychologist

School Social Worker

Special Education Paraeducator

Berkley Building Blocks Assistant Teachers

Kids' Zone Latchkey Assistant Teachers

JV Boys Tennis Coach

Custodians

Lunch Aides

Long Term Substitute
Sign Up for Text Alerts
Quick Steps to Receive Text Alerts from Berkley Schools
In order to receive text messages from the District or your school, you must opt-in. Text messages will be sent out when the District closes or there is an emergency situation. Texts may also be sent from the District and schools for reminder messages during the day that are not urgent.
In order to receive text messages, every parent/guardian must opt-in each cell phone listed in MISTAR.
Steps to Opt-In
Text the word YES (in the message field) to the phone number 67587 (in the To field). Then you are all set!