September 29, 2022
Berkley African American Parent Network Hosts Kick-Off Celebration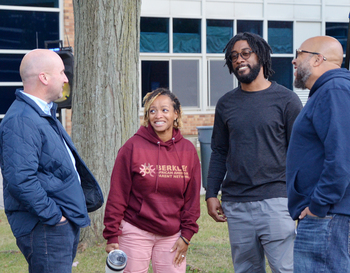 Berkley African American Parent Network Hosts Kick-Off Celebration
On Thursday, September 22, from 6:30-8 pm in the Berkley High School Courtyard, the Berkley African American Parent Network invited the Berkley Schools community to their Kick-Off Celebration. At the event, guests enjoyed food, connections and lawn games. Those in attendance had a chance to win two prize giveaways as well.
Principals Andy Meloche and Paul Yowchuang manned the grill, BAAPN members greeted guests and shared information and BAAPN President Khadija Walker-Fobbs welcomed everyone.
The BAAPN is a parent run organization that works in partnership with the Berkley School District. The BAAPN is a way for parents with African American children in Berkley Schools to connect with each other. The BAAPN also sponsors the Saturdays for Success (S4S) program, which begins on October 8.
Join the BAAPN at one of their upcoming meetings, all held at 7 pm at Norup International School:
October 13

November 17

January 19

February 16

March 16

April 20

May 18
Join the Network:
Email - baapninfo@gmail.com