November 21, 2022
Safety Message from Superintendent Francis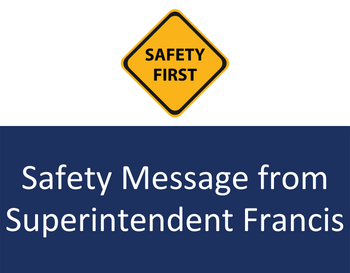 Dear Berkley Schools Community,
I frequently get asked by parents, staff, students, and community members, "How is the school year going?" I have been an educator for twenty-four years and I have yet to be able to answer that question by saying it is going perfect or flawlessly, but this year has been very good in many ways. Students are learning and collaborating with one another in classrooms, we had very high participation at conferences, and our performing arts groups and athletic teams are off to a great start!
As you know, safety is a top priority for the Berkley School District. We are always evaluating the safety measures we have in place to ensure we are doing everything we can to protect our students and staff from harm. Through this lens, I want to share a message with you about an upsetting trend that continues to take place in our state and across the country. Over the last few weeks, there have been several school threats across Oakland County that have been made in and out of school and on social media. Fortunately, Berkley School District has not experienced any threats this year.
Earlier this week Oakland County Sheriff Mike Bouchard shared a message to all schools and families. As part of his message, Sheriff Bouchard says, "If you see or hear something that makes you afraid or uneasy, or threatens the safety and security of you or your school or anyone else, you need to share that information." He continues, "We need every student to understand, if you make a threat, whether or not you intend to carry it out, it is a crime. Every threat will be investigated and every threat will be presented to the prosecutor." If you would like to watch Sheriff Bouchard's video in its entirety, you can view the video here.
In the Berkley School District, any and all threats are taken seriously and thoroughly investigated. If someone reports a threat, we work closely with our public safety partners and support them throughout their investigation. If a student were to make a threat, not only would they be subject to discipline outlined in the Code of Conduct, they would also face potential charges from the Oakland County prosecutor. Threats are not a joke. They compromise the safety and well-being of our school community.
As a school community, there are steps we can take to help prevent threatening situations like those that have been happening all over our county.
Relationships. We pride ourselves on knowing our students and families. We encourage our students to find trusted adults in their buildings and encourage our staff to focus on developing relationships with their students. When we focus on knowing our students, we create a culture where both students and staff feel comfortable speaking up when something doesn't seem right and when someone might need extra support.
For our parents and guardians, we strongly recommend you have access to your child's electronic devices and social media accounts. Check them regularly. Talk to your child about what they are seeing and posting on social media and encourage them to share with you or a trusted adult if they see anything that threatens the safety of themselves or their peers. A good place to start for online safety is the US Department of Justice: Keeping children safe online webpage.
If there are weapons in your home, public safety professionals recommend they are safely secured and stored. It's also important to know that no weapons are ever permitted in our school buildings or on our school grounds.
Everyone in the state of Michigan is encouraged to use OK2SAY. OK2SAY is a state-wide tip line and encourages confidential tips on potential harm or criminal activities directed at students, school employees or schools. Their phone number is 855-565-2729 (8-555-OK2SAY). Their text number is 652729 (OK2SAY) and their email is OK2SAY@MI.GOV.
I will continue to make school safety a priority, and I hope you will join me in spending time talking with your children about the threats that have been happening as well as the consequences the young people who have made the threats are now facing. As we approach the anniversary of the Oxford tragedy, we send our love and support to the Oxford community as well as to our community members who may find these next weeks difficult to process. This anniversary is also a reminder of why school districts and public safety professionals take threats so seriously.
I am proud to work in a District with solid public safety partnerships and with staff members who go above and beyond to know our students.
Sincerely,
Scott Francis
Superintendent
Berkley Schools