November 21, 2022
Berkley Beat: November 18, 2022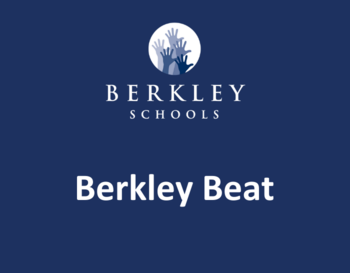 Berkley Beat: November 18, 2022
Students Practice Gratitude at Pattengill

District Nurse Shares Hand Washing Presentation

Berkley High School Hosts HBCU Night

Board of Education Recognizes Student Athletes at November Meeting

BHS Student Featured on Channel 4

Volleyball Season Ends with Record Setting Accomplishments

Caring & Sharing Kicks Off the Giving Season

Federal Funding Alert for Parents - Child Tax Credit Information

New Suicide & Crisis Lifeline Number - 988

Native American Heritage Month

Save the Date for Off to the Races 2023

Travel Opportunities for Middle and High School Students

Join the Berkley Schools Family - Now Hiring!

Sign Up for Text Alerts
Students Practice Gratitude at Pattengill
Lynn Copeland, Pattengill's long-term Media Specialist substitute, has focused on mindfulness and gratitude throughout the school year. One of the ways she is keeping gratitude at the forefront of her lessons is through a new gratitude tree. Ms. Copeland collaborated with Pattengill art teacher Alyson Carr to create a gratitude tree on the Media Center chalkboard wall.
For each season, Ms. Copeland has invited students to decorate the tree by writing what they are thankful for on paper leaves, snowflakes and icicles. The gratitude tree has become a place for students to express their feelings on what they are grateful for in a way for everyone to see and reflect upon.
Ms. Copeland shared, "I think it is important for the kids to be able to visualize their thoughts and work. This helps to reflect on what is important in their life and create a mindset of gratitude."
District Nurse Shares Hand Washing Presentation
Berkley School District hired a part-time school nurse for the 2022-23 school year. Rose Guglielmetti, RN, joined the District in September and will work directly in all our buildings with staff and students to support a healthy school and workplace environment.
Nurse Rose has spent the last few weeks visiting classrooms demonstrating proper hand washing with an engaging experiment. She uses Glo Germ Gel, which simulates the presence of real germs. Glo Germ Gel illuminates under UV light, showing where actual germs would reside. After washing their hands, students return to the classroom to see how well they washed away the "germs" under the UV light.
Nurse Rose shared, "When I started in the District, I wanted to be in the buildings so students knew that there was a nurse in the District. I came up with this activity so that the kids would get to know me and also benefit from the experiment."
Berkley High School Hosts HBCU Night
On Wednesday, November 16, the Berkley School District community was invited to attend Historically Black Colleges and Universities (HBCUs) night hosted by Berkley High School and the Berkley African American Parent Network. BHS Assistant Principal Evelyn Coleman along with BHS College & Career Counselor Christina Belsky organized and facilitated this annual event.
HBCU night included an open house with colleges, sororities, fraternities and financial aid programs. Students and families were able to meet with representatives from these groups and learn more about what they offer. After the open house families and students were welcomed into the library media center for a question and answer panel consisting of panelists from seven different HBCUs. Mrs. Coleman (proud Tennessee State University Tiger alumni) was the moderator for the panel.
Panelists included Richard Spears (Morgan State alumni), Jacob Mosely (Morehouse College alumni), Ariana Alexander (Tuskegee University alumni), Jalen Williams (Miles College alumni), Kalynn Williams (University of Arkansas Pine Bluff alumni), Wesley Coleman (North Carolina A & T University alumni) and Erin Williams (Southern University alumni).
To kick off the panelist portion of the event, Mrs. Coleman shared the following about HBCUs. "HBCUs were founded at a time in American history where slavery was just ending and there was no space for our Black ancestors to learn. Out of that, HBCUs were born, which are still thriving and surviving in our society today. There are still 101 HBCUs that remain and continue to nurture and develop the top scientists, scholars, engineers, doctors, and educators in our nation and world," she said.
Mrs. Coleman then asked the panelists to share about their HBCU experiences including why they chose to attend an HBCU, what campus life was like, what the rigor of classes felt like, what they say to people who question whether an HBCU experience would be "diverse enough," and why students should choose to attend today.
Quick Facts About Historically Black Colleges & Universities
Historically Black Colleges and Universities (HBCUs) were established to serve the educational needs of Black Americans. Prior to the time of their establishment, and for many years afterwards, Blacks students were generally denied admission to traditionally white institutions. As a result, HBCUs became the principle means for providing postsecondary education to Black Americans.

As of 2022, there are 101 HBCUs located in 19 states, the District of Columbia and the US Virgin Islands that enroll almost 300,000 students.

Over half of all Black American professionals are graduates of HBCUs with more than half of Black public school teachers and 70% of Black dentists having earned degrees at HBCUs.

Some of the first HBCUs were established to train teachers, preachers and other community members.

HBCUs significantly contribute to the creation of African American science degree holders: agriculture (51.6%), biology (42.2%), computer science (35%), physical science (43%) and social sciences (23.2%).

Nine of the top ten colleges that graduate most of the African American students who go on to earn Ph.Ds are HBCUs.

Notable HBCU graduates include Vice President Kamala Harris (Howard), Oprah Winfrey (Tennessee State), Samuel L. Jackson (Morehouse) and Stacey Abrams (Spelman).
Board of Education Recognizes Student Athletes at November Meeting
On Monday, November 14, the Berkley Board of Education honored student athletes for their outstanding accomplishments at their Regular meeting.
The Board recognized the BHS Boys Soccer team and a member of the Cross Country team.
BHS Boys Varsity Soccer
Under the guidance of coach Steve Wloszek, the BHS boys soccer team was ranked #3 in Division 1 in the state and #44 in the nation during the season. The team set a school record for wins in a season (20), fewest goals against the team in a season (10) and didn't allow a single goal in all non-league games. This team also achieved All-State Academic status for having a combined GPA average over 3.3. In addition, the team set the school record for wins in a season with 20 (previous record was 19 in 2018 and 2005).
Some students received individual honors from the Board. Eight seniors received All-State Academic honors: Neven Essenmacher, Nathan Jeup, Chase McAvoy, Landon Pugh, Henry Robertson, Hunter Robertson, Griffin Straske and Luke Winter. Four students received All-State athletic honors: Andriy Bilous 1st Team All-State, Owen Stone 2nd Team All-State, Seth Davidson 3rd Team All-State, and Griffin Straske All-State Honorable Mention.
Cross Country
The Board recognized BHS senior Matthew Short, for qualifying for and participating in the Division 1 Cross Country State Meet at the Michigan International Speedway. Matthew was also the Division 1, Region 7 champion, was a member of the team that claimed the first Berkley League Championship since 2016, and was named All-OAA. While Matthew was unable to attend the meeting, his coach Jared Purcell attended to share about Matthew's accomplishments.
BHS Student Featured on Channel 4
Congratulations to BHS junior Sam Melkonian who was featured on Live in the D (a Channel 4 program) this past week as a part of their Music Mondays. Sam is a part of the BHS Marching Band and Jazz Ensemble and was featured as part of the band, the 313 Group.
You can watch the feature below.
Volleyball Season Ends with Record Setting Accomplishments
Congratulations to the BHS Girls Varsity Volleyball team on having a record setting season. The team's season came to an end at the Quarterfinal match this week, but not without setting school records and team accomplishments along the way.
Overall record of 38-8 – a new school record

2nd Place in the OAA White Division

A three-peat of the MHSAA District Champions (1984, 1990, plus 2020, 2021, 2022)

MHSAA Regional Champions – First in school history. Also, according to the coaches, allegedly the first in

any

girls' sport at BHS.

MIVCA All-State Academic Team Award – Team GPA average of 3.3 or above

Four MIVCA All-State Academic Individuals (Seniors with a GPA of 3.7 or above) –

Ava Beard, Jordan Budzinski, Sophia Dawkins, Hannah Roddis

Three OAA All-Conference Players –

Ava Beard, Jordan Budzinski, Sophia Dawkins

MHSAA Region 6 Coaches of the Year
Caring & Sharing Kicks Off the Giving Season
Caring & Sharing is a Berkley Area PTSA Council annual event that provides holiday meals to families in the Berkley School District and local Veterans. Historically, this event has been a partnership inside our schools through non-perishable food drives and PTAs purchased turkeys, extra food & fresh produce.
Since 2020, the PTSA Council is collecting funds through online fundraising, hoping to raise as much money as possible so that they are able to give families generous gift cards to purchase groceries to meet their needs.
In 2021, Caring & Sharing raised $27,650, fed 105 families, and gave $1,000 to the American Legion.
We are asking for your support as we come together to help our friends & neighbors this holiday season. Please make a donation today!
To make a donation between now and December 7, visit the Caring & Sharing donation website. (https://app.memberhub.gives/156df0/Campaign/Details)
If you know of a family in need, or your family is in need this holiday season, please complete the Caring and Sharing referral form. All referral information will be used confidentially to provide families in need with a gift card to purchase food this holiday season.
Any questions? Contact this year's Caring & Sharing Chair: Amy Phillips, amylacyphillips@gmail.com
Federal Funding Alert for Parents - Child Tax Credit Information
Did you know, families could get thousands of dollars in federal money by filing a federal tax return. If you have not filed taxes in 2022, you should file to claim your money as soon as possible. You can file even if you have low income or no income. You can get this money even if you have never filed taxes or have not filed in the last few years.
See below for some Frequently Asked Questions from GetCtC.org:
What could I get?
Up to

$3,600 per child

with the 2021 Child Tax Credit,

Any missed stimulus payments for you and your children/dependents -

up to $1,400 per

person

Other payments if you had earnings last year
Am I eligible?
You could be eligible even if you have low or no income or don't usually file taxes. More people are eligible to get this money than in other years. Sign up if you have not already filed a 2021 tax return.
How do I get this money?
It's easy to apply! Apply by November 15 with a simple form:

GetCTC.org
Does this money count for benefits I get?
This money does

not

count for most benefits, like SNAP, WIC, TANF, MEDICAID, CHIP, SSI, and most types of public and subsidized housing.
What if I am an immigrant?
Even if you do NOT have a Social Security Number, you can get payments for your children who have

Social Security Numbers.

Under current law, receiving the Child Tax Credit or other tax credits will not affect your immigration status, ability to get a Green Card, or future immigration plans.
Had a baby in 2020 or 2021? You should sign up!
Did you get monthly money from the IRS in 2021 for your kids ($250 or $300 per month per child)?
Sign up again in 2022 to get the rest of your money.
Sign up by November 15: GetCTC.org
New Suicide & Crisis Lifeline Number - 988
The National Suicide Prevention Lifeline has a new nation wide three digit code: 988. The 988 Suicide and Crisis Lifeline is a 24/7 toll-free nationwide hotline, made up of a network of independently operated and funded local call centers (200+) across the country. Anyone in crisis or distress can connect via phone, text, or chat with suicide prevention, mental health, and substance misuse support specialists by dialing 988. People can also dial 988 if they are worried about a loved one who may need crisis support.
Native American Heritage Month
November is nationally recognized as Native American Heritage Month. The month-long celebration highlights the culture, achievements and contributions of Native Americans who have positively influenced and enriched our nation and society.
Share in the learning about Native American Heritage Month with your family by visiting these resources:
Save the Date for Off to the Races 2023
The Berkley Education Foundation is excited to announce the date and new location for the 2023 Off to the Races fundraiser. Mark your calendar for the 14th annual Off to the Races, taking place on Saturday, March 11, 2023, from 6-10 pm at The Kingsley Hotel in Bloomfield Hills.
What is Off to the Races?
Off to the Races is an annual fundraiser for the Berkley Education Foundation. This fun social event and party is centered around simulated horse racing. Guests watch races, "bet" on the horses running in the races and win prizes. The event also includes an expansive silent auction (powered by mobile bidding), vacation give-away (the winner of the Golden Race will take home a $2,500 vacation), connecting with friends and colleagues, and most importantly, funding the #BerkleyDifference. You can even "buy" and name a horse!
Additional details and ticket sales will be available soon.
Travel Opportunities for Middle and High School Students
Many Berkley Schools teachers are supporting international travel opportunities for students in 2023 and 2024. The details of all the trips as well as upcoming information meetings are below.
Costa Rica - Spring Break 2023
Open to grade 9-12 students

Trip Sponsor:

Tracy Burroughs

, BHS Spanish Teacher
Scotland - Spring Break 2023
Open to Berkley middle school students ages 11-15

Trip Sponsor:

Liz Reynolds

, Norup Kindergarten Teacher

Trip Details:

Norup MYP will be collaborating with EF Tours on a guided tour of Scotland for Spring Break 2023! Go beyond seeing Scottish landmarks and experience the kingdom of the north through the stories of the Scots. This trip is open to all Berkley middle schoolers, ages 11-15.

View the slideshow

for more information.
Thailand - June 2023 (after school is out)
Open to grade 9-12 students, parents and guardians

Trip Sponsors:

Andy Meloche

, BHS Principal, &

Adina Rubenstein

, BHS Science Teacher

Trip Details:

Berkley High School and CASA are planning a trip to explore the wonders of Thailand! This 11-day trip to Thailand will include visits to the Grand Palace in Bangkok, the floating markets, national parks, UNESCO world heritage sites, an elephant sanctuary, famed temples, and more. Take a look at the

tentative itinerary

and the

short slideshow

about the tour!
Galapagos Islands - Spring Break 2024
Rome & Pompeii - Spring Break 2024
Open to Berkley middle school students, ages 11-15

Trip Sponsor: Liz Reynolds, Norup Kindergarten Teacher

Trip Details: Experience the culture and traditions of this Mediterranean country through hands-on activities.
Join the Berkley Schools Family- Now Hiring!
The Berkley School District is hiring! We are looking for talented individuals to fill a variety of positions. Visit our website to apply and share our postings with your networks!
Now Hiring:
Assistant Teacher - Berkley Building Blocks

ECSE Long-term Substitute

Berkley Building Blocks Assistant Teachers

GSRP/Head Start Associate Teacher

JV Boys Tennis Coach

Middle School Swim Coach

Middle School Football Coach

Interim High School Girls Diving Coach

High School Assistant Wrestling Coach

Middle School Football Coach

Special Education Paraeducator

Custodians

Lunch Aides

Learning Specialist
Sign Up for Text Alerts
Quick Steps to Receive Text Alerts from Berkley Schools
In order to receive text messages from the District or your school, you must opt-in. Text messages will be sent out when the District closes or there is an emergency situation. Texts may also be sent from the District and schools for reminder messages during the day that are not urgent.
In order to receive text messages, every parent/guardian must opt-in each cell phone listed in MISTAR.
Steps to Opt-In
Text the word YES (in the message field) to the phone number 67587 (in the To field). Then you are all set!