February 20, 2023
Berkley Beat: February 17, 2023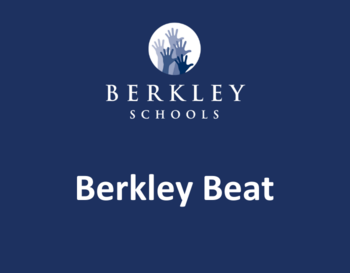 Berkley Beat: February 17, 2023
Music Duo Florella Strings Visits Angell Elementary

Meteorologist Kevin Jeanes Visits Anderson Middle School

Board of Education Honors Student Athletes & Thespians at February Meeting

BHS Diversity Council Host Black History Month Fashion Show

Hometown Art Comes to Berkley, Features Student Artwork

BHS Offers College Note Taking Lectures with Guest Professors

Black History Month Resources for Families

Tickets & Horses on Sale for Off to the Races 2023

Join the Berkley Schools Family - Now Hiring!

Sign Up for Text Alerts
Music Duo Florella Strings Visits Angell Elementary
Students at Angell Elementary enjoyed the sounds of Florella Strings on Thursday, February 16, 2023. Florella Strings consists of Detroit based violinist Carla Rivers-Johnson and cellist Jasmine James. During the presentation, students learned about rhythm, conducting, music dynamics, and how music influences the world around them. The duo performed music from a variety of genres, from African-American spiritual songs that originated during the period of slavery, to modern pop music with a classical twist.
Angell Principal Vince Gigliotti shared, "The assembly was informative, engaging and encouraged student participation. Florella Strings was a perfect compliment to all the wonderful learning opportunities provided throughout the month to celebrate Black History."
Meteorologist Kevin Jeanes Visits Anderson Middle School
Meteorologist Kevin Jeanes from WXYZ Channel 7 spent time with Anderson Middle School's Peer to Peer program on Monday, February 13, 2023. During his visit, Mr. Jeanes shared his educational and professional background, as well as information on meteorology and news production. Students learned how weather data is collected and how to decipher that data. Mr. Jeanes also shared a variety of terms and definitions. They also saw a demonstration of "Bernoulli's Principle" using a hair dryer and ping pong balls. The presentation concluded with a Q & A session and a group photo.

Board of Education Honors Student Athletes & Thespians at February Meeting
At the February 13 Regular Board Meeting, the Board of Education honored middle school and high school students for their accomplishments. The Board recognized the middle school swim team members who qualified for the state meet and Berkley High School students who participated in the Michigan Thespian Festival.
Middle School Swimming
Eight middle school students qualified for the MISCA (Michigan Interscholastic Swim Coaches Association) State Meet on January 27 and 28, 2023. The students were from both Anderson and Norup. Congratulations to Charlotte Gray (AMS), Ava Guerra (Norup), Brigette Krauskoff (AMS), Sabrina Lippo (AMS), Maggie Loree (AMS), Mia Mracna (Norup) and Isabella Roddis (AMS). Their outstanding state meet results included a first place finish for the 200 Yard Medley Relay and two individual state champion finishes for Mia Mracna in the 100 Yard Breaststroke and 100 Yard Individual Medley. Combined, the swimmers competed in three relays, 11 individual events and 10 top 10 finishes.
Thespian Festival
The Berkley High School troupe 6439 of the International Thespian Society attended the 2022 Michigan Thespian Festival in Lansing, Michigan on Friday and Saturday, December 9 & 10. The troupe of 18 students took workshops in dance, acting, stagecraft and more. In addition to attending workshops, eight students competed in the following events:
Joshua Bianca & Jordan Rowan

- Musical Theatre Duet (Superior Ranking)

Stella Krzysiak & Meena Moritz

- Musical Theatre Duet (Excellent Ranking)

Sydney Studer

- Musical Theatre Solo (Excellent Ranking)

Charley Burns

- Musical Theatre Solo (Excellent Ranking)

Jacob Gonzales

- Acting Monologue (Superior Ranking)

Russell Sousanis

- Acting Monologue (Superior Ranking)
Additionally, seniors had an opportunity to audition for a panel of colleges who attend each year to scout for talent. This year Joshua Bianca, Jonah Chupack and Maya Collins-Cokley auditioned for a panel of 28 college theatre/musical theatre programs. Between the three of them, they earned just under $545,000 in total scholarship offers.
BHS Diversity Council Host Black History Month Fashion Show
Berkley High School's Diversity Council hosted a Black History Month Fashion Show during 4th hour on February 10, 2023. The presentation, organized and performed by students, included fashions from the 60s to present day accompanied with music and dancing. All attendees enjoyed celebrating Black History Month with this presentation of history through the years.
Hometown Art Comes to Berkley, Features Student Artwork
Mark your calendars for this year's Hometown Art Exhibit, featuring Berkley Schools student art inside of Berkley businesses.
The kickoff event is on Thursday, March 2 from 5-7 pm. Students and families can walk the city and enjoy artwork on display. Don't forget to scan the QR codes at each location. Visit six locations throughout the week to be entered into a drawing to win a prize! Artwork will remain up through March 9.
Participating businesses: Berkley Public Library, Crispelli's Bakery & Pizzeria, Gatekeeper Games, Nova Chiropractic, Sum Girls Boutique, Todavine Books, Ullman's Health & Beauty, Urge Juice, Woodward Corner Market and Yellow Door Art Market.
This event is in partnership with the Berkley Area Chamber of Commerce.
BHS Offers College Note Taking Lectures with Guest Professors
From December through February, the Berkley High School College & Career Center hosted a five-lecture series, focusing on teaching students how to take notes during lectures. The lectures were given by local college professors focusing on various disciplines such as philosophy, linguistics, biology, psychology and sociology.
College and Career Counselor Cristina Belskey said, "Not only did students experience a college-level lecture, but also developed stronger note-taking skills and strategies. Students were very engaged, asked great questions and were appreciative of the opportunity to develop skills in preparation for college."
Guest lecturer Dr. Elysa White shared that professors gave students hints and advice before the lecture started and paused throughout the lecture to make sure that students knew what to write down, the best way to write it down, and how to determine when something should be written down.
On average, five to ten students attended the optional workshops.
Black History Month Resources for Families
Black History Month is an annual celebration of achievements by African Americans and a time for recognizing their central role in U.S. history. Also known as African American History Month, the event grew out of "Negro History Week," the brainchild of noted historian Carter G. Woodson and other prominent African Americans. Since 1976, every U.S. president has officially designated the month of February as Black History Month.
Other countries around the world, including Canada and the United Kingdom, also devote a month to celebrating Black history. Read more on the origins of Black History Month on the History Channel website.
Take time to learn more about Black History and attend events by visiting the following resources:
Tickets & Horses on Sale for Off to the Races 2023
The Berkley Education Foundation is excited to announce the date and new location for the 2023 Off to the Races fundraiser. Mark your calendar for the 14th annual Off to the Races, taking place on Saturday, March 11, 2023, from 6-10 pm at The Kingsley Hotel in Bloomfield Hills.
What is Off to the Races?
Off to the Races is an annual fundraiser for the Berkley Education Foundation. This fun social event and party is centered around simulated horse racing. Guests watch races, "bet" on the horses running in the races and win prizes. The event also includes an expansive silent auction (powered by mobile bidding), vacation give-away (the winner of the Golden Race will take home a $2,500 vacation), connecting with friends and colleagues, and most importantly, funding the #BerkleyDifference. You can even "buy" and name a horse!
Buy Tickets, Horses, Sponsorships online!
Join the Berkley Schools Family - Now Hiring!
The Berkley School District is hiring! We are looking for talented individuals to fill a variety of positions. Visit our website to apply and share our postings with your networks!
Now Hiring:
Assistant Principal - Berkley High School

Berkley Building Blocks Assistant Teachers

Custodians

Early Intervention Teacher or Speech Pathologist

Early Childhood Special Education Paraeducator

English Learner (EL) Paraeducator

Elementary School Counselor/Social Worker

Elementary Principal - Burton Elementary School

GSRP/Head Start Associate Teacher

Lunch Aides

Long Term Substitute Teacher

Special Education Paraeducator

Varsity Head Volleyball Coach

Middle School Football Coach

8th Grade Girls Basketball Head Coach

8th Grade Boys Basketball Head Coach

Varsity Girls Swim and Dive Head Coach
Sign Up for Text Alerts
Quick Steps to Receive Text Alerts from Berkley Schools
In order to receive text messages from the District or your school, you must opt-in. Text messages will be sent out when the District closes or there is an emergency situation. Texts may also be sent from the District and schools for reminder messages during the day that are not urgent.
In order to receive text messages, every parent/guardian must opt-in each cell phone listed in MISTAR.
Steps to Opt-In
Text the word YES (in the message field) to the phone number 67587 (in the To field). Then you are all set!