March 6, 2023
Berkley Beat: March 3, 2023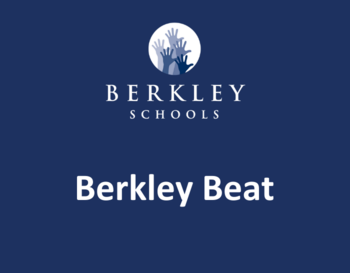 Berkley Beat: March 3, 2023
Off to the Races is in One Week!

Kensington Metropark Brings Great Lakes Fur-Trade Era to Life for Pattengill Students

Norup Students Interview Climate Activists

Pattengill Students Compete in Battle of the Books

PTAs Celebrate Founders Day Together

March is Women's History Month

CASA Open House Next Week for BHS Families

Indoor Field Day Hosted by Parent Advisory Committee

Travel Opportunity for Students

Hometown Art Comes to Berkley, Features Student Artwork - Now Open

BHS Hosts Blood Drive - Open to the Public

Join the Berkley Schools Family - Now Hiring!

Sign Up for Text Alerts
Off to the Races is in One Week!
Do you have tickets to the Berkley Education Foundation's biggest event of the year, Off to the Races? The 14th annual Off to the Races takes place on Saturday, March 11, 2023, from 6-10 pm at The Kingsley Hotel in Bloomfield Hills.
What is Off to the Races?
Off to the Races is an annual fundraiser for the Berkley Education Foundation. This fun social event and party is centered around simulated horse racing. Guests watch races, "bet" on the horses running in the races and win prizes. The event also includes an expansive silent auction (powered by mobile bidding), vacation give-away (the winner of the Golden Race will take home a $2,500 vacation), connecting with friends and colleagues, and most importantly, funding the #BerkleyDifference. You can even "buy" and name a horse!
Buy Tickets, Horses, Sponsorships online!
Visit the BEF's new Off to the Races website to buy tickets, horses, OTTR Bucks, sponsorships and Golden Tickets. Tickets are $40 per person and will increase on March 10 to $50.
Buy tickets today: https://my.onecause.com/event/organizations/sf-001C000001dlvdzIAA/events/vevt:a48411c7-5789-4514-8b56-f1252505d520/home/story
Don't stall, buy your horse today!
Horses are selling out - get yours soon! Horses can be purchased under the "Buy Tickets" section of the website.
Win a $2,500 Vacation at Off to the Races
Don't miss the Golden Race - the last race of the night. The winner will take home a $2,500 vacation, courtesy of the BEF, and work with Cruise Planners travel agents to plan their trip. The prize is bigger so the stakes are higher: bet on this race with a Golden Ticket! Add your $50 Golden Ticket to your event ticket online or buy at the door. Thanks to M3 Investment Services for sponsoring the Golden Race! Don't miss out on your chance for a $2,500 vacation of your choice! Last year's winner took a trip to Barbados in January and warmed up on the beach - watch her video below. *Must be present to win.
Kensington Metropark Brings Great Lakes Fur-Trade Era to Life for Pattengill Students
Kensington Metropark staff paid a visit to Pattengill Elementary on Wednesday, March 1 to present on the Great Lakes fur-trade era. The presentation focused on the everyday life of voyageurs using first-person interpretation and hands-on activities to transport students back in time.
The presenter shared stories about the journey, the fur trading process, the everyday life of the voyageurs and the challenges they faced. The students were able to participate in a mock trading exercise where they traded "furs" for trade goods such as blankets, metal pots and hunting tools. This activity allowed them to experience what it was like to be a voyageur and understand the importance of trading for their survival.
The presentation was an excellent complement to the students' classroom learning. It provided a unique and engaging way for the students to deepen their understanding of this important period in North American history.
Norup Students Interview Climate Activists
Norup 8th grade students met and interviewed various activists and scientists involved in climate change as part of their final unit challenge project during class on February 28 as part of a combined science and journalism project .
The following guests visited Norup: Deandra Smith - Climate Ready Page, Aliyu Sadiq - ECOCYKLE, Dr. Michael Dorsey - The Sierra Club Michigan Environmental Council, Laprisha Daniels - Detroiters Working for Environmental Justice, and Dr. Thomas Bianchette - Coastal Hazard & Environmental Reconstruction Lab. The visits were organized by Norup science and math teacher, Dr. Megan Throm.
Prior to the interviews, students in Prima Dailey's Journalism classes visited Dr. Throm's science classes to teach their fellow classmates how to write questions and to practice interviewing. The journalism students then worked on creating an interview guide to share with their science peers.
Meanwhile, students in the science classes were learning about their unit on global climate change. Dr. Throm shared, "Students learned about the greenhouse system and the role of greenhouse gasses in making Earth habitable, analyzed data and made arguments using evidence and scientific reasoning regarding whether natural processes or human activities are more likely responsible for the current changes to Earth's climate and used criteria and constraints to analyze possible changes families could make to reduce their carbon footprint."
During the interviews, the climate activists and scientists shared their experiences and insights on the effects of climate change on the environment, economy, and communities. They discussed the various challenges that arise due to climate change and the urgent need to take action. The students were also able to learn about the current state of the environment and the various ways that they can make a positive impact.
To complete the project, Dr. Throm's students shared what they learned with the Journalism students. The journalism classes will take what was learned to create a podcast episode for the student-run podcast, The Dailey Dose, about investigative journalism which will be published sometime before spring break.
Pattengill Students Compete in Battle of the Books
Pattengill Elementary held their annual Battle of the Books competition on March 2, 2023. Battle of the Books is a reading challenge for 4th and 5th grade students in which participants are placed on a team, read from a selected list of books, and then compete against other teams by answering questions about those books.
Pattengill students read the following books:
The Elephant in the Room

by Holly Goldberg Sloan

Exploring the White House

by Kate Andersen Brower

Amari and the Night Brothers

by B. B. Alston

Invisible

by Christina Diaz Gonzalez and Gabriela Epstein

Ancestor Approved

by Cynthia L. Smith

A Place to Hang the Moon

by Kate Albus
Congratulations to Pattengill's winning team, The Rainbow Readers!
PTAs Celebrate Founders Day Together
On Tuesday, February 28, at Club Venetian in Madison Heights, hundreds of people gathered to celebrate the annual Berkley Area PTSA Council Founders Day.
Founders Day celebrates the founding of the PTA and the outstanding Berkley PTA members, teachers and staff persons of the year. The event included recognition for each PTA member, staff and teacher of the year, messages from Michigan PTA President Tracy Troy, Berkley Schools Superintendent Scott Francis and Berkley Area PTSA Council President Lindsay Gursky. Vince Gigliotti, Angell Principal, shared wonderful details about each honoree during the evening.
Educators of the Year
Abby Combs, Social Studies Teacher, Anderson Middle School

Melissa Watkins, Kindergarten Teacher, Angell Elementary School

Susie Sims, Social Studies Teacher, Berkley High School

Stephanie Williams, Kindergarten Teacher, Burton Elementary School

Devra Goldberg, 4th Grade Teacher, Norup International School PYP

Carole Hoste, Band Teacher, Norup International School MYP

Rachel Biederman, 4th Grade Teacher, Pattengill Elementary School

Nikki Stone, Art Teacher, Rogers Elementary School
Support Staff of the Year
Andrianna Winkelman, Custodian, Anderson Middle School

Jesse Rosalas, Head Custodian, Angell Elementary School

Kara Watson, Secretary, Berkley High School

Erika Rizak, Secretary, Burton Elementary School

Wayne Tumpkin, Head Custodian, Norup International School

Jason Simmons, Paraeducator, Pattengill Elementary School

John Getty, Head Custodian, Rogers Elementary School
PTA Member of the Year
Heather Schneider, Anderson Middle School

Debb Carlson, Angell Elementary School

Rhonda Ross-Richter, Berkley High School

Natalie Friedman, Burton Elementary School

Bruce Corrigan-Salter, Norup International School

Angela Williamson, Pattengill Elementary School

Meghan Sanborn, Rogers Elementary School
March is Women's History Month
March is Women's History Month. Women's History Month had its origins as a national celebration in 1981 when Congress passed Pub. L. 97-28 which authorized and requested the President to proclaim the week beginning March 7, 1982 as "Women's History Week." Throughout the next five years, Congress continued to pass joint resolutions designating a week in March as "Women's History Week." In 1987 after being petitioned by the National Women's History Project, Congress designated the month of March 1987 as "Women's History Month." Between 1988 and 1994, Congress passed additional resolutions requesting and authorizing the President to proclaim March of each year as Women's History Month. Since 1995, presidents have issued a series of annual proclamations designating the month of March as "Women's History Month." These proclamations celebrate the contributions women have made to the United States and recognize the specific achievements women have made over the course of American history in a variety of fields. (source: womenshistorymonth.gov)
The Library of Congress, National Archives and Records Administration, National Endowment for the Humanities, National Gallery of Art, National Park Service, Smithsonian Institution and United States Holocaust Memorial Museum join in commemorating and encouraging the study, observance and celebration of the vital role of women in American history.
Here are some resources to learn more about Women's History Month:
CASA Open House Next Week for BHS Families
The Berkley High School community is invited to attend the CASA (Center for Advanced Studies and the Arts) Open House for prospective students and their families on Thursday, March 9, 2023 at 6:30 pm.
CASA is a unique program that allows students to take college-level Advanced Placement courses as well as a variety of rigorous academic electives and arts courses in a small, personalized setting. Students attend their home high school in the morning and come to CASA in the afternoon to take their enriched classes.
Come meet the CASA faculty and learn about how their courses can enhance your student's high school experience while preparing them for college.
The evening will consist of a brief introduction of the CASA staff followed by the opportunity for families and students to meet and talk to individual teachers and learn about specific classes.
Center for Advanced Studies and the Arts

23561 Rosewood, Oak Park, MI 48237

March 9

6 pm
Indoor Field Day Hosted by Parent Advisory Committee
The Berkley School District Parent Advisory Committee is hosting a free indoor field day on March 11, 2023, from 1:30 - 3:30 pm. The event will take place in the West Gym at Berkley High School and will feature inclusive and sensory friendly activities: sack race, egg walk, cornhole, a 3 legged race and more! Water, snacks, and medals will be provided to field day participants. Visit this link to register.
Please contact Natasha Hamilton for more info: natashakhamilton@gmail.com.
Travel Opportunity for Students
Join Norup Middle School and EF Tours on a guided tour of Rome and Pompei during Spring Break 2024!
Italy is a feast for the senses. Whether you're sampling mozzarella on a farm in Naples or becoming a gladiator for a day in Rome, you'll experience the culture and traditions of this Mediterranean country through hands-on activities. This trip is open to all Berkley students, ages 11-15.
Contact Liz Reynolds at elizabeth.reynolds@berkleyschools.org for more information.
Hometown Art Comes to Berkley, Features Student Artwork - Now Open
Hometown Art Exhibit, featuring Berkley Schools student art inside of Berkley businesses is underway!
Students and families can walk the city and enjoy artwork on display. Don't forget to scan the QR codes at each location. Visit six locations throughout the week to be entered into a drawing to win a prize! Artwork will remain up through March 9.
Participating businesses: Berkley Public Library, Crispelli's Bakery & Pizzeria, Gatekeeper Games, Nova Chiropractic, Sum Girls Boutique, Toadvine Books, Ullman's Health & Beauty, Urge Juice, Woodward Corner Market and Yellow Door Art Market.
This event is in partnership with the Berkley Area Chamber of Commerce.
BHS Hosts Blood Drive - Open to the Public
Berkley High School invites the community to participate in a blood drive on Tuesday, March 7, 2023 in the Berkley High School Auditorium Lobby. The blood drive will run from 8:30 am - 1:30 pm. Register online today: https://tinyurl.com/n3tjxzxk
Guests should check in to the BHS Main Office upon arrival.
Join the Berkley Schools Family - Now Hiring!
The Berkley School District is hiring! We are looking for talented individuals to fill a variety of positions. Visit our website to apply and share our postings with your networks!
Now Hiring:
Berkley Building Blocks Assistant Teachers

Custodians

Intervention Specialist

Early Childhood Special Education Paraeducator

Elementary School Counselor/Social Worker

GSRP/Head Start Associate Teacher

Lunch Aides

Long Term Substitute Teacher

Special Education Paraeducator

Varsity Volleyball Head Coach

Middle School Football Coach

8th Grade Girls Basketball Head Coach

8th Grade Boys Basketball Head Coach

Varsity Girls Swim and Dive Head Coach
Sign Up for Text Alerts
Quick Steps to Receive Text Alerts from Berkley Schools
In order to receive text messages from the District or your school, you must opt-in. Text messages will be sent out when the District closes or there is an emergency situation. Texts may also be sent from the District and schools for reminder messages during the day that are not urgent.
In order to receive text messages, every parent/guardian must opt-in each cell phone listed in MISTAR.
Steps to Opt-In
Text the word YES (in the message field) to the phone number 67587 (in the To field). Then you are all set!