March 16, 2023
Berkley 6th Grade Students Explore Mobile Innovation Station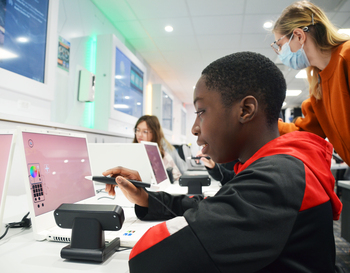 Berkley 6th Grade Students Explore Mobile Innovation Station
During the week of February 27, every Berkley 6th grade student had the opportunity to explore Oakland Schools' STEMi. STEMi is a 1,000 square foot mobile innovation station (located within a semi truck) containing high tech, industry grade, interactive STEM (Science, Technology, Engineering and Math) experiences. Students rotated through four stations on the STEMi.
Station 1: Collaborative Robots:

Students worked to physically program a collaborative robot to perform a pick and place task.

Station 2: Autonomous Vehicles:

Students worked with autonomous vehicles on a course and learned about sensing and vehicle communication.

Station 3: Xtended Reality:

Students used mixed reality headsets to explore ways they could interact with virtual reality layered into their physical environment.

Station 4: Smart Manufacturing:

Students used ZSpace, an artificial and virtual reality learning experience, to design custom objects or creatures in 3D.
The goal of STEMi is to demonstrate to students connections between classroom instruction, current industry applications and future careers for students. The experience was facilitated by the Oakland Schools STEM consultants and Career Readiness consultant.
The STEMi is rotating through all 28 districts in Oakland County and is part of a 5 year project, so it will return to Berkley Schools in upcoming years to continue to build STEM career readiness!
Watch the video here to see inside the STEMi.