March 16, 2023
Berkley Schools 5th Graders Go to Camp!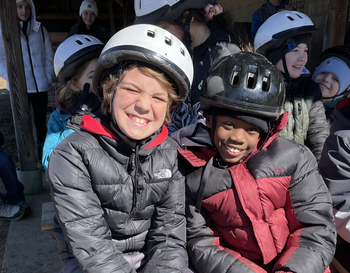 Berkley Schools 5th Graders Go to Camp!
During March 6-8, 5th graders from across the District went to YMCA Camp Storer in Jackson, Michigan. This is the first year since 2020 that all elementary students went to camp together.
While at the two and a half day overnight camp, 5th graders enjoyed activities such as Michigan Country (a simulation of homesteading in Michigan), Gimme Shelter (learning to make an emergency shelter in the wilderness), Predator-prey (a large game of tag, reinforcing the food web, trophic levels, and energy transfer), Firequest (learning how to make fire and what fuels them), and In Cold Blood (learning about and interacting with cold blooded animals). Students also enjoyed campfire songs and skits, played capture the flag, learned about horses and how to care for them, learned about minimizing food waste and took full responsibility for cleaning cabins and bathrooms.
5th Grade Camp helped bring together all the learning 5th graders have done throughout the year and gave students the opportunity to meet some new friends from other elementary schools as they prepare for their transition to middle school.