April 17, 2023
Norup 6th Grade Students Travel to University of Michigan to Learn about Entrepreneurship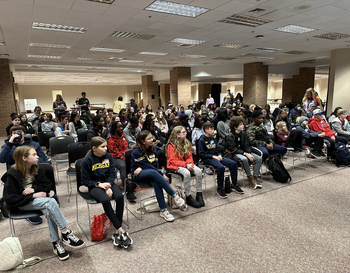 Norup 6th Grade Students Travel to University of Michigan to Learn about Entrepreneurship
On Wednesday April 5, Norup International School the Norup 6th grade traveled to the University of Michigan to learn about entrepreneurship. MPowered, UM's largest and oldest entrepreneurship organization, sponsored the trip which included transportation, lunch, and the day's activities. TrailBlaze, a UM student-lead project team under MPowered, planned and ran the day's events.
This is the second year that Norup students have participated in this event. Social Studies teacher Michelle Karas shared, "Our relationship with TrailBlaze is the result of our connection to Julie Krasnick, a Berkley High School 2020 graduate, who co-directed the club in 2022."
While in Ann Arbor, students listened to Professor Frents talk about entrepreneurship. Students also participated in a variety of activities to develop an entrepreneur's mindset. For example, in the 'Marshmallow Challenge', students worked in teams to complete a challenge to build the tallest free-standing structure out of marshmallows and sticks, while reflecting on the entrepreneurial mindsets and skills. Students also explored biographies of different entrepreneurs and tried to determine which traits these entrepreneurs shared that helped them be successful in business. Lastly students participated in a mini Shark Tank activity where they had to create a product or service, write a pitch, and present to the group.
Students were asked to reflect on their learning at Entrepreneurship Day. Here is what they said:
Ella Werber learned

entrepreneurship is coming up with ideas and that you have to fail to get better. You don't just get what you want on the first try.

Konner Gibons: "I learned that you should always ask somebody about your idea so you can get more ideas."

Maya Monkman said, "I learned that when you are an entrepreneur you don't just succeed, you have to fail first and learn from your mistakes."

Sadie Bowering: "Entrepreneurs are people who are creative and come up with something new, even if they fail at first."

Ainsley McEvoy learned that entrepreneurship isn't just about independence, it's about teamwork and working with one another.

Chris Newby shared, "I learned that being an entrepreneur meant you could control everything that you do for your job.

Oliver Kinnen learned that it can be difficult to come up with a new and useful idea.