June 23, 2023
Berkley Beat: June 21, 2023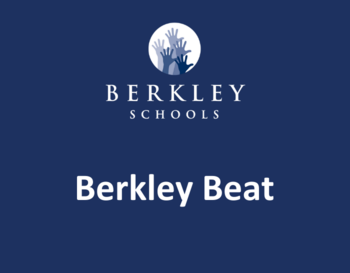 Berkley Beat: June 21, 2023
It's Graduation Season!

Schools Celebrate Students with Clap Outs

AMS Students Learn to Upcycle

Norup and Anderson Mark End of the Year with Field Day

Car Parades Celebrate 5th Graders

Burton 5th Grade End of Year Party

BHS Kicks Off Summer Reading

Pattengill 1st Grade Performs Readers Theatre

Norup Math Buddies

Burton PTA Hosts Ice Cream Social

Pattengill Students Showcase Talent

Board of Education Honors Retirees, Athletes, Eagle Scouts, Bocce Team

Norup Parts Ways with IB

Berkley High School to Start Unified Soccer Team

Oakland County Treasurer Robert Wittenberg Recognizes Berkley High School Student in 2023 Financial Empowerment Arts Contest

Berkley Athletic Department to Partner with FinalForms

2023 BHS Yearbook Supplement Ready for All

June is Internet Safety Month

Save the Date: ArtSpace Grand Opening

Culture & Strategic Plan Survey

LGBTQ+ Pride Month Resources for Families

Bond Update: Pilot Furniture is in Place Across the District & Take Our Survey

Join the Berkley Schools Family - Now Hiring!

Sign Up for Text Alerts
It's Graduation Season!
Students throughout the Berkley Schools graduated and enjoyed promotion ceremonies as they transitioned from one stage in their educational careers to another.
Anderson Middle School
Anderson 8th graders enjoyed their graduation ceremony on June 14, 2023. Students arrived at school ready for their ceremony with family and friends. Michael Ross, AMS Principal addressed the 8th graders, sharing well wishes for the students. Two special awards were given out with scholarships, students were recognized for special academic achievement and one student gave a speech to his classmates. When the recognition from the podium was complete, students had their names called one by one and were celebrated as graduates of Anderson Middle School.
Adult Transition Program Graduation
On June 14, 2023 the Adult Transition Program held a graduation for two students who completed the program. During the ceremony, ATP principal Jennifer Gebbie and Student Services Director Heather Lackey spoke to the students and parents as well as teachers Sarah Panfalone and Jen Plater. The graduates were presented with plaques as part of the ceremony. Everyone enjoyed a reception following the festivities.
Norup International School
Norup 8th graders gathered on the afternoon of June 14, 2023, to hear words of wisdom from Principal Paul Yowchuang and to receive their end of year certificates. Special recognition was given to students who spent their entire educational career at Norup (Transitional Kindergarten through 8th grade) to students who received the John Norup award and the Principal's award. Each member of the class was called up individually receiving certificates and a handshake from Assistant Principal, Kaitlin Eickemeyer and Principal Yowchuang.
Rogers Elementary School
On June 14, 2023, Rogers Elementary 5th graders and their families gathered for the graduation ceremony outside of the school. Students listened to a speech and a story from Principal Jack Gitler. Students were then called up individually to receive their diplomas and share a quote that was special to them.
Berkley High School
Berkley High School's graduation is so big, we made a whole separate Berkley Beat to cover it. Visit this link to see photos, videos, quotes from speeches, the Class of 2023 facts and statistics and even more photos.
Schools Celebrate Students with Clap Outs
The end of the year brings celebrations, final presentations, graduation and promotion ceremonies and just before the year is over, clap outs.
Angell
Angell 5th graders walked their halls one last time at the end of the day on June 14, 2023. The entire school cheered on the 5th graders as they head off to middle school.
Pattengill
Pattengill 5th graders walked the halls one last time on June 15, 2023. The student body and teachers lined the halls and clapped out their soon to be middle school friends. After the clap out, the students received their certificates and were greeted by their families.
Rogers
Rogers students celebrate their 5th graders with a clap out on the last day of school, June 15, 2023. Students and teachers lined the halls and parents waited outside to greet their 5th graders.
AMS
Anderson students clapped out their 8th grade friends on June 12, 2023. Friends and teachers lined the halls and shared well wishes with the 8th grade students as they prepare for high school.
Norup
Norup 8th graders were treated to a clap out after their promotion ceremony on Wednesday, June 14. Students and teachers lined the halls to send well wishes with the soon to be 9th graders.
AMS Students Learn to Upcycle
Anderson Middle School 8th graders studied climate change this year in science class. Part of the lesson included the impact humans have on the environment. To conclude the lesson, students explored what they can do to help. They reflected on their own carbon footprint and ways they can reduce waste.
AMS Science Teacher Laura Russell introduced the concept of upcycling to her students as the process of transforming waste materials into new materials or products. To expand on this concept, students were asked to bring in recycled materials from home and create art, repurposed fashion or a functional item. Part of the students' grade was to present and share their work. Ms. Russell held an "Upcycle Gallery" on June 12, 2023, and students shared what they made, what materials they used and what inspired them to an audience of Anderson 6th and 7th grade students.
Ms. Russell shared, "Students' own personal interests drove the project. Some made fishing poles that actually casted. Others made works of art or decor for their homes. By sharing with the school, I wanted them to have a sense of pride with their work as well as promote the cool things we get to do in the 8th grade."
Norup and Anderson Mark End of the Year with Field Day
Anderson
Anderson 6th and 7th grade students participated in Field Day on June 15, 2023, at Hurley Field. Students cycled through kickball, capture the flag, tag and more. Students cooled off and talked about summer plans in between activities.
Norup MYP
On June 15, 2023, Norup middle school students raced friends in games, competed in flag football, cornhole, tug of war, fowling and more. Students enjoyed being outside in the sunshine as they celebrated the end of the year with classmates.
Car Parades Celebrate 5th Graders
During virtual learning, the Berkley Schools community held car parades for outgoing 5th graders instead of the traditional building clap outs. This new tradition has stuck at Angell and Burton elementary schools and on June 15, students and staff lined the streets and cheered on their schoolmates as they drove by. The 5th graders decorated cars with window paint, streamers and more and waved out of sunroofs and windows. Congratulations to all and best of luck in middle school!
Burton 5th Grade End of Year Party
On June 13, 2023, Burton 5th graders celebrated their last days as elementary students at the annual 5th Grade Party. Students enjoyed lunch on the Burton field and an afternoon at the Huntington Woods pool. Star Trax was there to provide entertainment and fun and celebration was had by all.
BHS Kicks Off Summer Reading
Berkley High School students often have summer reading to complete for their English classes before the school year begins in the fall. To help students be successful and come fully prepared for the 2023-24 school year, BHS hosted a Summer Reading Kickoff on June 12, 2023. Over 1,000 students cycled through the media center visiting with teachers and learning which books are on the summer reading list.
Representatives from Berkley, Oak Park and Huntington Woods libraries were also onsite to register students for library cards, so they can check out their summer reading from the local libraries as well. Every student who attended the Summer Reading Kickoff received a free book thanks to a grant received through the Michigan Department of Education.
Pattengill 1st Grade Performs Readers Theatre
Pattengill 1st grade students in Ms. Girvan and Ms. Johnson's classes performed a Readers Theatre for family and friends on June 9, 2023. The students took turns reading and performing short plays for the audience in small groups. Students made props and costumes out of paper and string to help tell their stories. Seven groups performed plays including, "The Otters and Octopus," "Silly Kitty," "A Scary Sound," and "Messy Jessie."
Norup Math Buddies
At Norup International School, teachers Amy Carter and Kristina Scholl, have taken an innovative approach to foster positive relationships and enhance math skills among their students. They have named this group of students, Norup Math Buddies. Norup Math Buddies hold every other week meetings between a group of Ms. Carter's 6th grade math students and Ms. Scholl's kindergarteners. Throughout the year, students practice math skills and participate in relationship building exercises like arts and crafts.
Ms. Carter shared, "Math buddies fostered a powerful partnership. This time together built confidence in our 6th graders and helped foster relationships between grades while strengthening math and communication skills. The children looked forward to meeting every other week."
The Math Buddies celebrated the end of the year on June 14, 2023. The 6th graders planned activities for the kindergarteners such as hula hooping, drawing with chalk, friendship bracelet making, basketball and more!
Burton PTA Hosts Ice Cream Social
On June 9, 2023, the Burton PTA hosted its annual Ice Cream Social. Students and families participated in a dance off, face painting, a treat walk, lawn games, a STEM table, a dunk tank and more. The Burton community also enjoyed ice cream, sno cones and pizza. This event marked the end of another wonderful school year.
Pattengill Students Showcase Talent
Pattengill held its annual talent show outside for family and friends on June 9, 2023. The Pattengill community gathered on the front lawn to watch musical performances, dance routines, comedy acts and more. Congratulations to all participants!
Board of Education Honors Retirees, Athletes, Eagle Scouts, Bocce Team
On Monday, June 12, the Board of Education honored many Berkley Schools staff and students at their Regular meeting.
Retirees
15 staff members retired at the end of the 2022-23 school year. At the Board meeting, the honorees were treated to special video with friends and colleagues sharing memories and well wishes to the retirees. After the video, the retirees had the opportunity to share some final words. Congratulations to the following employees on their retirement. The years listed below represent their time with Berkley Schools.
Cristin Alpert

- 21 years, BHS Paraeducator

Paul Cierpial

- 31 years, BHS Teacher

Daniel Crabtree

- 12 years, Angell Custodian

Carolyn Cregar

- 5 years, BHS Assistant Principal

Laura Cubbler

- 4 years, AMS Paraeducator

Carol Getty

- 7 years, Burton/Pattengill Paraeducator

Devra Goldberg

- 37 years, Norup Teacher

R. Ira Goldberg

- 22 years, BHS Teacher

Sherry Grammatico

- 13 years, BBB Teacher

Bruce Hill

- 20.5 years, Hurley Field Stadium Manager

Ruth Hurwitz

- 23 years, Pattengill Teacher

Maribeth Krehbiel

- 37 years, Burton Principal

G. Amy Mixa

- 25 years, Burton Learning Specialist

Kimberly Nothdurft

- 23.3 years, Rogers Teacher

Adina Rubenstein

- 18 years, BHS Teacher
Watch our video honoring this year's retirees: https://youtu.be/wJD3Vt9emNM
Track & Field
Berkley High School had four student athletes qualify for and compete at the State Track & Field Meet. All four athletes were honored at the June Board Meeting.
DaKya Cunningham, BHS Senior: DaKya was a state qualifier in both the 100 meter dash and 200 meter dash for the second year in a row. DaKya earned All-State honors for the second year in a row in the 200 meter dash with a 7th place finish in the State. She also ran a PR of 24.97 in the preliminary round, making her the second female in BHS history to break 25 seconds in the event! DaKya also finished All-League with a 2nd place finish in both the 100 and 200 meter dashes at the OAA Gold Division Championships. In addition, at the Regional Championships, DaKya finished 5th in the 100 meter dash and 4th in the 200 meter dash, earning her All-Region honors.
Matthew Short, BHS Senior: Matthew qualified for the State meet for both the 3200 and 1600 meter races. Matthew placed 3rd in the State in the 3200 meter race with a time of 9:18.05! Matthew is the highest-placing Berkley athlete of all time and Berkley's first All-State finisher (since 2006) in the 3200. Matthew scratched the 1600 meter at States to focus on the 3200. He owns school records in both the 1600 (4:16.41) and in the 3200 (9:10.70). At the League Championships, Matthew won the 1600 meter, finished 2nd in the 800 and won the 3200 meter, earning All-League status for all three events. At the Division 1 Regional 8 Championships, Matthew won both the 1600 and 3200, earning All-Region status.
David Rolands, BHS Senior: David qualified for the State meet in both the discus and shot put events, competing at States for the second year in a row. David finished 21st in the State for discus, after throwing a PR of 137-feet-7. David finished 11th in the State for shot put with a throw of 49-feet-9.5. David is the first thrower to go to States in back-to-back seasons since 2000-2001. At the League Championships, David earned All-League by winning the shot put event and finishing 5th in the discus. At the Regional Championships, David won the discus event with a throw of 135-feet-2, setting a new PR, and finished 2nd in shot put with a throw of 50-feet-1. David earned All-Region for both events.
Oliver Moss, BHS Junior: Oliver qualified for the State meet in the 3200 meter race and finished 27th. Oliver was the first Berkley junior to head to States in the 3200 since 2005. At the Regional Championships, Oliver earned All-Region status by finishing in 5th place in the 3200 meter race, also setting a school junior-class record with a PR of 9:30.67.
BHS Girls Tennis
The BHS Girls Varsity Tennis Team was honored by the Board for qualifying for and competing at the Tennis State Meet. At the State Championships, the team finished in 11th place, posting the most points a BHS girls tennis team has ever accomplished. Under the guidance of Coach Lenny Waldman, this team qualified for States for the second year in a row. In addition, the #4 doubles team was the first ever to make it to the semi-finals at States for Berkley tennis.
This team also earned Academic All-State with a team average of 4.08 GPA, after surpassing the 3.25 GPA requirement.
BHS Unified Bocce Ball Team
The BHS Unified Bocce Ball Team was honored by the Board for its inaugural season. Berkley High School started its first Unified Bocce Ball Team this year under the direction of teacher Kim Sclafani and many parent/guardian volunteers. Unified sports joins people with and without disabilities on the same team. It is dedicated to promoting social inclusion through shared sports training and competition experience. It was inspired by a simple principle: training together and playing together is a quick path to friendship and understanding.
This year, the team learned how to play bocce ball, had a chance to play against one another, played a friendly game against Royal Oak Middle School and ended their season with a big game at Hurley Field.
Eagle Scouts
The Board of Education honored two brothers who both achieved Eagle Scout ranking. Owen and Ian Burmeister, BHS sophomore and junior respectively, are both members of Troop 1085. To achieve Eagle Scout, they had to complete a variety of different requirements, such as forming a community service project, earning 21 merit badges, and taking on a leadership role within the troop. For their final projects, they both created Gaga ball pits. Ian built a Gaga ball pit for Pattengill's playground and Owen built one for Rogers' playground.
Norup Parts Ways with IB
On Friday, June 16, Superintendent Scott Francis sent a message to the Norup community sharing that Norup will no longer be an IB (International Baccalaureate) school beginning with the 2023-24 school year. To keep the entire District informed, the letter is included below for all to read.
I'm writing to you today with some news about Norup and its relationship with IB, the International Baccalaureate program. Mr. Yowchuang has had three meetings available to the Norup community this past spring on this topic, and this email will summarize much of the topics shared at those meetings. Thank you to those who attended the meetings and shared your thoughts with Mr. Yowchuang and myself.
Norup joined IB in the 2007-08 school year. At that time, Norup was declining in enrollment, with many families choosing to attend middle school elsewhere. Norup also had recently merged with Avery Elementary school to create the K-8 building. The administration at the time decided adding IB to Norup would help attract families to stay in the Berkley School District.
Joining IB in 2007 added the following to Norup: the 5th grade exhibition (final collaborative research project for all 5th graders), helped the building organize and arrange State of Michigan curriculum standards, added a world language to the elementary school and brought the elementary and middle school teachers together, as they had recently merged. It also added extra costs to send teachers to training out of state and required the District to hire an IB coordinator.
Between 2007 and now, Norup went through the IB transition, a transition of administration, a period of lower performance scores and lower rankings than other schools in the State of Michigan "top to bottom" rankings. Test scores do not define our schools, however, I'm pleased to share that now Norup has greatly improved student outcomes since 2014. What made this change happen? To quote Mr. Yowchuang, "Good hardworking people, not programming or IB, made this happen."
IB has been a part of Norup for a long time, but it has not been the change agent for Norup student outcomes – our staff has. In fact, IB has pulled Norup staff away from District-wide training for curriculum, data analysis, inquiry based learning and more. IB has also not been the driving force behind Norup's dedication to diversity, equity and inclusion work and social emotional learning.
Through deep conversations (that began pre-pandemic) with District administration, Norup administration, Norup educators and the Board of Education, the decision has been made to discontinue the relationship with the IB organization moving forward.
I understand this decision may create a variety of emotions. I want to reiterate what Mr. Yowchuang shared in his meetings – the positive attributes that make Norup special will not change due to this decision. Norup is not Norup because of IB.
Norup has never taught the IB curriculum - it teaches the State of Michigan curriculum, just like the rest of the District

Norup will continue to have 5th and 8th graders complete their exhibition projects

Norup will continue to offer elementary Spanish

Norup will continue their commitment to increasing student achievement

Norup will continue to explore additional opportunities for students

Norup will continue to employ counselors and social workers to support students
What removing the IB requirements for Norup staff will do, however, is increase staff time for data analysis to improve instruction, allow professional development and collaboration with staff across the District, allow more time for extracurricular opportunities for students and allow a deeper focus on social emotional learning, which is still very much needed post-pandemic.
Norup is a building family full of dedicated educators who care deeply about their students. This will not change. Our District Portrait of a Learner (critical thinker, creative, collaborative, communicator, curious, courageous) will continue to shape professional learning to impact student outcomes. Norup is a part of the Berkley School District with the following mission: student engagement, learning and growth are at the center of all we do. The supports provided for Norup and its students will be centered around this mission, ensuring all students have what they need to succeed.
As far as next steps, Norup will proceed with planning for next school year, continuing with all the things you love about Norup. Mr. Yowchuang will also host optional meetings next year for families to share their thoughts on how to continuously make Norup an even better place.
Thank you for your passion and dedication to Norup. You are in good hands with Mr. Yowchuang, Ms. Eickemeyer, and the wonderful staff at Norup.
Berkley High School to Start Unified Soccer Team
Berkley High School is starting its first Unified Soccer Team this Fall. Unified sports joins people with and without disabilities on the same team. It is dedicated to promoting social inclusion through shared sports training and competition experience. It was inspired by a simple principle: training together and playing together is a quick path to friendship and understanding.
Practices for the Unified Soccer Team will start at the end of August or early September and will continue once per week right after school. There will be several games scheduled against other local unified teams. All specific dates will be shared closer to the start of the season.
All students are encouraged to sign up and no prior experience is necessary. The goal is to bring BHS students together and engage in athletic and social experiences outside of the school day.
For more information and to sign up, visit this link:
Oakland County Treasurer Robert Wittenberg Recognizes Berkley High School Student in 2023 Financial Empowerment Arts Contest
Oakland County Treasurer Robert Wittenberg, in partnership with Oakland Schools, Flagstar Bank, and the Oakland Livingston Human Service Agency, announced 22 winners and honorable mentions for the 2023 Financial Empowerment Arts Contest during a private reception held at the Flagstar Bank Regional Headquarters in Troy, Michigan.
A record 160 Oakland County public high school student art submissions were received in various mediums, including drawing, painting, photography, mixed media, video, and illustration, focusing on the different aspects of financial empowerment.
Berkley High School student Bryn Hazen was named an Honorable Mention for her art piece and received a $100 cash prize. Hazen's art piece "Money Down the Drain" shows the importance of saving money through a realist oil painting.
Bryn used this process to learn the importance of saving to avoid feeling trapped in debt, and she even enrolled in a personal finance class to evaluate her own spending habits. She plans on using the cash reward to further her education and help pay for college.
"Congratulations to all the students who participated in and won the 2023 Financial Empowerment Arts Contest," said Robert Wittenberg, the Treasurer of Oakland County. "The students showcased their exceptional skills, creativity, artistry, and talent, which helped raise awareness about the significance of financial empowerment. We sincerely appreciate Oakland Schools, Flagstar Bank, and the Oakland Livingston Human Service Agency (OLSHA) for their continuous commitment and partnership in making this annual contest a success."
For more information on the arts contest and to view the winners and submissions, visit the Oakland County Treasurer's Office website at oakgov.com/treasurer.
Berkley Athletic Department to Partner with FinalForms
The Berkley Schools Athletic Department has partnered with online form and data management service, FinalForms. FinalForms allows participants to complete and sign athletic participation forms for students online. FinalForms also saves student information from season-to-season, meaning information will never need to be entered twice. Student information can be reviewed at any time. Families will be required to sign forms once per year and after any update.
Attention Parents/Guardians of Athletes: You can register with FinalForms now. To get started, please register on the FinalForms website and follow the prompts to create your account, your child's account and sign your forms.
2023 BHS Yearbook Supplement Ready for All
Berkley High School students and families - the 2023 BHS Yearbook Supplement is now ready for all to view. These pages are free for everyone to access regardless if they purchased a yearbook or not.
June is Internet Safety Month
June is Internet Safety Month. Michigan families are encouraged to add their children's accounts to the free registry to block adult advertising content that may target kids as they spend more time online during the summer school break.
The ProtectMIChild Registry is a free and secure program that keeps kids safe from adult-oriented advertising via social media, video streaming, text, and email. Parents can register their children's social media and streaming platform handles, phone numbers, and email addresses to block ads for products like alcohol, tobacco and online gambling. Accounts for these platforms can be registered without affecting the way the apps are used. Children's personal information also remains private when they are registered.
Save the Date: ArtSpace Grand Opening
The Berkley Schools community is invited to attend the grand opening of ArtSpace, the plaza on Coolidge just south of Catalpa, on Saturday, July 15 at 10 am. The City of Berkley, Berkley Downtown Development Authority and the Berkley School District joined resources to create this space for the community. ArtSpace features a bronze sculpture created by Berkley High School alum, and renowned sculptor, Austen Brantley.
Come to the grand opening and meet the artists and enjoy the new space open to the public.
Culture & Strategic Plan Survey
In 2022, the Board of Education approved the Berkley Schools new Strategic Plan, the guiding document for the work as a District. As part of that plan, the District updated its Vision, Mission and Tagline, created a Portrait of a Learner and established new goals for the next five years. In order to know if the plan is successful, the District will be seeking community feedback and input twice a year through surveys - this is the second survey for this year.
The surveys will address components of the Strategic Plan. The Strategic Plan includes five goal areas. Embedded throughout the goal areas are a focus on culture and equity. Those are the areas focused on in the survey today. Community feedback will help inform programs, learning and investment. We will compare the responses from January to June to see if we are making progress on our goals.
This survey should take no longer than 10-15 minutes and has both multiple choice and open response questions. The survey is online here. The survey will remain open until June 30, 2023.
LGBTQ+ Pride Month Resources for Families
June is LGBTQ+ Pride Month in the United States. During this month, many pride events are held to recognize the impact LGBTQ+ people have had in the world. Pride Month is also celebrated annually in June to honor the 1969 Stonewall riots, and works to achieve equal justice and equal opportunity for lesbian, gay, bisexual, transgender, and questioning (LGBTQ) Americans.
To learn more about Pride Month, and to see resources to share with your children, check out the list of resources below.
Affirmations LGBTQ+ community center has been the hub for southeast Michigan LGBTQ+ communities and its allies for the last 30 years. Affirmations provides a welcoming space where people of all sexual orientations, gender identities & expressions, and cultures can learn, grow, socialize and access the vital support they need.
Celebrate Pride with Us - Human Rights Campaign
The Human Rights Campaign (HRC) strives to end discrimination against LGBTQ people and realize a world that achieves fundamental fairness and equality for all. HRC envisions a world where lesbian, gay, bisexual, transgender and queer people are ensured equality and embraced as full members of society at home, at work and in every community. The HRC has developed a website full of Pride month activities, videos and resources.
This collection of Key Concepts and Terms is designed to provide a basic understanding of words, phrases and ideas related to lesbian, gay, bisexual and transgender (LGBT) people and their experiences. All language is constantly evolving; new terms are introduced, while others fade from use or change their meaning over time.
The It Gets Better Project's mission is to uplift, empower, and connect lesbian, gay, bisexual, transgender, and queer (LGBTQ+) youth around the globe.
OUR CHILDREN offers a fresh eye for families and others about what to do when a loved one comes out. Full of useful knowledge, helpful tips, expert opinions and first-person stories, OUR CHILDREN--which has a focus on sexual orientation and gender expression--is a must read for anyone looking to learn more about how to support LGBTQ loved ones...or looking for support for themselves.
LGBTQ+ videos for kids! Host Lindsay and her best stuffed friend, Teddy, we'll be teaching you what gay means, what LGBT stands for, what's up with marriage equality and so much more!
A place where LGBTQ youth and their allies can find answers to frequently asked questions, and explore resources related to sexual orientation, gender identity and more!
Bond Update: Pilot Furniture is in Place Across the District & Take Our Survey
Berkley School District has a Bond Proposal on the August 8 Ballot. The ballot measure calls for $88 million to invest in District-wide projects, including new classroom furniture for all TK-12 classrooms.
As part of the Bond planning process, Berkley Schools enlisted four classrooms to pilot new furniture so teachers could learn what works best for student engagement.
The pilot classrooms are in place for each level - elementary, middle and high school. The new furniture is flexible and adaptable for all learners, and includes specialized furniture where needed to support students with special needs.
When the new pilot furniture was in place, we asked our students about their new classroom environments. Watch this video to hear what they had to say: https://youtu.be/aNrbNcF38dM
Election day is August 8. Learn more on the District website: www.berkleyschools.org/bond
Bond Survey - 5 Questions
Berkley School District has a five question survey regarding the upcoming August election. All community members, parents, guardians and students are invited to share their thoughts with the District. The survey should take no longer than 5 minutes to complete.
Join the Berkley Schools Family - Now Hiring!
The Berkley School District is hiring! We are looking for talented individuals to fill a variety of positions. Visit our website to apply and share our postings with your networks!
Now Hiring:
Middle School Science Teacher - Norup International School

Elementary Teacher Fourth Grade - Rogers Elementary School

Special Education Teacher of Students with Autism Elementary Level (K-5) - Location TBD

Early Childhood Special Education Teacher (ECSE) and Tuition Playgroup - Berkley Building Blocks

Early Childhood Education Lead Teacher (GSRP/Head Start)

Special Education School Social Worker - Berkley High School

Lead Young Toddler Teacher - Berkley Building Blocks

GSRP/Head Start Associate Teacher - Berkley Building Blocks

Assistant Teacher(s) - 6 Open Positions - Berkley Building Blocks

Swim Instructor - Berkley High School Kids' Zone Program

Lunch Aide(s) - Burton Elementary School

Middle School Wrestling Head Coach - Anderson Middle School

Permanent Building Substitute Teacher - Anderson Middle School
Sign Up for Text Alerts
Quick Steps to Receive Text Alerts from Berkley Schools
In order to receive text messages from the District or your school, you must opt-in. Text messages will be sent out when the District closes or there is an emergency situation. Texts may also be sent from the District and schools for reminder messages during the day that are not urgent.
In order to receive text messages, every parent/guardian must opt-in each cell phone listed in MISTAR.
Steps to Opt-In
Text the word YES (in the message field) to the phone number 67587 (in the To field). Then you are all set!