June 23, 2023
Schools Celebrate Students with Clap Outs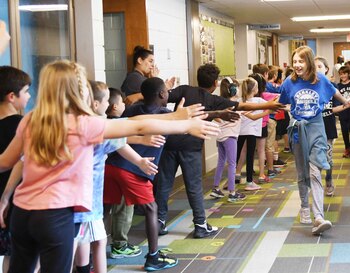 Schools Celebrate Students with Clap Outs
The end of the year brings celebrations, final presentations, graduation and promotion ceremonies and just before the year is over, clap outs.
Angell
Angell 5th graders walked their halls one last time at the end of the day on June 14, 2023. The entire school cheered on the 5th graders as they head off to middle school.
Pattengill
Pattengill 5th graders walked the halls one last time on June 15, 2023. The student body and teachers lined the halls and clapped out their soon to be middle school friends. After the clap out, the students received their certificates and were greeted by their families.
Rogers
Rogers students celebrate their 5th graders with a clap out on the last day of school, June 15, 2023. Students and teachers lined the halls and parents waited outside to greet their 5th graders.
AMS
Anderson students clapped out their 8th grade friends on June 12, 2023. Friends and teachers lined the halls and shared well wishes with the 8th grade students as they prepare for high school.
Norup
Norup 8th graders were treated to a clap out after their promotion ceremony on Wednesday, June 14. Students and teachers lined the halls to send well wishes with the soon to be 9th graders.