November 17, 2023
Berkley High Students Explore Chemical Reactions with Science Honor Society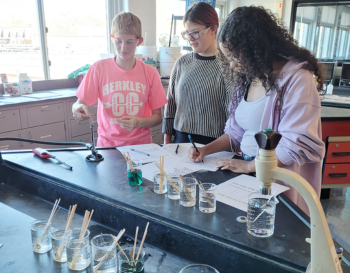 On Wednesday, November 15, students in the BHS Science National Honor Society held a flame test lab after school where 30 students identified elements based on how chemicals burned. The flame test showed the identity or chemical fingerprint of each element.
Students added wooden sticks to beakers filled with chemicals and then set the end of the stick on fire. Science teacher Scott Doty shared, "The color (spectrum emitted when electrons absorb the flame's energy, go away from the nucleus and fall back down emitting light photons with the energy lost) gives identity. This is called atomic emission spectra and allows scientists to determine what elements are burning in stars thousands of light years away."
Science National Honor Society students have to attend three events per year. Students host labs after school, take care of animals in the Zoology classroom, tutor students in science, and host guest scientists for a speaker series.