November 17, 2023
Angell Students Learn to Fuel Up Their Future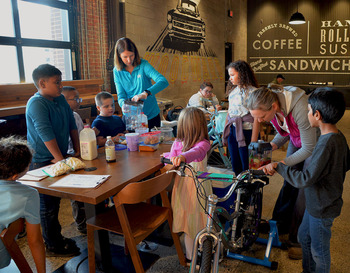 This Fall, Sara Piatt, MSA, RDN and Christy Scott, Certified Yoga Instructor brought nutrition education and yoga to Angell students through Fueling Up Our Future, LLC. This is the second year of hosting the "Fuel Up with Friends Program" at both Angell and Burton elementary schools. The business was formed to bring science-based nutrition education to the community and to inspire lifelong healthy habits for our future generation.
Ms. Piatt is a Registered Dietitian Nutritionist and mom to two daughters in the Berkley School District and Ms. Scott is a Certified Yoga Instructor and mom to two children in the Royal Oak School District, who infused interactive storytelling with yoga into the afterschool program this year. The "Fuel Up with Friends Program" was funded by the Berkley Education Foundation as part of their Free Enrichment Program for Berkley Schools elementary and middle school students, and funding was also provided by Woodward Corner Market. In the fall, Angell students in grades TK-5 had the opportunity to join the program. The program at Burton will begin in 2024.
During the six sessions, students enjoyed taste testing a variety of the food groups, learned about eating all colors of the rainbow, discussed different types of protein, whole grain, dairy foods and why they are good for health. Each session started out with 20 minutes of yoga which tied into the food group theme for the session. For example, one of the weeks, the focus was on fruits and vegetables and Ms. Scott took the students on an interactive yoga adventure with the book, The Very Hungry Caterpillar. The students played a mystery fruit and vegetable game and had the opportunity to taste a few new foods like rambutan, gooseberries and jicama sticks.
The students' favorite part of the program was smoothie bikes. Students got some exercise on a stationary bike blending apple cider and pumpkin pie smoothies while at Woodward Corner Market. During the final week, students took a trip to Woodward Corner Market in Royal Oak for a grocery safari, looking for the rainbow of colors and calcium rich foods. In addition, the store manager took the kids on a "behind the scenes" tour of the grocery store and showed them how to scan and check out with a fruit of their choice.
Learn more about Fueling Up Our Future on their website.
The Berkley Education Foundation (BEF) funds enrichment courses free of charge to bring unique experiences to students and to enhance their learning. To learn more about the BEF, visit their website. To support the BEF and the Enrichment Program, visit the BEF's donation site.