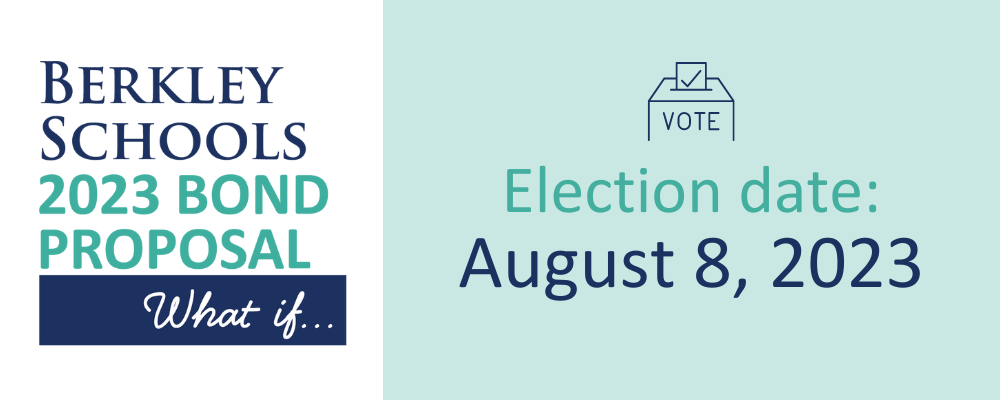 2023 Bond Proposal Information
This section of the website contains details about the Bond Proposal, Bond updates, cost, ballot language, frequently asked questions, history, and information from each building.
---
Thank you, voters!
Berkley Schools Bond Proposal Passes!
Dear Berkley Schools Community,
The unofficial bond election results have been posted by Oakland County. Those results are 69.06% voting in favor of the proposal and 30.94% voting against the proposal. See the results on the Oakland County website.
We are deeply grateful to have received the support of the community for this proposal. This proposal will allow us to invest in every TK-12 classroom, our community spaces, and provide the opportunity for a full upgrade to our student and staff daily experiences. Thank you for believing in the future of the District and the "What if" sentiment. We dreamed big for our students, aiming to have our facilities match our award-winning programming. You saw the need and voted so we can make this happen.
This vote also demonstrates the community's ongoing support for the direction of the Berkley School District. We are very fortunate to be in a community that believes in and supports great public schools. We'll continue to work hard every day to inspire, empower and lead our students and provide them with great learning experiences.
I also want to thank the many community members who supported our plans by sharing our information and educating their friends and neighbors about the Bond. This was very much a community-driven plan, a community that always keeps the best interests of its children at the center of all we do. It is wonderful to be part of such an outstanding community.
With deep gratitude,
Scott Francis
Superintendent
Berkley School Distric
2023 Bond Proposal Details
$88,000,000* to invest in district-wide classroom furniture, multi-purpose additions at all elementary schools, performing arts upgrades and additions, athletics upgrades and additions, and district-wide technology upgrades

All encompassing plan to impact all children and staff every day in all buildings

Election on August 8, 2023
* The Bond proceeds would earn interest over the 3 year span of time the work scope would be completed, increasing the total amount of funding available toward bond scope and related costs.
These improvements are based on:
Goals outlined in the 2022 Strategic Plan
Completing the work addressed in the Comprehensive Academic Spaces, Facilities and Technology Needs Assessment (2013-2014) that was not completed with the 2015 Bond
Meetings with parents/guardians, staff, students, administrators, booster groups, community members and the Board of Education to study the needs of the District
Site visits to local districts to research the possible opportunities for improved facilities for Berkley Schools students
Classroom Upgrades and Related Building Improvements
Replace classroom furniture District-wide to include flexible and adaptable furniture for all learners, including specialized furniture where needed to support students with special needs
Replace media center furniture, to include flexible and adaptable furniture for all learners, in all buildings except Berkley High School and Anderson Middle School, which received new furniture in the 2015 Bond
Renovate Berkley High School science labs to include new work stations, plumbing, gas, classroom flow and storage. Science labs have not been updated since 1994.
Complete renovation of BHS Performing Arts Center (auditorium)
Building Additions
Build new multi-purpose/cafeteria additions at Angell, Burton, Pattengill and Rogers Elementary schools, that would include kitchen and serving areas, storage and restrooms

Build new performing arts black box addition at Berkley High School which would serve as a choir classroom during the day and performance/rehearsal/multi-purpose space after hours

Expand BHS Performing Arts Center (formerly known as auditorium) lobby to include restrooms, a ticket booth and multi-purpose space and to increase the space to allow for better flow before and after events
Athletics, Robotics, and More
Construct a new multi-purpose field house on the Catalpa field across from the high school. The 75-yard field house would include indoor turf, a divider system to create separation between groups using the field house simultaneously, restrooms, robotics rooms and practice spaces and multi-use spaces. The field house would be available to athletics teams, physical education classes, the BHS marching band, District robotics teams, the BHS community and community groups.

120-yard outdoor synthetic turf field constructed north of the field house on the Catalpa field across from the high school

Create a natural turf field north of the 120-yard turf field in the Catalpa area across from the high school

Pool remodel including: drainage, dive stand, chemical systems, tile replacement, starting blocks, ADA upgrades, office & restroom renovation, sound system, HVAC system, acoustical padding

Hurley Field Improvements: Remodel existing team rooms in Hurley Field plaza to combine into a new team room. Remodel existing locker room inside of Anderson and create an additional team room. Also includes a remodel of a locker room for AMS student access. New LED lights for the stadium. Relocating track and field performance spaces to accommodate expanded parking (shot put, long jump).

**Plans are underway to replace/upgrade the turf, track, restrooms, concession area, sound system and press box at Hurley Field using District Sinking Fund dollars beginning in 2023-2024.

Gym upgrades and refresh for all elementary and middle schools, including flooring, paint, fixtures and equipment

**Additional baseball, softball and multi-purpose fields are planned to be upgraded with Sinking Fund dollars and potential city partners
Technology Upgrades and Proven Educational Technologies
Interactive classroom panels to replace aging projectors
Replacing aging staff devices
District-wide data network and technology system upgrades to accommodate emerging technology infrastructure and safety measures, including a new phone system
Opportunities to Learn More
Building Parent/Guardian Meetings
April 12: BHS PTA Meeting, 7 pm

May 2: Burton PTA Meeting, 7 pm

May 9: Angell, Pattengill, Rogers, AMS and Norup PTA Meetings, 7 pm

May 10: BBB Parent Connections Meeting, 9 am
Community Meeting - All Are Welcome
May 15: Community Informational Meeting, Rogers Gymnasium, 7 pm
Key Dates:
Ballot Language Adoption by Board of Education, April 10

Absentee Ballots Ready, June 29

Last Day to Register to Vote, August 8

Last Day to Pick Up an Absentee Ballot, August 8

Election Day, August 8
Informational Documents

2023 Bond Fact Sheet


Oakland County School District Homestead Tax Rates


2023 Application to Treasury (PQA)