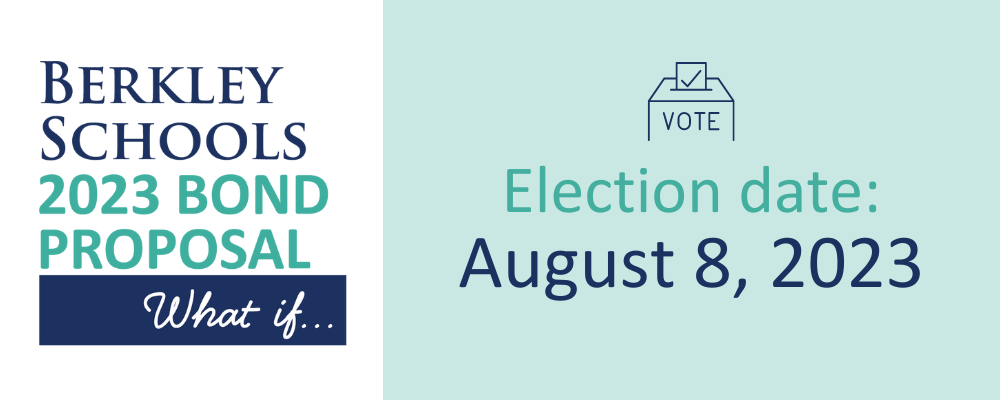 Frequently Asked Questions
Finance
$88,000,000 equates to a 2.25 mill increase which would be collected starting in 2024. This is 2.25 mills on the taxable value of a home, not the total value. Each homeowner's cost may be different depending on filing status, age and other income tax variables.
An example: A home worth $200,000 typically has a taxable value of $100,000. 2.25 mills levied on this home would cost $225/year, before any income tax considerations. However, your costs may be less.
Ultimately, this Bond would cost on average less than a dollar a day.
What would the bond really cost over 25 years?
The estimated millage that would be levied for the proposed bonds in 2024 is 3.06 mills, which is 2.25 mills higher than in 2023. ($2.25 more per $1,000 of taxable value)
Explanation: The State requires school districts to use a formula to calculate the estimated average cost of mills over the life of the Bond. In order to determine the rates (mills), the statutory requirement is to use the last five years of average taxable value growth as a basis to determine/project the next five years of taxable value growth. The past five years showed a positive growth in District taxable value (including homes, commercial, etc) that results in a projection of positive 3.25% per year increase in taxable value growth for the next five years (or ~16% in total for the next five years), and 2% increase each year thereafter for the balance of the bond maturity schedule. The resulting 3.61 mills average estimate is based on this projected positive growth in home values over the course of the bond payment schedule (2024-2049) and the District is statutorily required to include that number within the ballot language. Oakland County is projecting a 4.25% growth moving forward.
Where does the District stand in the county for mills levied?
The Berkley School District is currently seventh from the bottom of Homestead (primary homeowner) Tax Rates out of 28 districts in Oakland County. If the 2023 Bond Proposal is passed, the District will remain in the lower half of all districts.

Current tax rate chart for Oakland County school districts
What Can Bond dollars used for?
Under current law, Bond dollars may be used for construction and remodeling of facilities, purchasing instructional technology equipment, equipment and furniture, and site improvements.
What can't Bond Dollars be used for?
Bond dollars cannot be used for operational costs such as: salaries and wages, maintenance, classroom supplies and textbooks and non-instructional technology.
Is the City of Berkley millage separate from the Berkley School District millage?
Yes. The city of Berkley has a ballot measure on the May 2023 ballot. This is separate and distinct from the Berkley Schools ballot initiative in August 2023. The city of Berkley funds do not pay for anything in the Berkley Schools and vice versa.
Is there anything else on the Ballot in August 2023?
As of April 2023, to the best of our knowledge, nothing else will be on the Berkley, Huntington Woods or Oak Park ballot.
Why did you choose the August 2023 election instead of the November 2023 election?
If the bond is passed in August 2023, it allows the District to begin the work of designing spaces and securing contractors early into the 2023-24 school year. This, in turn, puts the District ahead of the construction season for the spring bidding process and ensures work can begin as soon as possible. Contractors can be difficult to secure, and having the most lead time can allow for projects to follow the timeline outlined in the Bond plan.
By securing quotes early, it also allows the District to plan for any escalating costs that might be included by contractors due to inflation. In addition, the District collaborated with all three municipalities (Berkley, Huntington Woods, Oak Park) to choose an election date that does not compete with any city ballot requests.
Have the buildings been maintained?
Our custodial and maintenance teams work extremely hard to keep our buildings up and running for our students. However, it has been 15-35 years (depending on the project) since the District has been able to fund upgrades to athletics, performing arts, science labs and classroom furniture.
The Berkley School District utilizes a Sinking Fund for maintaining all buildings (approx. $3.5 million/year). This money is used to repair roofs, leaks, pavement, purchase electrical parts and more. While $3.5 million per year sounds like a lot, one year of Sinking Fund dollars will not pay for one multi-purpose/cafeteria addition at an elementary school, as an example. When the District looked at the finance capabilities of the Sinking Fund, it simply didn't have enough funds to cover the needs list at all buildings. The 2023 Bond would fund the larger projects, allowing the Sinking Fund to tackle projects like turf at Hurley Field, partnering with cities and local organizations to fund softball fields, construct a new maintenance building as well as continue to fund regular maintenance costs.
Will this Bond complete the work recommended in the 2014 facilities study?
The facilities study called for $120M in needs in 2014. In 2015, the community approved $59 million for a Bond, tackling half of the work. The 2023 Bond calls for $88M, encompassing the balance of the 2014 recommended work as well as new projects that have emerged as the facilities studies continued.
Why are there no updates listed for BBB?
Berkley Building Blocks does not have a scope of work for the 2023 Bond for two reasons. First, it received three rounds of Child Care Stabilization Grants from 2021-2023 due to the COVID-19 pandemic. The grants resulted in nearly $3 million in funds to improve BBB. The grants paid for upgrades including new classroom furniture, new playground equipment, concrete improvements, new computers and iPads for each teacher, diverse books for each classroom and increases to the teacher and assistant teacher salary grid.
Second, BBB underwent significant improvements during the 2015 Bond. This included a two room infant classroom addition, classroom upgrades, wifi, staff devices, playground overhaul and combining both the Tyndall and Avery programs into one Early Childhood Center.
BBB will benefit from technology network upgrades that will take place if the 2023 Bond passes.
What about Hurley Field? Would upgrades be made through additional funding sources?
Hurley Field would receive upgrades in the 2023 Bond scope including new LED lighting, new team rooms for both the home and visiting teams, new expanded parking, landscaping and relocating track and field performance spaces.
Outside of the 2023 Bond scope, Hurley Field will receive upgrades from the District's Sinking Fund: new turf, new track, new press box, upgraded concession area, remodeled restrooms and an updated sound system.
I thought there was an early plan to add softball fields into the athletic scope. Will the fields be addressed with other funding sources?
Yes. Additional athletics scope will be addressed through the District's Sinking Fund. This includes potential partnerships with cities and local organizations to improve softball, baseball and soccer facilities.
Why is the Norup scope number so much less than the other buildings?
Norup underwent significant improvements during the 2015 Bond, including a multi-purpose cafeteria addition. Norup's work in the 2023 Bond would be focused on a gym refresh, classroom furniture, media center furniture, classroom technology and staff devices.
Who created the plan for the Bond Proposal?
Since the 2014 facilities study and the 2015 Bond work, the District has continued to evaluate the remaining scope of work and continued to study facility needs.
In 2022, a District team completed the following visits and meetings:
Visited athletics and performing arts spaces in districts in the Metro Detroit area

Solicited input from BHS administration, District Administrative Team, staff, and Board of Education through meetings and workshops

Superintendent's Student Advisory Board meetings

Meetings with the following stakeholders: parents/guardians, booster groups, PTA representatives, staff members, administrators, community athletics groups
Why are safety and security upgrades not included in the 2023 August Bond proposal?
Keeping our students and staff safe is our number one priority, and the District has invested hundreds of thousands of dollars in safety and security over the last eight years.
Major security upgrades were included in the 2015 Bond, including secure entrances and security camera upgrades. Since then, the District has invested in, through many grant funding sources: additional security cameras (for complete coverage in all buildings), visitor, emergency and reunification management systems, signage for all buildings (inside and out) to assist public safety officers during a crisis, mental health specialists (which cannot be paid for via Bonds), social emotional learning tools, Nightlock devices in all buildings, Go Buckets, first aid kits, 3D building mapping to assist public safety during a crisis, continued investment in ALICE training for staff and students and vape sensors in secondary buildings.
With the additional safety grant funding the District has received, it allowed the proposed Bond projects and budgets to be dedicated to other projects.
Where can I view the ballot language?

See the Ballot Language
Why are you using the same construction management and architect firms from the 2015 Bond?
For the 2015 Bond, the District hosted architect and construction management interviews. These were thorough and very in depth. The District's relationships with both McCarthy & Smith (construction) and Stantec (architects) have continued since 2015. They have been excellent partners helping the District navigate the construction world through the completion of the 2015 Bond as well as through Sinking Fund projects like the Anderson multi-purpose addition. They offer outstanding counsel, work ethic and competitive pricing.
What happens if the proposal is voted down?
If the Bond is defeated, the District will accomplish the highest need projects through Sinking Fund dollars, but most of the scope of work would not be completed. This means athletics facilities, performing arts spaces and science labs will receive very few upgrades. Classroom and media center furniture would not be purchased because furniture is not Sinking Fund eligible. Some technology upgrades would take place, but limited in scope from what is proposed. The remaining Sinking Fund dollars (over the next six years combined) cannot fully fund all four elementary multi-purpose/cafeteria additions.
What is the last day to register to vote?
The last day to register to vote is Election Day, Tuesday, August 8, 2023.
What is the last day to pick up an absentee ballot from my City Clerk's Office?
Voters can complete an absentee ballot on Election Day, August 8, 2023, at City Hall.