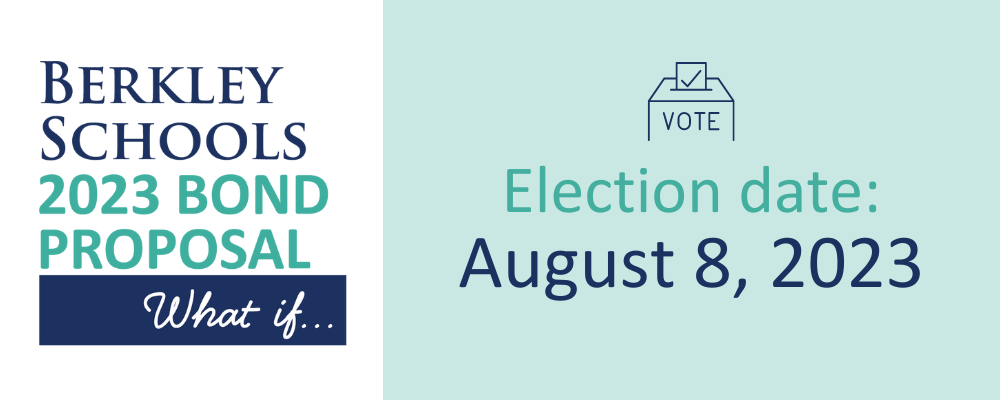 How much would this proposal cost?
$88,000,000 bond over 25 years. (See ballot language for details)
Summary of Project Investment by Building
The elementary school scope of work would include multi-purpose additions, Anderson Middle School includes the work for Hurley Field, and Berkley High School would include the athletics and performing arts scope that are also District community spaces.
Angell Elementary: $7,529,292
Burton Elementary: $7,761,361
Pattengill Elementary: $6,941,272
Rogers Elementary: $7,780,448
Norup International: $2,814,499
Anderson Middle: $6,592,290
Berkley High: $49,561,418
Total Projected Cost: $88,980,580
Less Estimated Interest Earnings -$980,580
Amount of Proposed Ballot Initiative: $88,000,000
Bond dollars can be used for:
construction and remodeling of facilities, purchasing instructional technology equipment, equipment and furniture, site improvements.
Bond dollars cannot be used for:
salaries and wages, general operating expenses and maintenance, classroom supplies or textbooks.
Tax Calcuator
The Berkley School District's financial advisor PFM developed a millage rate calculator for all District residents to use to calculate the proposed 2.25 mill increase for their own home.
Visit this online millage rate calculator to determine how the proposed 2.25 mill increase for the 2023 August Bond initiative would impact your taxes. To utilize the calculator, you will need the taxable value of your property as issued by the Oakland County Treasurer's Office.
How do I find my taxable value?
Visit the Oakland County Property Gateway to look up your address and taxable value.