November 21, 2022
Board of Education Recognizes Student Athletes at November Meeting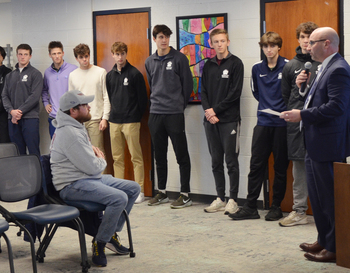 Board of Education Recognizes Student Athletes at November Meeting
On Monday, November 14, the Berkley Board of Education honored student athletes for their outstanding accomplishments at their Regular meeting.
The Board recognized the BHS Boys Soccer team and a member of the Cross Country team.
BHS Boys Varsity Soccer
Under the guidance of coach Steve Wloszek, the BHS boys soccer team was ranked #3 in Division 1 in the state and #44 in the nation during the season. The team set a school record for wins in a season (20), fewest goals against the team in a season (10) and didn't allow a single goal in all non-league games. This team also achieved All-State Academic status for having a combined GPA average over 3.3. In addition, the team set the school record for wins in a season with 20 (previous record was 19 in 2018 and 2005).
Some students received individual honors from the Board. Eight seniors received All-State Academic honors: Neven Essenmacher, Nathan Jeup, Chase McAvoy, Landon Pugh, Henry Robertson, Hunter Robertson, Griffin Straske and Luke Winter. Four students received All-State athletic honors: Andriy Bilous 1st Team All-State, Owen Stone 2nd Team All-State, Seth Davidson 3rd Team All-State, and Griffin Straske All-State Honorable Mention.
Cross Country
The Board recognized BHS senior Matthew Short, for qualifying for and participating in the Division 1 Cross Country State Meet at the Michigan International Speedway. Matthew was also the Division 1, Region 7 champion, was a member of the team that claimed the first Berkley League Championship since 2016, and was named All-OAA. While Matthew was unable to attend the meeting, his coach Jared Purcell attended to share about Matthew's accomplishments.